Posted by Monte Maxwell.
June 21st, 2010
The Dominion Post
A rare surveying tool that once belonged to George Washington was on display Friday as the West Virginia and Regional History Collection (WVRHC), along with WVU Libraries, celebrated West Virginia Day with "A Rich and Bountiful Country: The Quest for Land on the Trans-Allegheny Frontier."
This year's West Virginia Day celebration and exhibit linked Monongalia County's colonial land-granting and iron production history with the piece of surveying equipment that was recently acquired by the WVRHC.
West Virginia Day is Sunday, commemorating West Virginia's creation and admission to the Union, in 1863.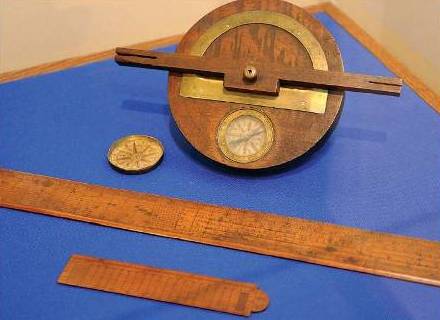 Ron Rittenhouse/The Dominion Post
A surveying tool that once belonged to George Washington was on display Friday. At the tip of one of the measures are the initials "GW" and the date "1781."

It is believed that Washington presented this surveying tool, known as a circumferenter, to Samuel Jackson, pioneer of the region's 19th century iron industry, during Washington's visit to Fayette County, Pa., in 1784, shortly after the Revolutionary War.
The Jackson-Washington circumferenter consists of a compass and protractor indicating points and degrees that were used by surveyors to plot horizontal angles to determine land boundaries. This delicate piece of equipment was likely used by Jackson to survey land in Monongalia County during the late 18th and early 19th centuries.
According to WVU Libraries Curator John Cuthbert, the circumferenter was essential in measuring and marking the numerous land claims, grants and purchases of settlers and speculators who competed for ownership of western Virginia during that time.
"Examples of 18th century circumferenters are rare," Cuthbert said. "The connection of this particular instrument to Washington, Jackson and Monongalia County makes this one priceless."
Included with the compass are two finely engraved rules, including a 2-foot Gunter scale and a 6-inch sighting rule bearing the initials "GW" and the date "1781."
Washington's diaries contain rich descriptions of his 1784 trip, including passages describing the navigability of the Cheat River, an overnight stay at Col. John Pierpont's home and crossing Sandy Creek at presentday Bruceton Mills.
The first president of the United States noted Morgantown directly in an entry recounting his stop at Ice's Ferry on Sept. 25, 1784, after which he spent a rainy night in the "Yohiogany Glades with no other shelter or cover than [his] cloak."
Ice's Ferry is where Jackson built a log dam and mill around 1800, which eventually grew into the Jackson Iron Works and produced and shipped iron as far north as Lake Erie and as far south as New Orleans.
Jackson's son, Josiah, expanded the business and began construction of the Henry Clay Furnace, turning the Monongalia County iron industry into the largest regional employer during the first half of the 19th century.
Josiah Jackson also began the tradition of passing down Washington's circumferenter through the family, until it landed with Edith McMillen, daughter of the nephew of Jackson's great-grandson, who honored her father's wishes to keep this historical artifact in West Virginia by donating it to the WVRHC.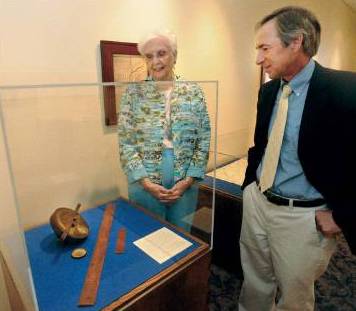 Ron Rittenhouse/The Dominion Post
Edith Ann Wilson (left), of Florida and formerly of Morgantown, donated the Washington survey tools. With her is John Cuthbert, WVU collections curator.
The Jackson-Washington circumferenter will be on display in the WVRHC Davis Family Galleries, located on the sixth floor of the downtown library, alongside early maps and pioneer surveys of western Virginia. Land grants and documents signed by the likes of Ben Franklin, Thomas Jefferson and James Monroe, to name a few, will also be on view.
Leave a Reply