Posted by Monte Maxwell.
November 12th, 2018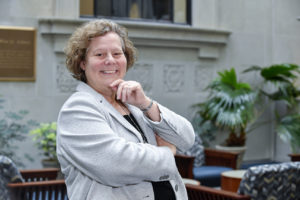 West Virginia University's interim dean of Libraries, Karen Diaz, has been appointed the Libraries' permanent dean by Provost Joyce McConnell.
"Karen has been successful in various roles in our libraries because she is a great leader and consensus-builder who has truly earned the trust and support of her talented faculty and staff," McConnell said. "I know that she will continue to lead in this thoughtful, positive way as the dean, ensuring that the WVU libraries continue to be among our most valuable campus resources."
Diaz first joined the WVU Libraries as associate dean in January of 2016. She worked extensively with academic department heads and initiated efforts to meet the challenges of a contemporary research library through Open Access initiatives, "engaged librarian" models and cross-functional teams.