Posted by Mary Alvarez.
December 4th, 2023
Written by Colleen Benison, Rare Book Room Intern
Just a few months ago, I had never so much as heard the name Asimov.
While I wouldn't call myself an aficionado, I've always liked science fiction. I grew up on classics like Star Wars and The X-Files and have more recently explored modern takes on the genre like Black Mirror and Everything Everywhere All At Once. I spent a couple of months in high school reading science fiction short stories, impressed by the way they made my mind run laps trying to figure out whatever speculation of alternate life or future technology they proposed. I still sprinkle in science fiction to my regular reading diet here and there with novels like Never Let Me Go by Kazuo Ishiguro.
Now, after processing a collection of science fiction works as an intern with the Rare Book Room, I finally know what I've been missing.
What I had never known while I was consuming all these stories was that, during the boom of the science fiction genre in the 20th century, one man led the way.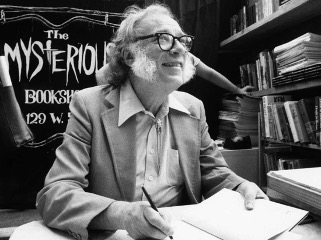 According to Isaac Asimov, "Science fiction can be defined as that branch of literature which deals with the reaction of human beings to changes in science and technology." Science fiction peaked in the mid-20th century thanks to the contributions of writers like Robert A. Heinlein, Arthur C. Clarke, and Ray Bradbury. Asimov, however, was one of the most prominent and the most prolific science fiction authors of this time. From the onset of his writing career in 1939 to the end of his life in 1992, he had written, edited, and published more than 600 titles—most of which relate to science and science fiction. His most famous works include his Galactic Empire series, his Foundation series (the original trilogy of which earned him the Hugo Award for "Best All-Time Series" in 1966), and his Robot series. He not only brought scientific thinking to an audience of millions, but he also challenged people to expand their conception of the human experience to include the consequences of scientific and technological advancement.
Asimov's work laid the groundwork for modern science fiction storytelling and pervades scientific thinking to this day. The concepts he developed, such as robotics and psychohistory, have inspired innumerable thinkers and creators. For example, his iconic "Three Laws of Robotics," included in I, Robot in 1950, serve as the basis for discussions about robotics, influence portrayals of robots in media, and shape modern notions of the ethics of artificial intelligence.
My internship with the Rare Book Room during the Fall semester of 2023 introduced me to Isaac Asimov and his massive impact on society. I was tasked with processing a personal collection of books gifted to the Rare Book Room by avid reader and dedicated collector Larry Miller. This collection of 172 books and comics sheds light on the overarching, interconnected themes of readership and authorship. But because it centered around the writing of Isaac Asimov, it also emphasized the influence his writing had on other authors, the genre of science fiction, the literary world, and society as a whole.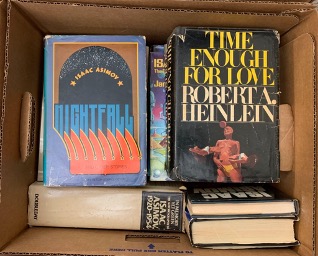 I have curated a library exhibit based on the work I've done to carry the collection through the library's gift processing procedure. This exhibit of 5 display cases features a selection of the books, comics, and personal correspondence that best represent the collection. Anyone interested in learning more about Isaac Asimov and the rest of this collection is encouraged to stop by the second-floor atrium of the Downtown Library to view the exhibit.
In addition to allowing me to exercise my rhetorical skills and creativity, this internship experience has inspired me to delve further into science fiction media. With boundless advancements in technology and the recent rise of artificial intelligence, science fiction has never been more relevant. Maybe if we dig deeper into the historical influences of modern science fiction, we can be better prepared for the future.
Resources: