Posted by Monte Maxwell.
January 17th, 2020
By Lara Farina
English professor and recipient of the WVU Libraries' 2019 Faculty Exhibit Award
Farina's recent research focuses on the botanic world in pre-modern medicine, philosophy, art, and literature, specifically that of Late Antiquity and the Middle Ages. Her exhibit, "Big Green Data: Herbals, Science, and Art," is currently on display at the Evansdale Library through May.
Archival research is always full of surprises, and sometimes these surprises are more worthy of study than the research we plan in advance. This was certainly true of my visits to British and American libraries for the purpose of looking at medieval herbals first-hand. Herbals are pharmacopeia, lists of medicinal plants. Before the sixteenth century, they circulated as manuscript codices — hand-written and often copiously illustrated books. I intended to read these works for information about how physicians and pharmacists used sensory practices to identify and discuss botanic life. But description of plants' smell, feel, taste, and even visual appearance was disappointingly minimal in these voluminous works of botanic science.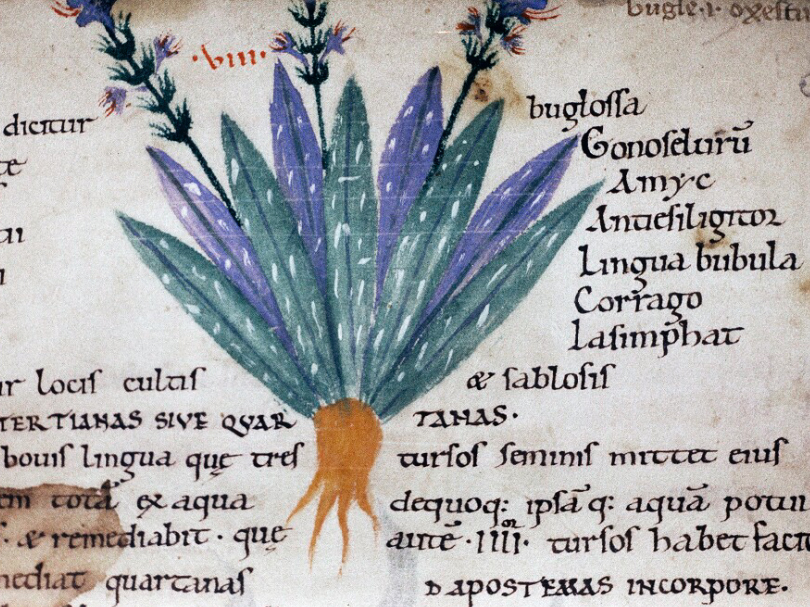 Read the rest of this entry »