Posted by Monte Maxwell.
February 9th, 2023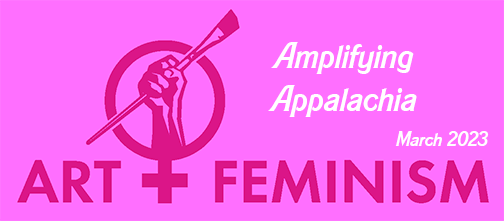 WVU Libraries' third annual "Amplifying Appalachia" Art + Feminism Wikipedia Edit-a-Thon will take place throughout the entire month of March.
Instead of one organized gathering for volunteers to revise content on Wikipedia posts, participants are encouraged to set their own schedules to edit pages over the 31-day span. To cap off the month-long initiative, the Downtown Library will host an in-person editing event on Thursday, March 30, from 1-5 p.m.
Over the last two years, the event attracted more than 140 volunteer editors. Together, they added more than 41,000 words and over 400 references, improving the quality of Wikipedia pages about under-represented Appalachian creators and related topics.
Students can earn iServe hours for participating. Learn more here. For faculty, here are some ideas for using the program for course extra credit.
Those interested in participating can visit this libguide for more information, including on how to register for the event. Contact erin.carlson@mail.wvu.edu or sally.brown1@mail.wvu.edu with questions.
Leave a Reply