Posted by Jane Metters LaBarbara.
December 28th, 2020
By Hannah McCoy, Graduate Assistant, WVRHC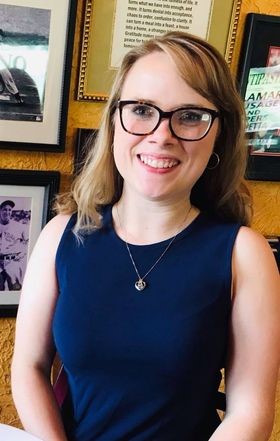 My name is Hannah McCoy, and I am a second-year student in West Virginia University's Public Administration program. I am a West Virginia Wesleyan Alumna, with Bachelor's degrees in Political Science and History. Because of my interest and knowledge of these topics, I really enjoy my position as a "Graduate Assistant at West Virginia & Regional History Center's Modern Congressional Political Papers Collection, WVU Libraries." I put this in quotations because this is possibly the longest job title to explain to family members and friends. However, I really value working in this position, and am happy to talk about it when there is genuine interest. My job primarily is to process Senator Rockefeller IV's files. There have been thousands of boxes sent to the West Virginia University depository, and it is my job to arrange and describe the files. I skim them for any sensitive information, or duplicates, and relocate them to safe, chemical-free folders for proper storage. I usually stumble upon some interesting finds. I also scanned photographs from Congressman Nick Rahall's collection, and had the pleasure of preparing an online exhibit with my co-workers. In all these roles, I really value my time here, as I get to see things that I would not have gotten to see if I did not have this position.
The highlight of the Fall semester was co-curating a digital exhibit, "Vote for Me: West Virginia Political Memorabilia," with my co-workers. My biggest responsibility for the exhibit was the "Campaign Buttons" section. I learned about the history of the campaign button and the political and personal histories of Governor Okey Patteson, Senator Jennings Randolph, Governor Cecil Underwood, Senator Robert C. Byrd, Governor Arch Moore, Senator Jay Rockefeller IV, and Congressmen Robert and Alan Mollohan. While I was familiar with these political figures, taking a deeper dive gave me a bigger understanding of their contributions to West Virginia.
I also valued learning how to use Omeka, an online tool that I had not heard of until starting this position. I enjoy learning new tasks and tools, and so the time seemed to fly when work on this exhibit shifted from research to designing and creating the exhibit in Omeka. This part of the process also led to more interaction with my co-workers. Because of COVID-19, my co-workers and I have not been working at the depository together, but have been working staggering off-site and on-site shifts. The online exhibit gave us a chance to collaborate and decide on the best way to organize the exhibit. This boosted workplace morale and comradery.
The best part of this project was the satisfaction of getting to the finish line with a polished, published product. I was happy with how the exhibit turned out, and this was the best group project I have been a part of. Everyone worked hard and brought a lot to the table.