Posted by Jane Metters LaBarbara.
December 14th, 2020
By Crystal Coon, Graduate Student Assistant, WVRHC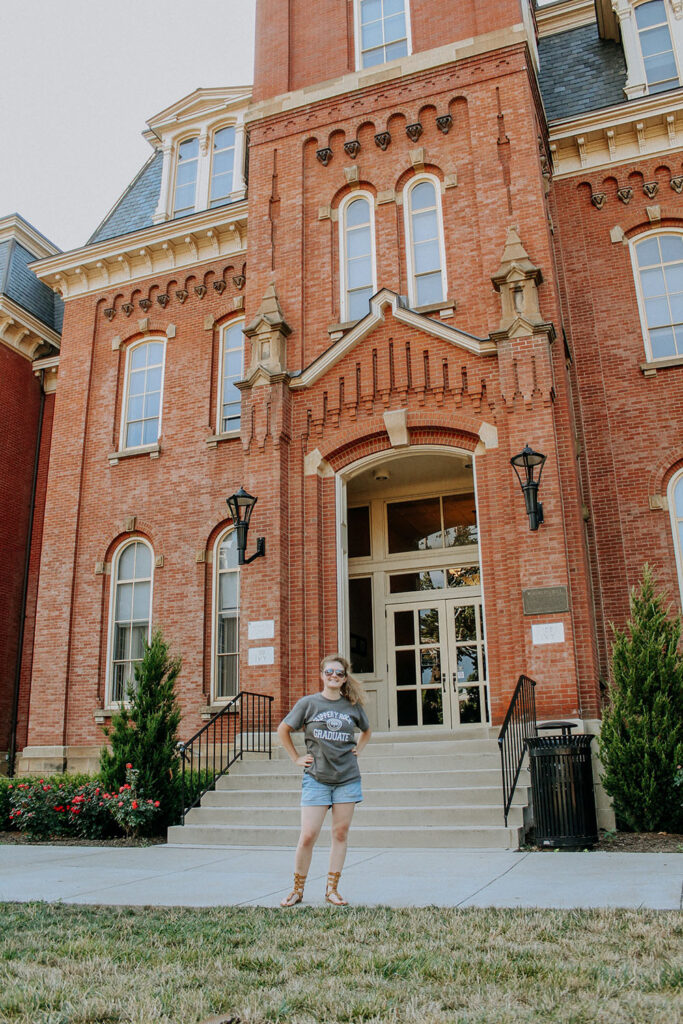 I am a first-year graduate student at WVU in the Public History program, with a certificate in Women and Gender Studies, and starting in August of 2020, I became a Graduate Assistant for the West Virginia and Regional History Center Modern Congressional Political Papers Collection. So, basically, I get to look over and work with some really cool documents dealing with West Virginia politics and government! Specifically, I get to work with the Governor Arch Moore correspondence collection; it contains all the letters written to Arch A. Moore, Jr. while he was governor of West Virginia.
While working as one of the Graduate Assistants for this department, I had the amazing opportunity to help curate a digital exhibit called "Vote for Me: West Virginia Political Memorabilia." Working together with the other graduate assistants, we created an online exhibit that told the story of historical campaigning throughout West Virginia's history. I did research to create the Campaign Poster portion of the exhibit. I really enjoyed looking into the history of campaign posters and the different kinds of campaign slogans. Looking at the different WV campaign posters, like that of Matthew Mansfield Neely, really got me excited about the interesting history of something that is now viewed as so common. Figuring out how to set up the virtual exhibit with the other assistants was a really fun process. This project was incredibly interesting, and I really enjoyed being able to create the poster for the Welcome Page of the exhibit.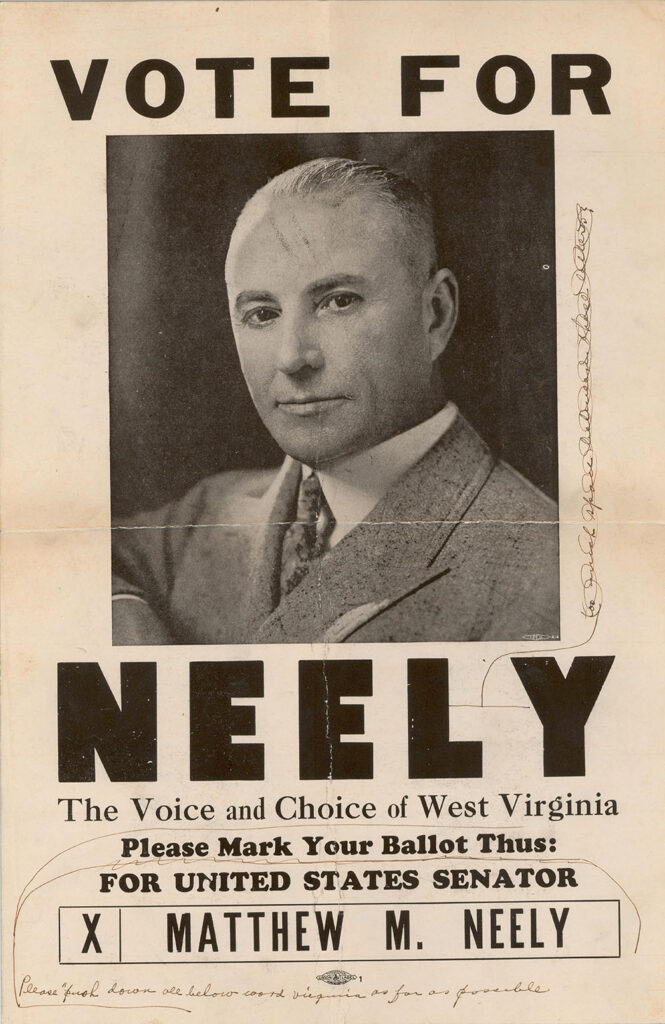 One of the biggest parts of my job was creating scope and contents notes for the Arch Moore Gubernatorial Correspondence series. These notes will allow specific topics and people to be searchable for researchers online. The most interesting aspect of looking through constituent correspondence is seeing what people thought was important. There were plenty of letters requesting help with Worker's Compensation and Social Security, but there were also letters congratulating Governor Moore on his election. There were requests for the governor to write to someone special for a milestone birthday, anniversary, or graduation. The people of West Virginia clearly felt close to Governor Arch Moore. It was so interesting to be able to see the issues that every day people felt passionate about: what they felt was worth writing to the governor of the state about.
While working through Arch Moore's gubernatorial correspondence, I also came across some really interesting, fun, or even heartbreaking things. Some of the most interesting letters to the governor were from major businesses interested in moving some of their manufacturing into the state of West Virginia. The presidents and CEOs of places like Coca-Cola and Pillsbury wrote to Arch Moore. One of my favorite things to see in the many folders of constituent correspondence is the letters from kids. Often written for school projects, many children and teenagers wrote to Governor Moore to express interest in learning more about the state of West Virginia. In September of 1986, Governor Moore received a letter from a young girl, thanking him for sending her information, books, and pins on the state of West Virginia. At thirteen years old, she also included drawings of the state flower, state animal, state bird, and state tree. My favorite part of this letter is that she addressed the letter "To my friend Arch A. Moore Jr. Governor." I love the closeness that these kids felt to the governor who so willingly sent them information about the state. The most heartbreaking thing that I have found in the correspondence files is Governor Moore's letters of sympathy to the families that fell victim to mining accident fatalities. These letters are always touching, and they remind me that these accidents had more victims than just the miners. These families suffered the loss of a husband and often a father; it is moving to see Governor Moore reach out to these families during their time of grief.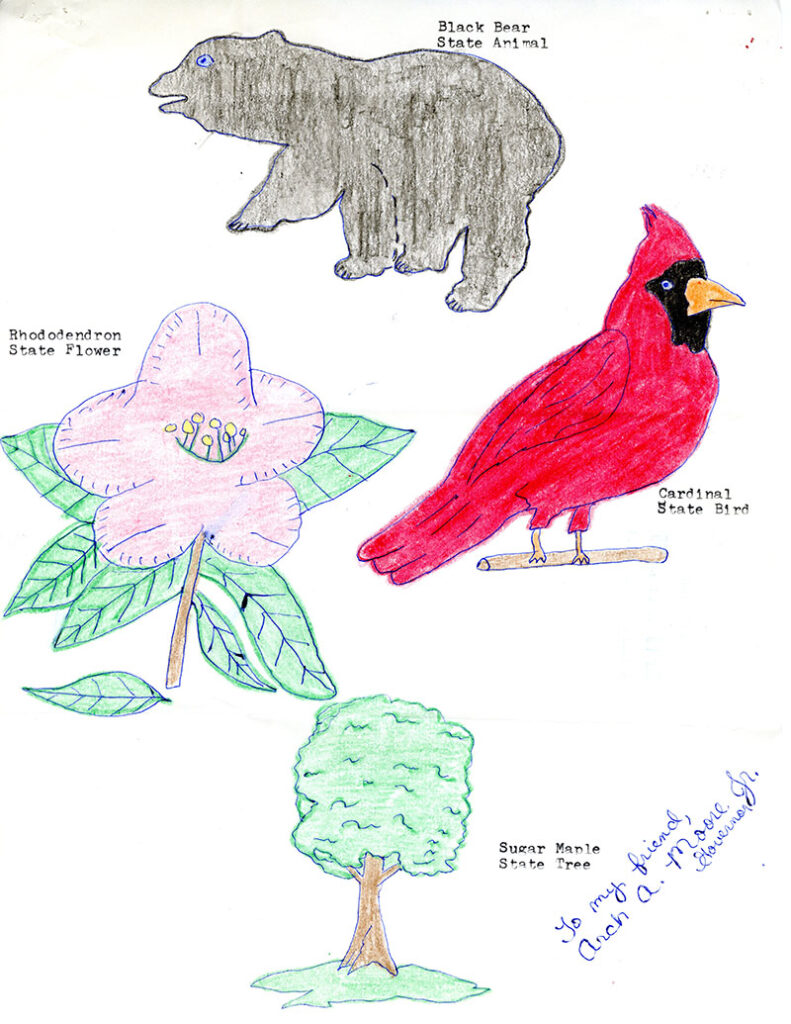 Another aspect of the assistantship involved the Nick Rahall photo collection. I scanned several boxes of photographs from Representative Nick Rahall's time in Congress. Starting with images from the 1980s, I scanned photographs of various aspects of the Congressman's career so that they can be made available online. I really enjoyed getting to see how his career progressed from the 1980s through the early 2000s by the images that I was able to scan. It is easy to see through the hundreds of photographs that I looked through that Representative Rahall was very involved with the people of West Virginia, as he attended a lot of community events and had many schools visit his office in Washington D.C. Seeing the career of Congressman Rahall through these photographs was one of the most interesting ways of exploring someone's life of public service that I have had the opportunity to look through.
Through this semester of working with the West Virginia and Regional History Center's Modern Congressional Political Papers Collection, I have found a new interest in modern political history. As someone who is studying 19th Century American history, I have never really explored the mid to late 20th Century and all the incredible stories it has to offer. Political history has never really been something that I gravitated towards, as I studied social and cultural histories. However, working with this collection has really encouraged me to broaden my horizons, look beyond my comfort zone, and pick up an interest in something that I hadn't really considered before.
Working remotely and continuing to adapt to changes brought on by a global pandemic has definitely brought its share of challenges. But being surrounded by history and the stories of people who persevered gives my work a renewed sense of necessity and relevance. Surrounded by campaign materials and historical politics during a very tense election, I was able to reflect on periods of political uncertainty in West Virginia's own past. I am excited to continue to work at the WVRHC and further my interest in West Virginia's rich political history. Now, more than ever, history is important to understand the present.
Leave a Reply