Posted by Mary Alvarez.
December 22nd, 2021
This fall, I had the opportunity to work with part of one of our incoming collections, an assortment of children's books that included upwards of 60 volumes either part of, or in direct connection with, L. Frank Baum's Oz Stories. These books belonged to one Alice Marie Hunt, a name I came across countless times as I examined each volume. The books range from vintage first editions, to vibrant reprints, to glossy reference books and encyclopedic volumes. Part of the collection is what Oz fans have lovingly named the "Famous Forty," the go-to moniker for the first 40 Oz books, those that are considered an official part of the Oz canon. While L. Frank Baum is certainly the most celebrated and universally acknowledged author of the Oz series, he isn't the only one. In fact, he wasn't the author that wrote most of the Famous Forty. That honor goes to Ruth Plumly Thompson, with a total of 19, who picked up from where Baum left off. Her first book, "The Royal Book of Oz," was published under Baum's name.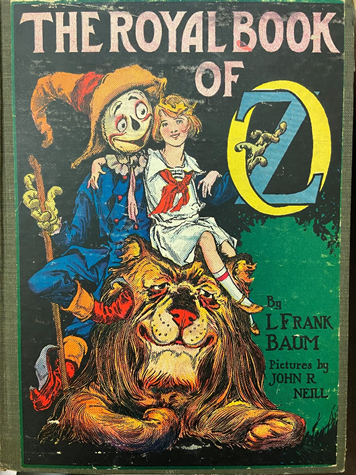 The most immediately striking and noticeable part of this collection are the beautiful covers and interior illustrations, the majority of which were drawn by John R. Neill. Neill's illustrations have become an integral part of the Oz works, and many reference books and newer editions include prints of his color plates and black and white drawings. The colors are at once lively and soft, and the linework is simple but creates instantly recognizable characters that match well with their personalities on the page. It's easy to see why so many readers, both young and old, were enamored with the world of Oz. In my opinion, it has just as much to do with the covers and illustrations as it does with the writing.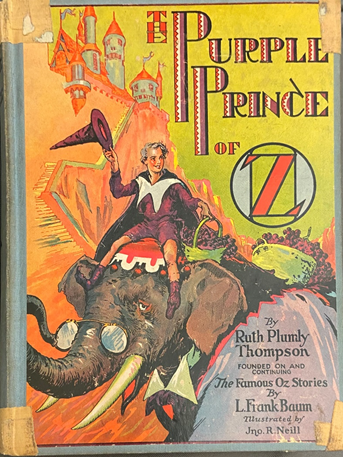 In the process of taking an inventory of this collection, I felt I really got to know these books. On a basic level, I learned more about the Oz series than I ever thought I would know. By the time I had made my way through a third of the collection, I had memorized the names of authors, publishing companies, and illustrators. I found myself getting distracted researching the fantastical and fun world of the series, both from a narrative perspective, and a behind-the-scenes one, as I traced which author wrote which book, how many they contributed, and if they had other involvement in the series as a whole—John R. Neill actually wrote three of the 35 books he illustrated! I came across a multitude of databases and sites dedicated to sharing information about the Oz series. There are books specifically written for the purpose of guiding Oz book collectors, and ones that celebrate the world of Oz in its entirety, including the many film and television adaptations.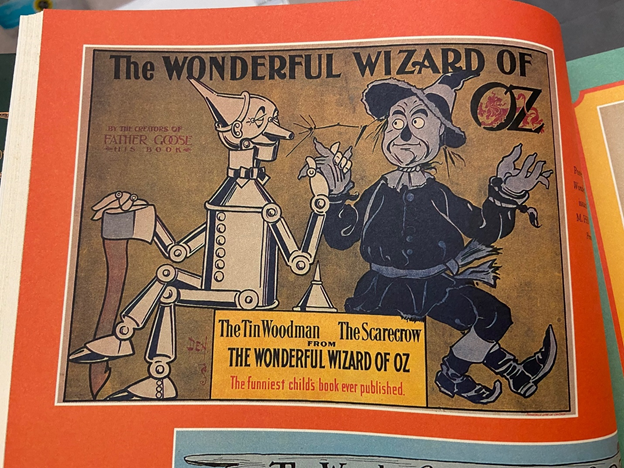 Something else struck me, the deeper I got into the cataloguing process. As the technicalities of where they were worn, what parts were delicate or damaged and what condition they were in faded away, becoming second nature after writing them repeatedly for so many books, I started to notice other patterns. Alice's name written inside the front cover of almost 40 of the volumes. Books that were in shockingly pristine condition. Inscriptions written in neat cursive: "To Alice," they said, "from Mother, Easter 1950," "from Uncle Jim," "from Grandpa, Mimi, and Mommy," "from Papa, Mama, Unkie and me," "Love & Merry Christmas 1954 from Uncle Jim." I realized how much Alice must have cared for these books, how her family clearly knew of her interest in them and wanted to get her a gift that would bring her joy and contribute to her collection.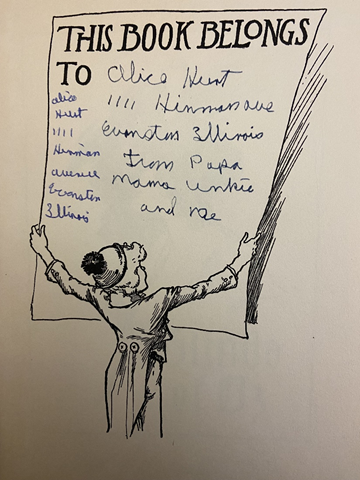 There were books where Alice's name was written twice on the bookplate—once in pencil in a child's handwriting, and another in pen, in a neat, small cursive. Others where some of the illustrations were traced, like the owner was trying to learn to draw the scenes. There is no way of knowing which of the books' owners practiced their art this way, but it called to mind such a universal childhood experience—consuming a story and realizing that the characters have stuck with you, that something in the plot or the essence of the work felt good, even after you had finished reading. So, you practice drawing the characters, tracing over the lines to "get it right" so that one day you can draw them on your own. It's such a specific—and yet still relatable—display of interest and joy.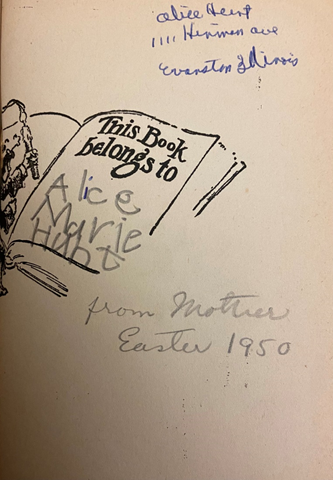 When we collect objects like these, it is not just preservation of a piece of literary history, but preservation of a personal history, written onto the pages and into the fabric just as easily as the story itself was printed there. This collection is a testament to that history, to the love and determination Alice had to have possessed in order to acquire such a complete collection of books. To the attentiveness and love Alice's family had for her, knowing that these books were something she cared about. These books are a particularly good example of this because they are considered children's literature, and you can clearly see that a child adored these books. Between the traced illustrations, the carefully removed color plates, and the proof of ownership inside each cover, evidence of use is abundant. And with objects like books, evidence of use is evidence of love.