Posted by Monte Maxwell.
April 21st, 2021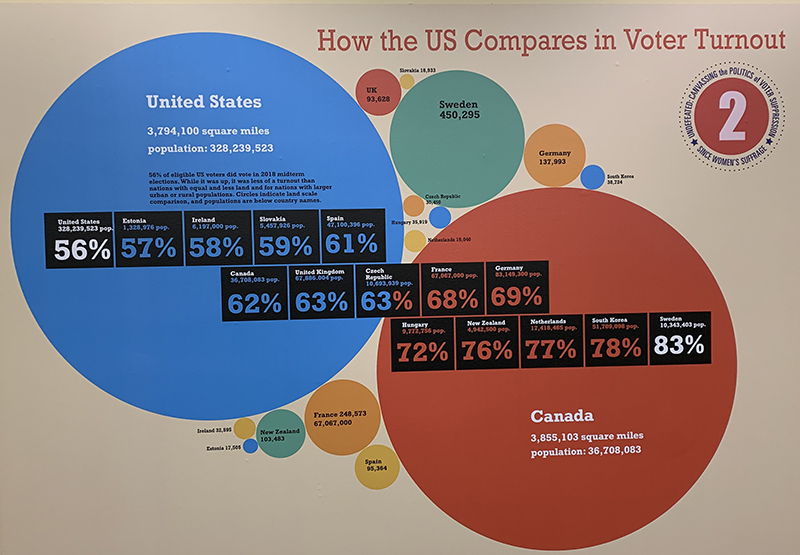 By Sally Brown, WVU Libraries Exhibits Coordinator
Curating the Art in the Libraries' large, multi-disciplinary exhibitions since 2018's WATER, has proved an enormous and exciting part of my role as Exhibits Coordinator. Through WATER (2018-19) and Appalachian Futures (2019-20), I developed these large exhibitions with upwards of 50 diverse contributors, two committees, a designer, several sponsoring partners and of course, the signing off of Dean Karen Diaz for these displays going up in the Downtown Campus Library for the academic year.
This year's exhibition, Undefeated: Canvas(s)ing the Politics Around Voter Suppression Since Women's Suffrage, in conjunction with the Suffrage Centennial and the 55th anniversary of the Voting Rights Act of 1965, was complex in its multidisciplinary, and controversial in its political nature. The complexity was compounded by the pandemic not only logistically for exhibition display, but also as it heightened the unfolding story of contemporary voter suppression with myriad new voting considerations throughout the presidential election. Thankfully, the various contributors and partners allowed for multiple perspectives for this exhibition and its related programming and we were able to engage participation from WVU and broader communities.
Read the rest of this entry »