Posted by Admin.
November 10th, 2021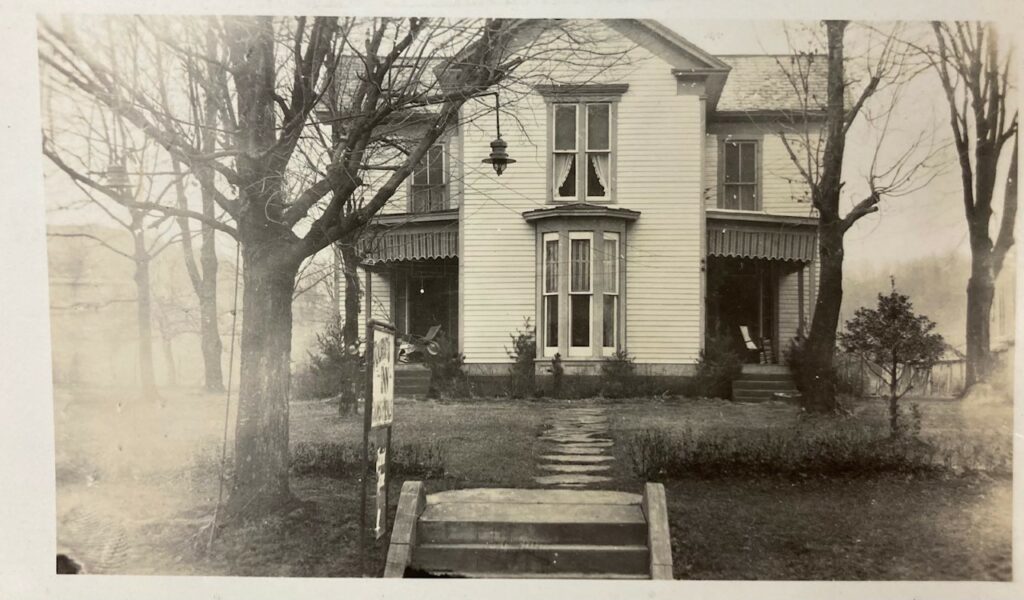 A 1932 West Virginia travel brochure proclaimed that "Half the people of the nation are within 500 miles of its [West Virginia's] boundaries"; further, our major paved highways, such as routes 19 and 50, provided the perfect means for tourists and other travelers to come to our state. The West Virginia University Extension Service under the direction of Gertrude Humphrey recognized this opportunity to promote and sell West Virginia farm produce by establishing the Mountain State Tourist Homes cooperative, an offshoot of the Farm Women's Bureau. During the early part of the 20th century, it opened its first tourist homes in the Eastern panhandle. The day to day running of the program fell to Katharine Stump, Home Demonstration Agent, who helped the women get established, and to later make improvements. She coordinated the program from application to evaluation.
After purchasing 5 shares in the cooperative at $1.00 each, the farm family got a Tourist Home sign which indicated to travelers that the home was regularly inspected and met the high standards outlined on a score card from her local Home Extension Agent. The tourist home program enabled women who maintained the homes to market farm products by preparing meals for tourists, hunters, and fishermen who would rent rooms. "The tourist home owner not only has an opportunity to market her surplus food products through the serving of meals to tourists, but incidentally she is giving favorable advertising to West Virginia by providing desirable accommodations for out-of-state tourists." "Favorable advertising" was needed based on Mrs. Edward [Bessie L.] Semple McClish's answer to the question, Other interesting facts and stories, in her tourist home report to Katharine Stump in 1932. Mrs. McLish who ran a tourist home in Aurora answered, "Many inquiries if we have any schools at all in this section. There are many who seem to think West Virginia a wild and wooly country."
Katharine Stump reported a growth in the number of tourist homes in 1932 to twenty-seven with the addition of homes in more areas of the state rather than mostly in eastern West Virginia. The women hosted visitors in the counties of Ohio, Marshall, Wood, Ritchie, Lewis, Upshur, Barbour, Preston, Tucker, Mineral, Hardy, Hampshire, Morgan, Berkeley, Mason, Jackson, Kanawha, Nicholas, Braxton, Randolph, Pendleton, Pocahontas, and Mercer. That year they welcomed 6,000 overnight guests at a rate of $1.50 per night for two. They served 2,000 breakfasts for 25 cents each, 1000 lunches at 50 cents each, and 4,000 dinners at 50 cents each. A simple breakfast consisted of toast, jam, and coffee, or of fruit, prepared cereal, and coffee. A heavier breakfast at the higher cost of 75 cents consisted of fruit, cereal (either cooked or ready-to-eat), eggs, toast or muffins, hot cakes or biscuits, and cookies or doughnuts. The Home Extension Agents recommended a sample menu for that 50-cent dinner as: tomato juice with saltines or toast strings, chicken croquettes, buttered peas, scalloped potatoes, lettuce with radishes, strawberries and cream, and hot rolls.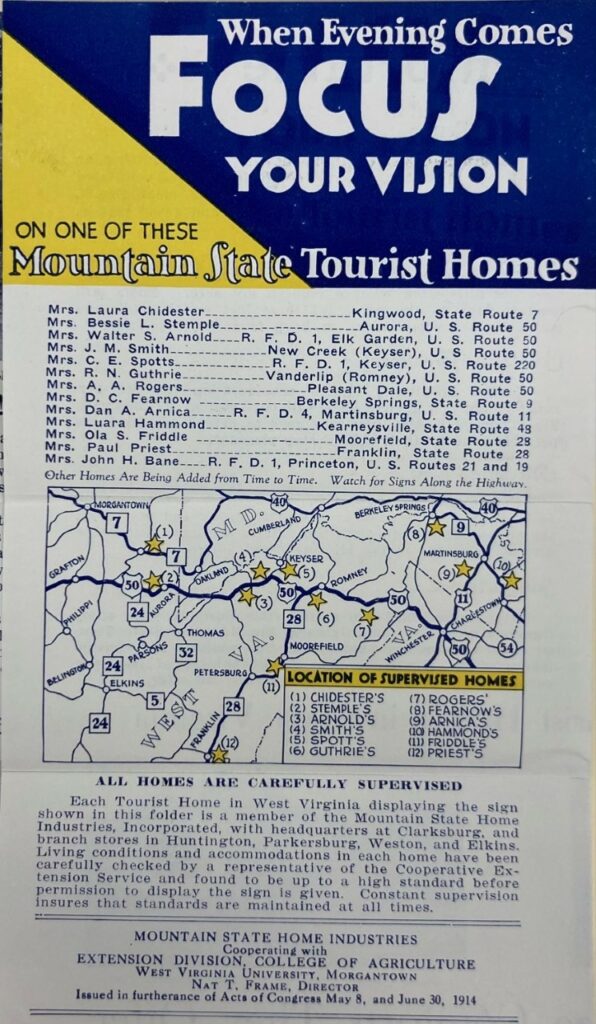 To earn the privilege of displaying the tourist sign, the women underwent a Home Demonstration Agent's evaluation using a scorecard which consisted of eight categories: general appearance of house and surroundings, the hostess, sanitation and bathroom facilities, bedrooms, dining rooms, the kitchen, health of members of the household, and rates and privileges. Tourist homeowners were advised that first impressions of a well maintained and landscaped house may include "…a comfortable porch, shade trees, gay flower boxes, and a well-kept lawn do much toward inviting the traveler to stop," but the interior also had to pass muster. In a 1938 evaluation the Home Extension Agent noted that the hostess created a bedroom for an antique lover with a sugar barrel, a settee, a rocker, a high chest, and a huge canopy bed, but the agent considered the room too crowded, perhaps inconveniencing the tourist. The evaluator decided it was best not to mention it to the owner since it appeared to be a sore point for the owner. She must have been extra proud of those antiques.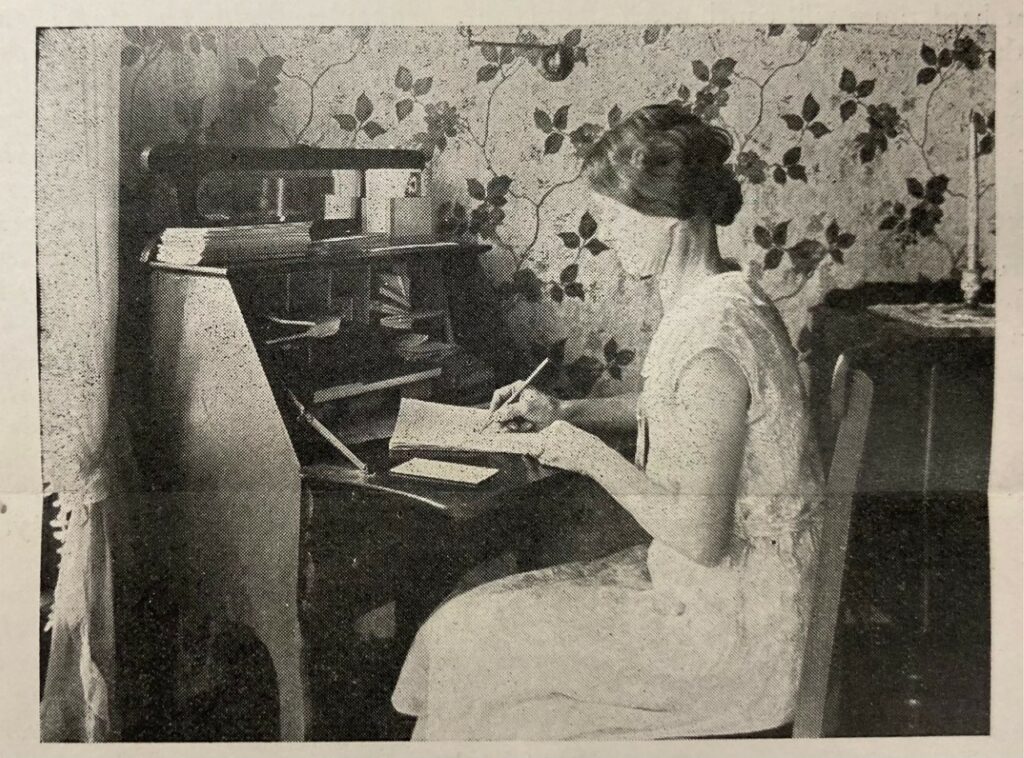 The Home Agent also scrutinized the hostess for first impressions. The score card included two items under this category: she must be neat and clean in appearance, and she must be gracious and cordial. Another document describing expectations for the hostess states "If she is neat in her attire, even though clothed in a percale housedress, of becoming line and color, we feel that her rooms will reflect the same careful thought and attention." In the photo above, we see a neat and clean Mrs. Rogers taking care of the business end of her tourist home enterprise which followed on her having opened her home as a boarding house to fishermen and hunters before Route 50 was surfaced. Continuing this work, she boarded the workmen who paved Route 50 in 1924. By 1929 the family had decided that it was fun and profitable to take in tourists, so in 1930 Mrs. Rogers made improvements to her home to meet the Mountain State Tourist Homes requirements and opened for business.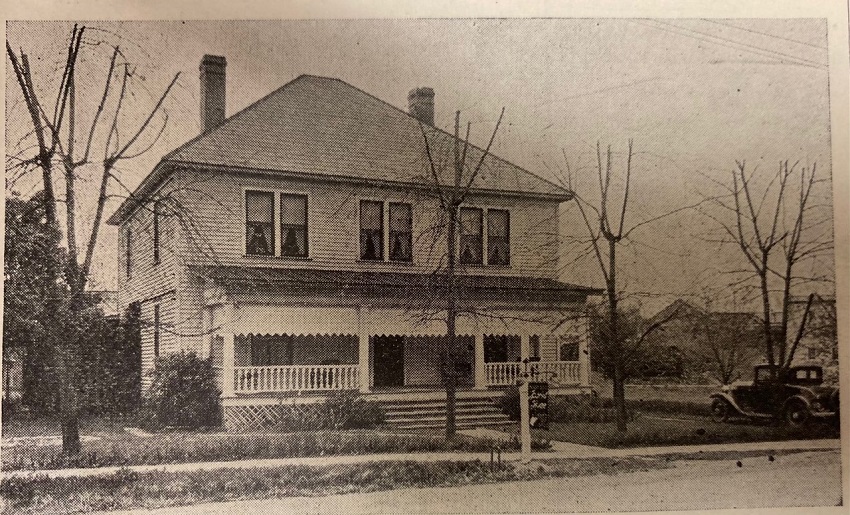 Just like travelers today, those of the 1930s also sought a comfortable place to rest for the night. Suggestions to tourist home operators regarding the bedrooms included "First of all they must be orderly, neat, and clean. A room with good heat in winter an equally good ventilation in summer means much to a weary traveler." The hostess was expected to remove any personal items from the bureau and have minimal pictures on the wall within the restraints of printed wallpaper. Other amenities included providing a place for luggage and a place for hanging towels to avoid damage to furniture. The flu epidemic, 1918-1919, had ended just over 10 years prior to the time these homes were established, therefore, sanitation was of utmost importance. The homes were required to provide safe running water, an indoor privy with hot and cold water, screens on the windows, no contagion or infectious diseases among family members, and "good health…required of all persons preparing or serving food."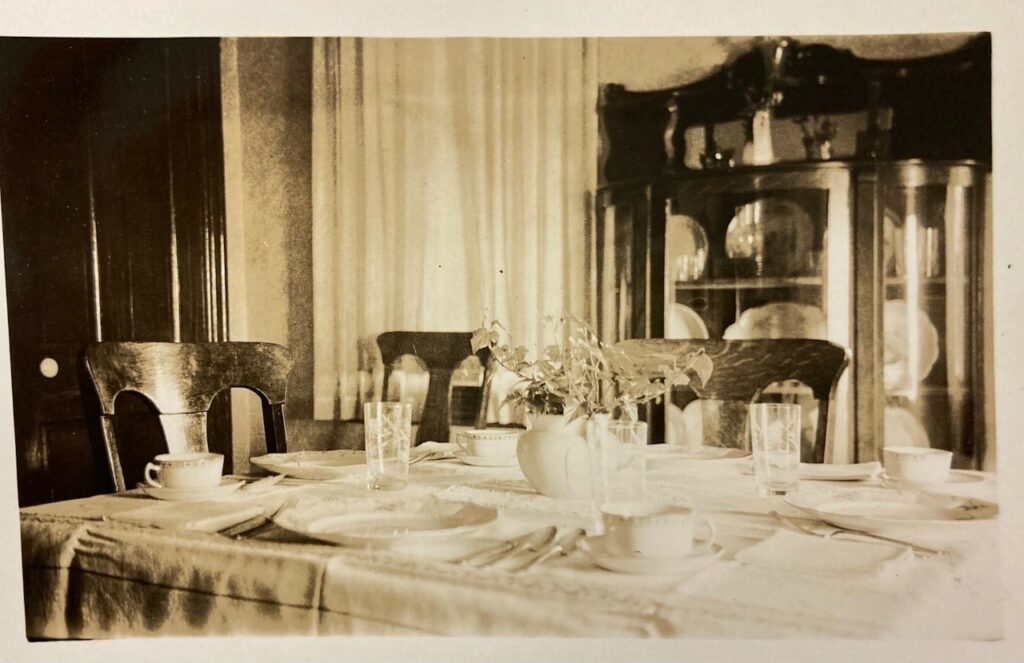 The dining room pictured above reflects the strict criteria set forth by Mountain State Tourist Homes and is the same as what a traveler would expect at one of today's bed and breakfasts. It is light, cheerful, free from flies and [hopefully] the odors of cooking foods. The table linens are fresh and clean, and the silver is well polished and clean. The woman of the house has gotten out her best china, shined her silverware, buffed her crystal glassware, and placed a vase of greenery at the center of the table. It is now ready for some hearty food made from the family's own products.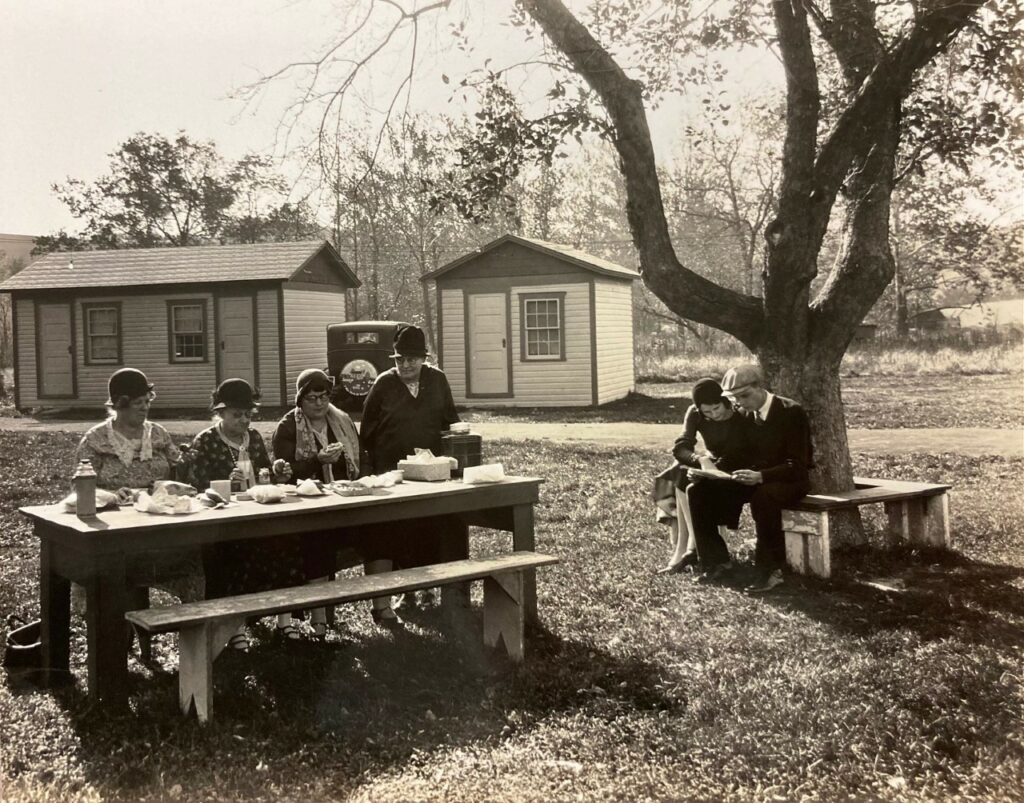 The information for this blog post came from the West Virginia and Regional History archive collection, AM5220, West Virginia University Extension Service records. These records document not only women's work in providing clean places for tourists in the early days of paved roads, but also the WVU Extension Service work with West Virginia women in contributing to the World War II home front effort. This work included the organization of women farmers, instructions for home food conservation and preservation, coordination of local leadership programs to respond to war directives, and the management of mattress making to use excess cotton.
I remember the Tourist Home signs from my girlhood, and I wonder if any of these lovely homes of respite for travelers still exist. They serve as examples of the work of many capable women who provided income for their rural families during difficult times as well as a service to trekkers making use of newly paved roads and new automobiles. The women were guided and encouraged by Gertrude Humphreys, Home Extension Agent extraordinaire.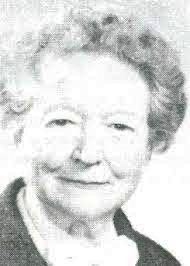 She coordinated, directed, evaluated, and educated the West Virginia women who invited tourists into their homes, farmed and preserved food for the World War II war effort, provided leadership for their communities during the War, and taught both men and women how to make mattresses.
One Response to 'Tourist Homes in 1930s West Virginia'
Marty Wine Says:
November 17th, 2021 at 4:52 pm

This is an interesting documentation of another example of the strength and resilience of West Virginia women. I am interested to know the location of the Tourist Home that operated in Braxton County, my home county.
Leave a Reply