Posted by Monte Maxwell.
October 28th, 2021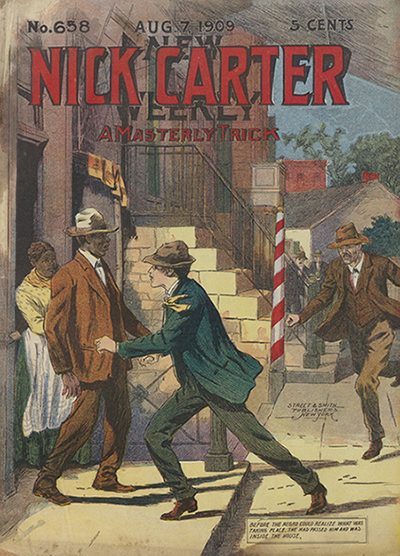 WVU Libraries will host English professor Nancy Caronia for a virtual presentation titled "American Dime Novels: Racialization / Erasure" Thursday, Nov. 4, at 4 p.m.
Caronia, a teaching associate professor in the Eberly College of Arts and Sciences Department of English, will discuss her "American Dime Novels: Racialization / Erasure" exhibit now open in the Downtown Library, Room 1020. It includes a series of dime novel covers, showing how stereotypes of these communities followed and / or promoted state and national policies regarding immigration policies including the Chinese Exclusion Act, Indian removal acts, and Jim Crow practices focused on voter suppression.
To virtually attend Caronia's presentation, register for the Zoom program here: https://wvu.zoom.us/meeting/register/tJcrfuuqrzkqGt2F9y1oxAe9-N1u3wUkWvxQ
"These covers reflect not only past US history, but also current practices regarding twenty-first century immigration policies and discourse in both political and popular culture," Caronia said.
Learn more here.
Caronia received the 2020-21 Faculty/Staff Exhibit Award from the Arts in the Libraries committee for her proposal to visually showcase her scholarship.
While working on an interdisciplinary volume exploring how the American dime novel genre assisted in spreading discriminatory notions of Italian immigrants in the late nineteenth and early twentieth century, Caronia found, "Dime novels reinforce racist and ethnic stereotypes not only of Italian immigrants, but also indigenous, black, and Chinese individuals and communities."
Visit the online exhibit here: omekas.lib.wvu.edu/home/s/dime-novels/page/introduction. Or check out the event on Facebook: fb.me/e/fVfUFeBTr.
Students who attend can earn hours through this iServe listing: https://iserve.wvu.edu/need/detail/?need_id=633460.
Zoom program will offer live captioning. Sign language interpreting services are available by request. To request an interpreter, contact Jason.Kapcala@mail.wvu.edu at least three business days prior to the event.
Learn about the Libraries' other virtual programming here: https://exhibits.lib.wvu.edu/virtual-offerings.
Leave a Reply