Posted by Monte Maxwell.
April 26th, 2018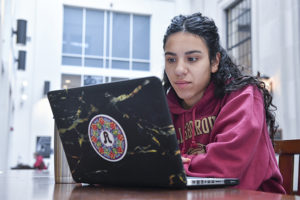 By Karen Diaz, Interim Dean of Libraries
The state of West Virginia and West Virginia University have had a couple of belt-tightening years. This, of course, has impacted the Libraries budget as well.  After two years of stringent reductions and loss of access to reserve funding, we have had to cut our spending on library materials (collections) from over $9 million in FY 2015 to under $6 million in FY 2018. This is a 39% reduction.
A few things about library collections:
About 90% of our materials budget now goes to electronic materials. This includes databases, e-books, and e-journals, and is fairly typical for an academic library.
About 88% of our budget is for subscription items. These are items that in most cases require us to maintain the subscription in order to continue to have access to the title at all.  For instance, if we cancel a database, we no longer have access to any information in the database.  We don't just lose access to the current year moving forward.
Some of our "materials" costs actually go to tools to help provide access to our content. For example, we pay an annual fee for our online catalog, in some cases we pay an annual "hosting fee" for digital content, we pay for tools that allow our users to log into proprietary content from off campus, and tools that provide us with data about which materials are being used.
Even the content we get for free, such as gift books or important archives and manuscripts, have costs. There are fees for transporting the material, processing it so it is known and findable to researchers, and housing it – sometimes in special acid-free boxes or in particular conditions for longevity. If we want to make that content available online there are digitization costs.