Posted by Monte Maxwell.
December 3rd, 2018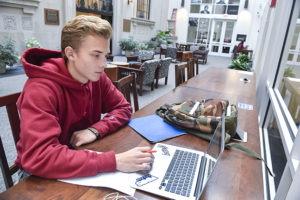 By Karen Diaz, Dean of WVU Libraries
For two years now, West Virginia University Libraries has been working toward bringing our materials spending in line with the new budget realities that we have faced since 2016. One of the biggest challenges in our reduction in funds is managing "bundled" journals subscriptions that historically provided us with more journal title subscriptions at less cost. Unfortunately, over time the inflationary costs of these bundle subscriptions have outpaced the size of our budget.
In 2016, when we were first presented with the need to reduce our spending, bundled journal packages accounted for 30 percent of our materials budget but only provided 6.2 percent of our titles. We recognized at the time that we would have to address this significant portion of our budget to achieve the necessary savings. We did so immediately by unbundling our Wiley subscription package which provided us with about $400,000 in savings at that time. Now we are moving to unbundle the remaining packages.
Remedies, Consequences and Negotiations
Our librarians have spent the last year and a half doing a tremendous amount of analysis on our bundled packages. We have looked at where there is title overlap between different packages we purchase. We have purchased a detailed report that helps us understand which journals our campus researchers are downloading from, publishing in, and citing in their published research. Based on that we have been able to rank in importance the journals for our community in a data driven manner. Our internal collections advisory committee has reviewed and adjusted this work based on extra knowledge gleaned from relationships they have developed with colleges across campus.