Posted by Monte Maxwell.
November 3rd, 2022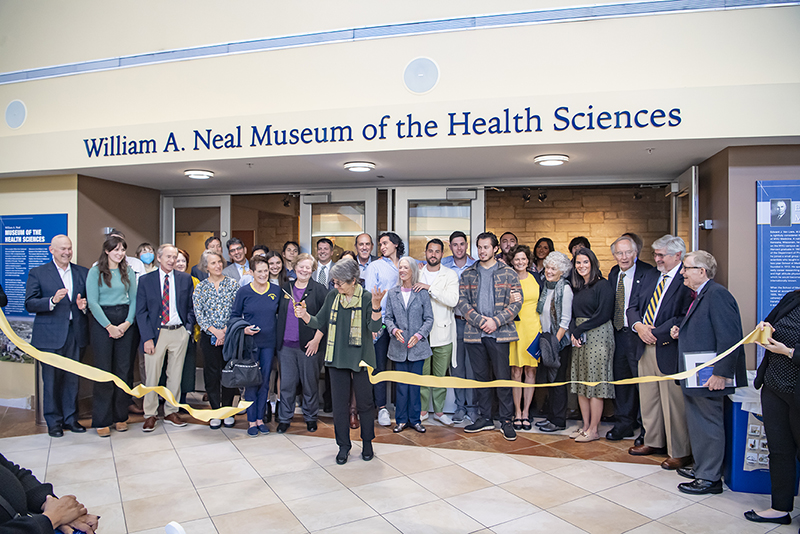 Remarks by Dean of Libraries Karen Diaz at the Neal Museum of the Health Sciences dedication on October 28.
President Biden recently issued an Executive Order on Promoting the Arts, the Humanities, and Museum and Library Services. In it he articulates this inspiring statement on these institutions: "The arts, the humanities, and museum and library services are essential to the well-being, health, vitality, and democracy of our Nation. They inspire us; provide livelihoods; sustain, anchor, and bring cohesion within diverse communities across our Nation; stimulate creativity and innovation; help us understand and communicate our values as a people; compel us to wrestle with our history and enable us to imagine our future; invigorate and strengthen our democracy; and point the way toward progress."
I know that here at WVU, our library archivists are the collectors and stewards of the materials that mark our past. Without these touchstones of reality – of life as it truly was – we forget what was, and in fact are left to invent in our minds what never was. But it is through the interaction with these materials that we learn from and are inspired by them.
Dr. Neal recognized this truth, and the William A. Neal Museum of the Health Sciences was born from his hundreds of hours of research in the West Virginia and Regional History Center, allowing these first-hand materials to tell the amazing story. Exhibit visitors will walk through a vast amount of history, while learning about West Virginia and Appalachia's contributions to health care that not only impacted the region, but the rest of the world.
Clearly, we are at a precarious time in human history that involves great problems. All these problems directly affect our health. Certainly, COVID created great strain on our healthcare systems. We have seen that it also took a tremendous toll on our mental health collectively. Climate change, global warfare and nuclear threats continue to stress us and challenge our health.
Solutions to those wicked problems and how to care for our minds and bodies as we experience these challenges have to be part of our future. But it is often in understanding our past that we remember how problems have been solved. We are reminded that people before us struggled and innovated. We can track progress. And we find kernels of ideas of how this happened to inspire fresh thinking on our new challenges.
The WVU Libraries are excited to partner in this new endeavor on the Health Sciences Campus. We already provide modern, current medical research services to the campus through the Health Sciences Library. Our exhibits coordinator has mounted numerous exhibits in these spaces. And now we can continue to tell and evolve the story of the past through this museum. We are in the process of hiring a permanent curator with support from Dr. Neal's permanent endowment, his sister Susan Neal Meyer, and the WVU Health Sciences Center. This curator will bring museum and archives skills to keep the museum current, relevant, engaged, and a destination for our greater community and region.
No project like this is completed without passion, support, and diligence. There are numerous individuals to thank for all of these contributions. The vision was supplied by Dr. Neal. It was allowed to thrive because of the support of Dr. Clay Marsh. It came to life through countless hours of research and writing by the team of Dr. Neal, Dr. John Cuthbert, who is Director Emeritus of the West Virginia and Regional History Center, and Elizabeth Satterfield, then graduate student in Public History and Public Administration and now curator of the nearby Arthurdale Heritage Museum.
The planning group spent countless hours meeting with designers and vendors. Included in that planning group was Zenaba Qadeer, project engineer with Health Sciences Facilities who coordinated all the various trades in putting this physical work together. Our interim director of the West Virginia and Regional History Center, Lori Hostuttler has managed several details required to finalize completion of this work.
It has become very apparent to me over the last few days that a LOT of love has gone into the making of this museum by several alumni who have generously contributed their talent, resources and ambassadorship to tell our story and create inspiration for future generations. Physician and artist, Dr. Larry Krames consulted on design and has worked tirelessly to paint an extraordinary portrait of Dr. Neal (which we will unveil shortly). Dr. Jim Caveney and Karen Caveney supported the brilliant sculptor of the powerful bronze sculpture of Dr. Edward J. Van Liere, founder of the four-year medical school. WVU Dental Alum Burl Jones was the sculptor.
There has been financial support from numerous individuals. As we've heard today, Dr. Neal's sister, Susan Neal Meyers' early support of Bill's passion helped to move the entire project forward. I would also like to recognize the support of Dr. John Mikita and Linda Mikita to incorporate a state-of-the-art 3D anatomy dissection table into the museum, and I want to highlight the early and sustained support of the Chicago Alumni chapter.
And finally, what would a great accomplishment like this be without all of you here to celebrate its opening and honor its presence as a new part of our great campus? Thank you to all of you for coming and joining with us today.
Leave a Reply