Posted by Monte Maxwell.
April 26th, 2018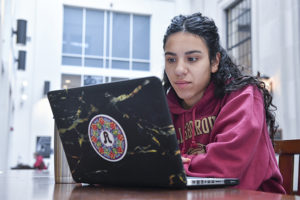 By Karen Diaz, Interim Dean of Libraries
The state of West Virginia and West Virginia University have had a couple of belt-tightening years. This, of course, has impacted the Libraries budget as well.  After two years of stringent reductions and loss of access to reserve funding, we have had to cut our spending on library materials (collections) from over $9 million in FY 2015 to under $6 million in FY 2018. This is a 39% reduction.
A few things about library collections:
About 90% of our materials budget now goes to electronic materials. This includes databases, e-books, and e-journals, and is fairly typical for an academic library.
About 88% of our budget is for subscription items. These are items that in most cases require us to maintain the subscription in order to continue to have access to the title at all.  For instance, if we cancel a database, we no longer have access to any information in the database.  We don't just lose access to the current year moving forward.
Some of our "materials" costs actually go to tools to help provide access to our content. For example, we pay an annual fee for our online catalog, in some cases we pay an annual "hosting fee" for digital content, we pay for tools that allow our users to log into proprietary content from off campus, and tools that provide us with data about which materials are being used.
Even the content we get for free, such as gift books or important archives and manuscripts, have costs. There are fees for transporting the material, processing it so it is known and findable to researchers, and housing it – sometimes in special acid-free boxes or in particular conditions for longevity. If we want to make that content available online there are digitization costs.
Why this is hard
It's easy to understand that having less money is harder to manage than having more money. Clearly you can buy less content. Because so much of our budget is subscription based, reducing our spending is not as simple as buying less, it actually means cancelling subscriptions. With subscriptions to over 96,000 titles, the challenge becomes picking out which items to cancel from that huge collection. This is where the tools that we have for understanding usage become very important.
Another complication is that many of our subscriptions come in "bundled" packages. The vendors of bundled packages give us a discount for buying the titles in bulk. When we are in a stable or growth period this can be of great benefit to us and allows us to buy "more for less." But when we are cancelling materials these bundled packages are extremely problematic. If we don't unbundle them, they begin to take up a larger and larger portion of our budget preventing us from buying items that are not part of the bundles. If we do unbundle them, we end up paying a little less money for a lot less content. We did unbundle one such package in FY 2017 and saved about $440,000 (or just about half of what we had been paying), but we lost 92% of the content.
Additionally, many of the vendors from whom we buy content are for-profit companies. They need growth in revenues, and as there is a limited customer base for scholarly content the growth generally comes through regular price increases of 3-6% every year. Even in good years it is unlikely that the budget of a non-profit institution like a university will be able to sustain that level of growth year after year.  And if our library budget does not grow at that rate, it will lose content every year.
Where there is opportunity
As the Chinese (and WVU President Gordon Gee) say, in every crisis there is opportunity. We have been trying to capitalize on those opportunities as much as possible. One way we have done this is to use these cuts as an opportunity to have conversations with various members of campus to talk about our challenges and to work toward solutions that benefit the most people.
We belong to several consortia that provide us with access to content we cannot afford to buy on our own. We have also been using our campus conversations to ensure people know how to take advantage of that through use of our Interlibrary Loan services – and to reframe understanding that the digital era has meant we can get that material often within hours instead of within days.
Loss of content reminds people of one of the values of the library. Again, in the digital age, it is easy to think that all information is only a click away. Because SO MUCH content is easy to get and free, it's easy to forget that not ALL content, especially perhaps some of the higher quality content, is not free. Much like utilities, libraries are often not valued or even noticed unless they go away. A loss of resources that affects the entire campus reminds every one of at least a portion of the value we provide to a university campus. This is perhaps a self-serving comment to make, but we (who work in libraries) know libraries provide much benefit to campuses beyond content that is often challenging for us to articulate.
Finally, there is so much opportunity to rethink the way we publish and share scholarship. In academic libraries we are fond of talking about how universities pay scholars to do research, incent them to publish it in for-profit journals, and then buy that content back again for researchers to consume. Of course, that is an oversimplification of the relationships between libraries, publishers, faculty, and universities – but there is much to explore in how to make those relationships more beneficial to all parties involved.  One movement that has grown up in this conversation is the Open Access movement in which WVU Libraries is investing time and dollars. I will share more on this investment in my next post.
One Response to 'Maintaining a strong collection during tough budget times'
News | WVU Libraries Says:
November 12th, 2018 at 12:01 pm

[…] and faculty research needs. Diaz has also lead initiatives on textbook affordability and keeping the libraries' collections strong and accessible during difficult financial […]
Leave a Reply