Posted by Monte Maxwell.
October 14th, 2020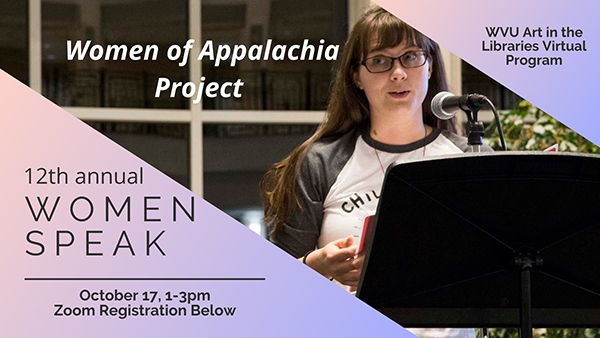 In commemoration of the Suffrage Centennial, the WVU Libraries' Art in the Libraries Virtual Program will host "Women Speak", a juried performance of poetry, songs, short stories and essays, in a virtual format on Saturday, Oct. 17, from 1-3 p.m.
The annual event is a creation of the Women of Appalachia Project (WOAP) who issues a call to residents throughout Appalachia. This year's participants hail from West Virginia, Ohio, Kentucky, Pennsylvania, Virginia, Tennessee and North Carolina.
"Many people have an image of an Appalachian woman, and they look down on her. The mission of WOAP is to showcase the way in which female artists respond to the Appalachian region as a source of inspiration, bringing together women from diverse backgrounds, ages and experiences to embrace the stereotype – to show the whole woman; beyond the superficial factors that people use to judge her," said Kari Gunter-Seymour, WOAP founder and executive director.
The Libraries, the Center for Women's and Gender Studies, the Women's Resource Center and the WVU LGBTQ+ Center are partnering to bring the spoken word event back to Morgantown for a fourth time. The program is free and open to the public.
This event is in conjunction with WVU Libraries' exhibition Undefeated: Canvas(s)ing the Politics Around Voter Suppression Since Women's Suffrage and in partnership with the West Virginia Women Vote of Morgantown coalition. Register here.
The Undefeated exhibit, currently available online, will be on display in the Downtown Campus Library in Spring 2021. It is partially sponsored by the West Virginia Humanities Council and cohosted by the Morgantown National Organization for Women.
This event is among a number of programs initiated by a coalition of area groups to promote awareness for the Suffrage Centennial. The final virtual program in this series will be a presentation by Atiba Ellis, Professor of Law at Marquette University Law School on democracy, voting, and race on Oct. 30 at 6 p.m.
Sign language interpreting and captioning services are available by request for participants who are deaf or hard of hearing. To request an Interpreter or Captioner please contact Jason.Kapcala@mail.wvu.edu at least three business days prior to this event.
For more information or to get invitations to these events contact Sally Brown Deskins, WVU Libraries exhibits coordinator, at sbdeskins@mail.wvu.edu.
Leave a Reply