Posted by Monte Maxwell.
October 3rd, 2023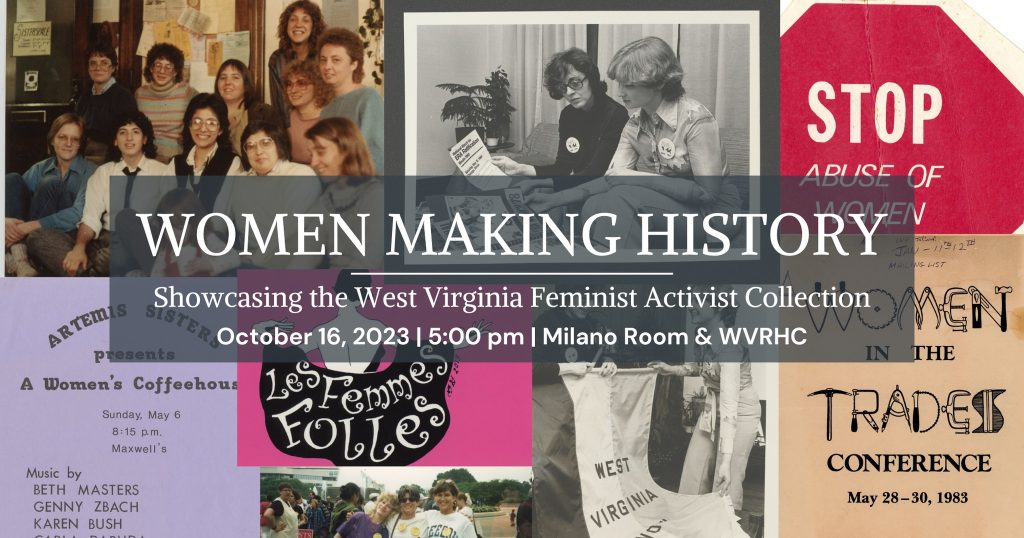 The West Virginia and Regional History Center extends an open invitation to celebrate the opening of the new exhibition, "Women Making History: Showcasing the West Virginia Feminist Activist Collection," on Monday, October 16, at 5 p.m. in WVU's Downtown Library.
The program begins at 5 p.m. with tours of the exhibit in the History Center and a concurrent reception in the Milano Room. At 6 p.m., WVU Professor Emerita Judith Stitzel and Jessie Wilkerson, associate professor of history in the Eberly College of Arts and Sciences, will deliver remarks in the Milano Room. Following the speakers, the exhibit will remain open for viewing until 8 p.m.
This is a hybrid event. Those unable to attend in person can register for the zoom at wvu.libcal.com/event/10941362.
Since 2017, the WVRHC has actively collected records and oral histories to document efforts to improve the lives of women in the state and region.
"The West Virginia Feminist Activist Collection is a rich collection of materials for scholars, teachers, and students to use for research and learning. It is equally a set of collections that offers inspiration and hope. It serves as a vital record of the history of women and the women making that history," WVRHC Director Lori Hostuttler said.
"Women Making History" is a collaborative exhibit that features sections written and curated by students in the WVU History department as well as faculty and staff from WVU Libraries. It features content from several collections that make up the West Virginia Feminist Activist Collection.
Many women seeking employment in traditionally male dominated fields like coal mining and construction trades were most interested in making a living and finding economic security for their families. In the process, they expanded roles for women in the workforce and labor organizations.
Other West Virginia women explicitly sought women's rights through the passage of the Equal Rights Amendment, advocacy, and lobbying through the National Organization for Women and other groups. Still others used creative pursuits like music, art, and comedy to call for women's rights and create spaces for women.
The opening event features speakers with strong connections to the project. Stitzel is the founding director of WVU's Center for Women's and Gender Studies. She serves on the steering committee for the West Virginia Feminist Activist Collection and will give introductory remarks about the importance of documenting women's history.
Wilkerson is the Joyce and Stuart Robbins Chair in Eberly. She received a prestigious Carnegie Fellowship during 2021-2023 to explore feminism in the South and Appalachia. Part of that work is an oral history project with women miners undertaken by students in the WVU History program that will become part of the West Virginia Feminist Activist Collection. "Women Making History" is supported by funding from Wilkerson's Carnegie fellowship.
"The West Virginia Feminist Activist Collection represents the best of collaborative, community-engaged, and revelatory research, and I am excited to share what I've learned throughout this exciting and on-going process," Wilkerson said.
For more information contact Hostuttler at 304-293-1116 or Lori.Hostuttler@mail.wvu.edu.
Leave a Reply