Posted by Jane Metters LaBarbara.
July 10th, 2017
Blog post by Michael Ridderbusch, Associate Curator, WVRHC.
Recently, while processing our voluminous Harrison County Court records collection at the History Center, a record documenting one of western Virginia's earliest pioneers was uncovered.  Although a routine court record dating from 1809 regarding a financial transaction, it nonetheless includes the name of John Hacker (1743-1823), a pioneer who led the way into Virginia's western frontier.  According to the West Virginia Heritage Encyclopedia edited by Jim Comstock, "…he was the first permanent settler in what is now Lewis County."  Though he settled in the region that became Lewis County, this 1809 case fell under the jurisdiction of the Harrison County Court since Lewis County was established later in 1816, from the territory of Harrison County.  The Encyclopedia further reveals that "in 1774 Hacker was given a 400-acre grant of land there, near what is now called Hacker's Creek after him."  His notable exploits included serving in the Continental Army during the Revolutionary War, including service with George Rogers Clark in the Northwest Campaign of 1778-1779, and serving as a representative of Hacker's Creek at the peace conference that concluded the Northwest Indian War of 1785-1795.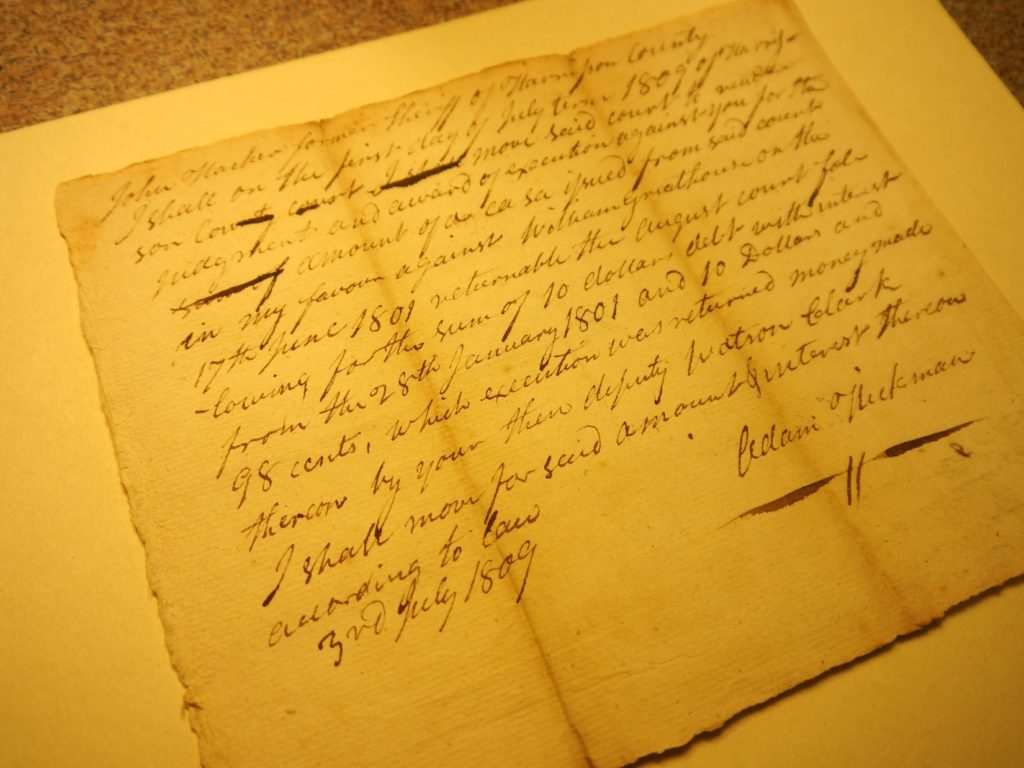 Harrison County Court Record involving John Hacker and Adam Hickman, 1809.  Read the rest of this entry »