Posted by Monte Maxwell.
October 14th, 2020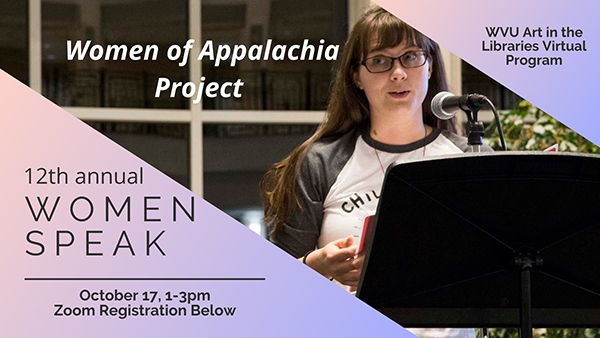 In commemoration of the Suffrage Centennial, the WVU Libraries' Art in the Libraries Virtual Program will host "Women Speak", a juried performance of poetry, songs, short stories and essays, in a virtual format on Saturday, Oct. 17, from 1-3 p.m.
The annual event is a creation of the Women of Appalachia Project (WOAP) who issues a call to residents throughout Appalachia. This year's participants hail from West Virginia, Ohio, Kentucky, Pennsylvania, Virginia, Tennessee and North Carolina.
"Many people have an image of an Appalachian woman, and they look down on her. The mission of WOAP is to showcase the way in which female artists respond to the Appalachian region as a source of inspiration, bringing together women from diverse backgrounds, ages and experiences to embrace the stereotype – to show the whole woman; beyond the superficial factors that people use to judge her," said Kari Gunter-Seymour, WOAP founder and executive director.
Read the rest of this entry »