Posted by Mary Alvarez.
April 3rd, 2023
Written by Erica Uszak
Publications like Harper's Weekly and Currier & Ives tended to romanticize the life of a Civil War soldier by painting sentimental pictures of camp. Such sentimentalism can be seen in "The Soldier's Dream of Home" (pictured below). Here the handsome soldier sleeps peacefully, his hand resting by his opened letters, dreaming of his wife and child. Such images reinforced the depiction of Union soldiers as loyally steadfast, responsible family men. The camp scene in the background looks quiet with a few soldiers sitting underneath the flag. Others gather around the cannon with their rifles in hand, perhaps on guard duty. Even in the midst of war, there is little sense of fear, chaos, or violence, although the bright red blanket under the soldier may foreshadow future bloodshed. Nevertheless, it appears to be a more idyllic setting than other wartime scenes. Hand-painted lithographs tended to show a civilian's conception of war rather than the brutality that soldiers experienced on the battlefield.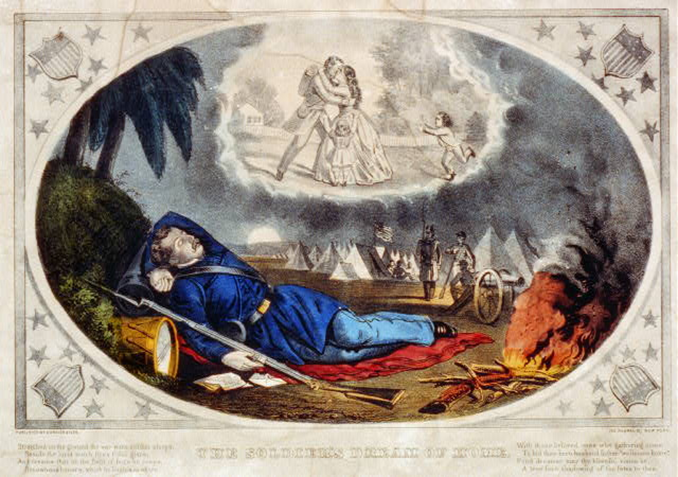 Captain George W. Johnson of the 11th Ohio Volunteer Infantry had no sentimental picture of soldier life. His diary transcriptions (see A&M 4538) present descriptions of camp life, soldier conduct, and battlefield violence that are often brutally honest. His accounts are not romanticized but show that these were real men, including a few teenagers with an eye for mischief, who had their strengths and flaws. He details accounts of overindulgence in alcohol, sexual promiscuity, and crude soldier behavior and pranks in camp. In this Victorian Era, such subjects were socially taboo to mention, much less discuss. Yet, since Johnson never intended for anyone to read his private thoughts, he recorded his observations in an entirely direct and blunt manner.
George Johnson was about 35 years old when he enlisted in the 11th Ohio Infantry in June 1861. He resided in Cincinnati, Ohio, with his wife, Sarah Hardin Johnson, and at least six young children.[1] It must have been difficult for him to decide to go to war for his country when he had so many young children at home. Nevertheless, when he enlisted on June 19, 1861, he committed himself to serving three years in the army. He began his service as a second lieutenant in Company K. About six months later, he was transferred to and promoted as first lieutenant in Company A in early January 1862.[2] He was wounded in his right side during the Battle of South Mountain on September 14, 1862, and was promoted to captain of Company K two months later. His wound from the battle later prompted him to offer his resignation in December 1863 and bothered him for the rest of his life.
As an officer, it was Johnson's responsibility to ensure order and discipline, as well as act as a role model for his men. In several entries, he listed soldiers' names and their companies, perhaps to keep track of them for certain duties or other matters. He noted other officers who failed to serve as good examples for their men, and how men reacted to bad officers. One soldier, after drinking too much on the 4th of July, got ahold of "a large sheet of fools cap" paper and wrote on it "Kiss My Ass." He then sealed the paper in an envelope to give to his captain.[3] However, such criticism could put soldiers at risk of charges for a court martial. Colonel Charles DeVilliers, a man whom Johnson despised and who organized the regiment in its beginning, was brought to court martial and discharged for multiple reasons, including the theft of civilian property.[4] One of the charges brought against him was that he berated his fellow officers as cowardly several times in front of all of the soldiers in camp. Most notably, he insulted another officer by declaring, "You Lieut Mc Abee are a coward[.] you have more shit in your breeches than in your guts."[5] Profanity directed at officers in front of other men was not to be tolerated. If use of profanity was not addressed by officers, it encouraged the enlisted men to disrespect their officers as well.
Johnson observed widespread alcohol abuse and noted how he and other officers struggled to keep their men in line. In early February 1862, he declared, "After I get the command the privates have a good time but the Commissioned Officers have to come down to the scratch," detailing how two men, presumably commissioned officers, stumbled upon an ongoing drill "staving drunk and not keeping still." Another officer "had them put in the Guard House."[6] In another more shocking instance in August 1862, he recorded his venture into the town of Alexandria, Virginia, where he "saw about 800 drunken soldiers" in the Union Army of the Potomac and observed many soldiers fighting with "fists, some bayonets & some guns." He then added, "I never seen anything worse before," showing how things could spiral out of control. However, he proudly noted that all of the privates in the 11th Ohio were present at regimental roll call and had not participated in the fighting.[7] He was determined to keep order and discipline in his men.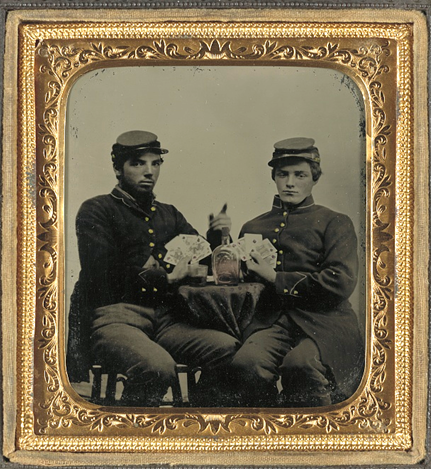 Johnson's accounts bring much light to aspects of camp and soldiering that were not often widely talked about. Although these events happened over 150 years ago, Johnson's descriptions bring the soldiers' actions and words to life and make their lives seem less distant.
For further information about Johnson's diaries, see A&M 4538.
---
[1] "George Johnson," Ancestry.com. 1870 United States Federal Census, Cincinnati, Hamilton, Ohio; [database on-line]. Lehi, UT, USA: Ancestry.com Operations, Inc., 2009.
[2] Historical Data Systems, comp. U.S., Civil War Soldier Records and Profiles, 1861-1865 [database on-line]. Provo, UT, USA: Ancestry.com Operations Inc, 2009.
[3] George Johnson, diary entry, July 4, 1862, A&M 4538, Civil War Diary Transcriptions and Related Material of Captain George W. Johnson, 11th Ohio Volunteer Infantry, West Virginia and Regional History Center, West Virginia University Libraries, Morgantown, West Virginia, https://archives.lib.wvu.edu/repositories/2/resources/6910.
[4] George Johnson, diary entry, February 3, 1862, A&M 4538, Civil War Diary Transcriptions and Related Material of Captain George W. Johnson, 11th Ohio Volunteer Infantry; Steve A. Hawks, "11th Ohio Volunteer Infantry Regiment," The Civil War in the East, accessed January 2023, https://civilwarintheeast.com/us-regiments-batteries/ohio/11th-ohio-infantry/.
[5] George Johnson, diary entry, February 3, 1862, A&M 4538, Civil War Diary Transcriptions and Related Material of Captain George W. Johnson, 11th Ohio Volunteer Infantry.
[6] Ibid.
[7] George Johnson, diary entry, August 25, 1862, A&M 4538, Civil War Diary Transcriptions and Related Material of Captain George W. Johnson, 11th Ohio Volunteer Infantry.
Leave a Reply