Posted by btoren@wvu-ad.wvu.edu.
March 11th, 1999
WVU's Libraries have a new dean.
Provost Gerald Lang has named Frances O'Brien, who is deputy university librarian at the University of Illinois at Urbana-Champaign, to the post effective June 16.
O'Brien replaces Dr. Ruth Jackson, who left the post in December, 1998, after 10 years. Myra Lowe has served as interim since July.
"The University Libraries' challenge for the coming years is to move ahead with fresh initiatives in a rapidly changing information world, and at the same time continue to provide better traditional resources and services," O'Brien said. "I think some key strategic directions include increasing user access to information, enhancing the collection's quality, redefining library bibliographic instruction and optimizing the Libraries' internal human resources and physical facilities."
Before joining the library at Illinois, O'Brien was director of administrative services at the Virginia Polytechnic Institute libraries. She began her library career as a cataloger at the University of Tennessee Library in 1973. From there she became assistant director of the cataloging department at the University of Georgia. Between 1984-89, she was a personnel officer, first at the University of Delaware Library and then Virginia Tech.
She served in various library administrative capacities at Virginia Tech until 1994. A member of the American Library Association, O'Brien has served on many committees related to library affairs and has been the coauthor of numerous publications related to library personnel issues.
"My father attended WVU in 1927-28 and I have his yearbooks. I've always been aware of the excellent reputation of WVU, and recently I've gained an even greater appreciation for what this University is about," O'Brien said. "I look forward to becoming a partner in the Libraries' delivery of excellent information services in support of WVU's mission of teaching, research and public service."
Dr. Lang said, "I am so pleased to appoint Frances O'Brien as the new dean of the University Libraries. She was highly recommended by the search committee. Her wealth of knowledge and experiences about library operations and management will serve West Virginia University well. I especially appreciate her philosophy to make our library system a patron-driven place with emphasis on high-value products."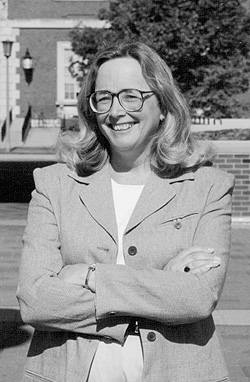 O'Brien received a bachelor's degree in psychology from Virginia Polytechnic Institute in 1970, a master's in library science degree form George Peabody College in 1973 and an MBA from the University of Georgia in 1979.
Nancy Lohmann was chairperson of the 12-member dean search committee.
O'Brien will oversee a major expansion of the University's library facilities. Thirty million dollars has been allocated to various projects including a $21 million addition that will accommodate paper volumes and information technology and will house computer centers. The addition will occupy the open lawn in front of the existing library and will be connected to the current structure, possibly by an atrium. Groundbreaking is expected to take place this summer, with completion in the spring of 2001.
Other library projects that are also ongoing include improvements to the Evansdale Library, a renovation of the Wise Library to support the West Virginia Regional History Collection, plus construction of a repository facility.
Tim Terman — NIS
Mountaineer Spirit
Leave a Reply