Posted by Monte Maxwell.
February 1st, 2010
Typically, students visit the Libraries to work on a paper or project that they will then take to class, but a fashion design and merchandising (FDM) senior is setting a new trend. Amanda Gill is the first among her classmates to create an exhibit for the newly renovated Evansdale Library.
"I took a visual merchandising class and did projects within that class, but this is taking what I've learned and making it a real world experience," Gill said. "I wanted to make everything look perfect and professional."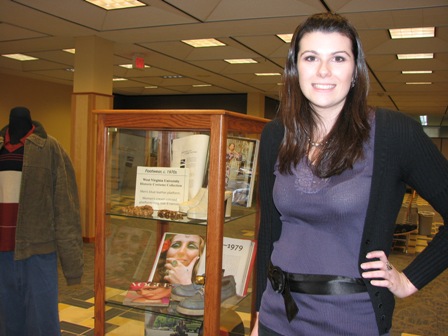 Fashion design and merchandising senior Amanda Gill poses beside her exhibit in the Evansdale Library.
The venue is now available because of an extensive renovation project on the Evansdale Library's first floor last summer. During the planning stage, students expressed a need for space to display their work. The revamped library includes display cabinets and floor space to accommodate requests.
"Evansdale Library is a great location to spotlight students' work," said Noel Kopriva, librarian for the Davis College of Agriculture, Natural Resources and Design. "Students like to see what others are doing in class, and exhibitors can get feedback from their peers."
Lynn Barnes, a fashion merchandising professor in the Davis College, appreciates her students having such a platform because it pushes them beyond what they would do for the usual window display.
"This is three-dimensional exhibit so they have to be aware of every nuance," Barnes said. "Every detail has to be perfect."
Gill made sure she got the details right in her 1970s-themed display. In selecting the clothing from the division's historic costume collection, she chose male and female ensembles that matched each other in color and style. The accompanying cabinet contains jewelry and shoes from the period, along with a timeline of the decade, magazines, and a record.
Her effort, though, won't earn a grade. It is part of her experience as a work study for Barnes. Also, Gill, who is president of the school's Fashion Business Association, sees it as a way to promote her degree program.
The grade will come later in the semester when she builds a collection inspired by 1930s fashion. That exhibit will contain two gowns from costume collection and Gill's sketches.
Evansdale Library plans to participate in a community-wide exhibit project sponsored by Barnes' students in other FDM classes and to also host a faculty show for the Department of Fashion Merchandising later this spring. Students from the College of Engineering and Mineral Resources are also scheduled to exhibit some of their work this semester.
Leave a Reply