Posted by Monte Maxwell.
February 22nd, 2010
By Liz Dickinson
WVU Today
It's a library, but you don't have to whisper. In fact, talking and laughter mean students are actively using the newly renovated first floor of the West Virginia University Evansdale Library.
And that is music to Mary Strife's ear.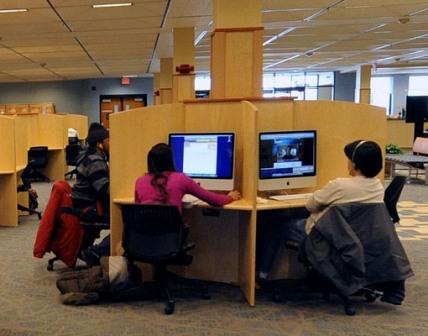 Back in 2006, Strife, director of the Evansdale Library, just wanted to replace some old, worn out carpet.
But things have a way of evolving, and after talking with students, she realized they wanted a space that was as social as it was serious. Students were asking for a place where they could study, of course, but they also wanted a place that was flexible with areas to display work, conduct group meetings, catch up with friends and relax between classes.
So Strife reached out to Dr. Cindy Beacham, program chair of interior design at WVU, to help gather data and formalize the students' needs.
After surveying students across campus and hosting three focus groups in the fall of 2008, WVU student ideas were incorporated into a formal plan to revamp the Evansdale Library.
Crews spent the summer of 2009 equipping the first floor with almost all of the student requests, transforming it into a warm and inviting space stocked with user-friendly technology and staffed by a desk that centralizes circulation, reference and tech help.
"It's amazing what a little paint and texture can do to brighten up the space and make the students feel welcomed and engaged," Strife said of the updates.
According to Strife, students began using the space before the paint had time to dry, gathering at the seating area just inside the entrance and socializing in the café seating at the rear. They have also been studying in the new privacy carrels and decompressing in the reading lounge. Groups have been meeting in the new study rooms, pushing together tables and vigorously plotting out assignments on fresh whiteboards.
But the most popular improvements seem to be the new computers and the student display area.
The Evansdale Library now has six Mac desktops and laptops to complement a full offering of technology, which includes a WVU Information Station, television, e-readers and wireless internet access throughout the building.
Dedicated floor space and a bank of display cabinets have been prominently placed at the front of the library to exhibit student work. This was the students' number one request, and no time has been wasted in setting up displays.
The area currently features an exhibit organized by Amanda Gill, senior in WVU's Fashion Design and Merchandising program. She just replaced her display of 1970's fashion and memorabilia with a collection of 1930's gowns from the WVU costume collection, toys and games from that era, and sketches and mock-ups of her own designs.
Students who want to feature their own work may have to wait until summer, as the new Evansdale Library display area is booked through May.
As popularity grows, Strife is open to adding more floor space and display cabinets to feature more and diverse student projects. She may also partner with WVU Horticulture to add some student greenery. Even the upper floors could see new carpet and flexible seating in the future.
Evansdale Library is poised to become a campus hub, as students get comfortable and active in the new digs. After all, it was their ideas that spurred the remodeling and had the biggest impact on the reorganization.
"Students are using the space as anticipated and also in novel ways we didn't anticipate," Strife said. "But it's all been effective in helping students with their studies."
Evansdale Library will commemorate its makeover with an open house on Thursday, Feb. 25 at 2 p.m. The public is invited to come out and celebrate WVU Libraries' success in turning the Evansdale Library first floor into a great space that is a big hit with students.
"This is an excellent opportunity to celebrate a success that emphasizes what WVU Libraries has done to help student learning in a space that is pleasant and functional," Strife said.
Jo Ann Calzonetti, who served as Evansdale Library director from 1994-2001, has been invited back to remark on the transformation.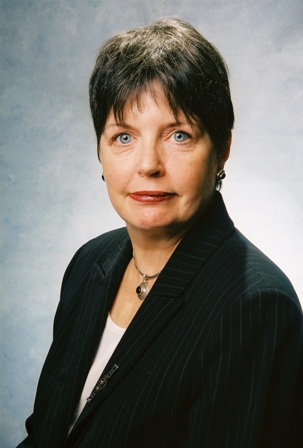 Calzonetti
The West Virginia Library Association presented Calzonetti with its highest honor, the Dora Ruth Parks Award, in 2000. In 2001, she received the University Libraries' first Distinguished Service Award. Calzonetti is currently head of the University of Akron's Science and Technology Library.
She will be among a number guests speaking about the library during the open house, which is free and open to the public. Refreshments will be served.
Leave a Reply