Posted by Monte Maxwell.
February 9th, 2011
The WVU Libraries are using QR codes to help students easily connect with a variety of library resources.
"We're trying to reach users," said David Roth, Library Associate at the Evansdale Library. "They're excited about mobile devices, so QR codes are a great way for them to access resources. Increasingly, information is mobile."
QR codes look like a square version of the barcode. When scanned by a mobile device's camera and decoder app, the digital link takes the user to a mobile website. The page can offer a coupon, a video, or information about a product.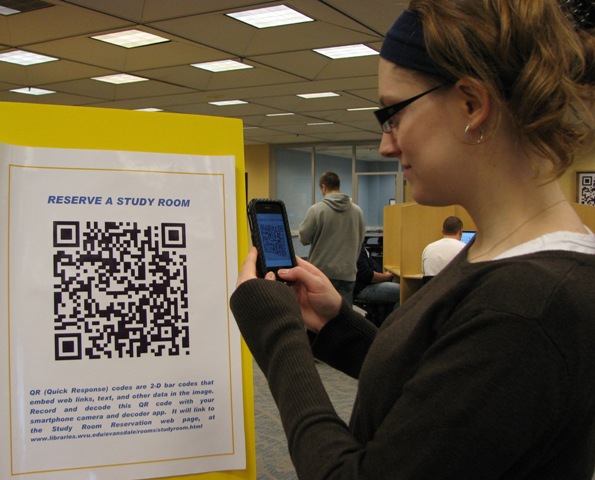 Miriam Newman, a graphic design junior, uses her iPhone to reserve a study room at the Evansdale Library.
QR codes have been popular in Japan and other countries for years but are finally gaining in popularity in the United States. They're showing up in magazines, catalogs, and on the doors of restaurants and other business.
Last March, during the Big East Tournament in New York, WVU used a QR code to direct people to a video promoting the University.
The WVU Libraries are using them to direct users to services available on the Libraries' mobile webpage.
This semester, Evansdale Library began posting QR codes that enable students to reserve a study room, find materials on eReserve, find an available computer, and connect to the mobile webpage. The Downtown Campus Library has posted QR codes for finding a computer.
"QR codes bridge the gap between our physical services and the digital environment," said Martha Yancey, Access Services Coordinator for the Evansdale Library. "We hope they will help our users."
Once a student visits a page, it will remain on their phone until it's deleted. Roth recommends students bookmark the mobile pages that they expect to use often. He expects students to especially appreciate the one dedicated to locating a computer.
"This is a great way to see what computers are open while you are on the PRT heading to the Library," Roth said.
Leave a Reply