Posted by Monte Maxwell.
June 21st, 2011
BY ALEX LANG
The Dominion Post
A grainy black-and-white photo on the sixth floor of WVU's downtown library shows a much different High Street than is seen today.
Rows of men, holding their guns, line up across the street from the courthouse.
They were Union recruits in 1861.
The photograph is one of dozens of Civil War-era artifacts on display at the West Virginia and Regional History Collection which opened Monday. Other items included weapons, letters and music.
The collection's debut was part of WVU Library's West Virginia Day celebration. It was one of several local events marking the state's 148th anniversary.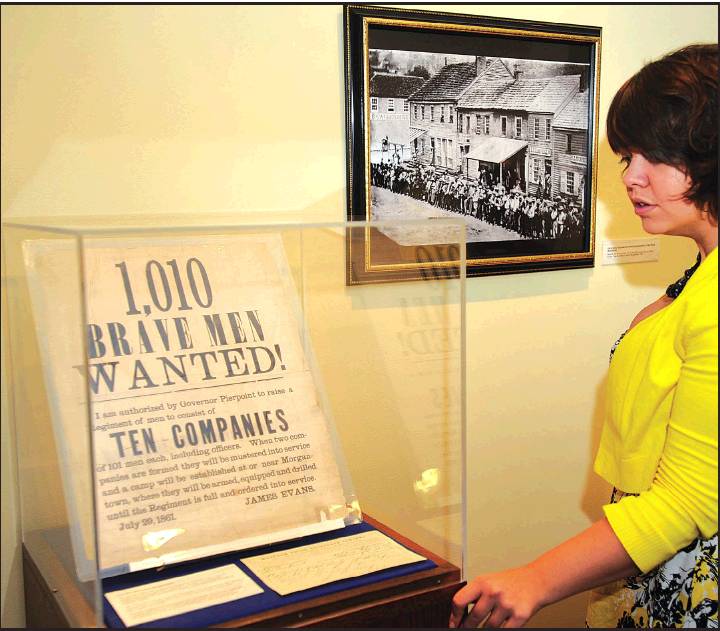 Ron Rittenhouse/The Dominion Post
Nikki Cannon looks at an advertisement authorized by Gov. Pierpoint wanting 1,010 brave men. On the wall is a photograph of men ready to fight in the Civil War lined up on High Street.
Carl Cather donated his great-grandfather's diaries from the Civil War. The diaries are displayed in a case with one book opened, so onlookers can read a couple of pages. Cather said he was "tickled" to see the diaries on display.
"I think this is so great — having West Virginia history here and available," he said.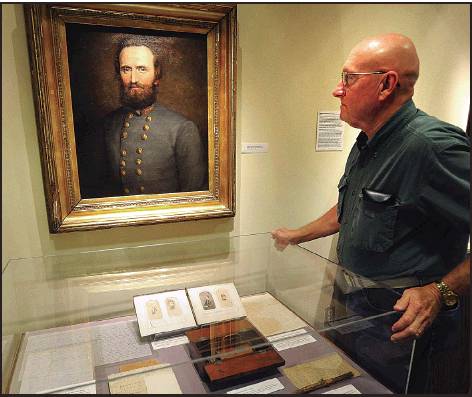 Ron Rittenhouse/The Dominion Post
Earl Kennedy looks at a portrait of Gen. Stonewall Jackson.
Most of the artifacts were acquired through donations, such as Cather's, curator John Cuthbert said. Many   of the items are on display for the very first time.
Cuthbert said that he was extremely excited to expose people to the artifacts.
Confederate and Union posters calling for people to sign up to fight the invaders are part of the collection. Cuthbert said both the Confederate and Union soldiers saw the other side as invaders of Western Virginia.
In addition to the opening of the gallery, there was a speech from John Stealey III about political developments in Western Virginia after secession.
The history collection is open to the public and admission is free, Cuthbert said.
Leave a Reply