Posted by Monte Maxwell.
September 6th, 2011
A visit to the WVU Libraries has already paid off for three freshmen. They are beginning the semester with some new electronic gear.
Robert Frevel, from Baltimore, won an iPad, Katelyn Amato, from East Liverpool, OH, went home with a Sony Reader, and Jayshawn Thomas, from Annapolis, MD, is now listening to music on an iPod Shuffle.
Their names were picked in a drawing of students who participated in "Discover! WVU Libraries," part of the 2011 First Year Academy. The Libraries sponsored the event to introduce students to the library in order to assist them through their academic endeavors at WVU.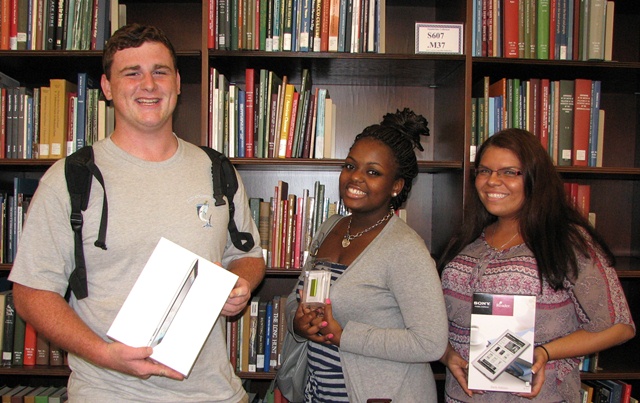 Freshmen Robert Frevel,  Jayshawn Thomas, and Katelyn Amato display the prizes they won as part of  the "Discover! WVU Libraries" event at the start of the semester.
Depending on their major, students visited the Downtown Campus Library, the Evansdale Library, or the Health Sciences Library to learn about the array of available resources and services and to meet the librarians and staff who can guide them when writing a paper or doing research.
The visit changed Frevel's perspective. He admits that he was less than excited about walking around the Downtown Campus Library when he first heard about the activity. Now, his favorite spot in the building is the Milano Reading Room.
"It was a good thing," Frevel said. "The library is really nice."
Thomas enjoyed exploring the Evansdale Library. She said she feels more confident starting the semester off knowing where to go when she has an assignment or needs to study.
Amato found the experience informative and helpful. As a transplant to the Mountain State, she found the West Virginia & Regional History Collection interesting and a great tool to learn about her new home.
She appreciated being able to tour the building and to get a glimpse of what's there. She's eager to return to work on a project.
"It was fun," Amato said. "You got to meet the staff and a lot of other students. You got to get your first experience with the library with people who hadn't been to the library yet."
Leave a Reply