Posted by Monte Maxwell.
September 4th, 2012
A visit to the WVU Libraries has already paid off for nine freshmen. Their names were picked in a drawing of students who participated in "Discover! WVU Libraries," part of the 2012 First Year Academy.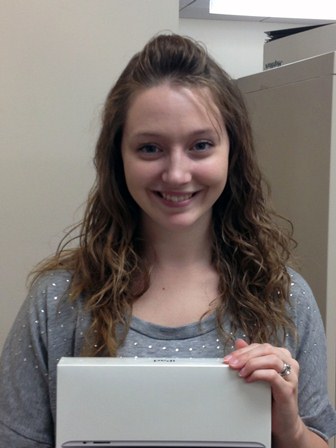 Adainah Kaczmarski, general studies, won an iPad.
Hannah Hendrick, World Languages, Literatures, and Linguistics; Tess Marunich, pre-biochemistry; Eli Meador, general studies; and Caitlin Sawyers, pre-political science, won iTunes cards.
The Libraries sponsored "Discover! WVU Libraries" to introduce students to the library in order to assist them through their academic endeavors at WVU.
Depending on their major, students visited the Downtown Campus Library, the Evansdale Library, or the Health Sciences Library to learn about the array of available resources and services and to meet the librarians and staff who can guide them when writing a paper or doing research.
Leave a Reply