Posted by Jane Metters LaBarbara.
December 23rd, 2013
For our pre-Christmas post, we bring you images of Christmas in West Virginia from the 1890s through the 1970s.  These photographs, available through the West Virginia History OnView database, capture scenes of family and community life, the state's diversity, caring for the sick, providing for those in need, and celebrating the holiday with pageantry and food.
1890s – Taylor County: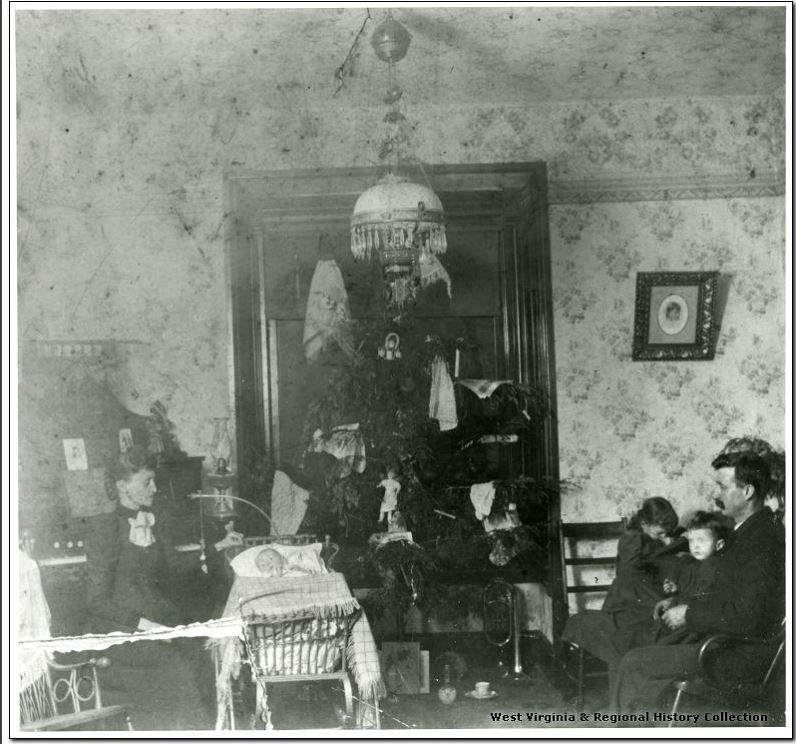 Here we see the Loar family, gathered around the Christmas tree in the Robinson home on West Main Street, Grafton, WV, ca. 1893-1895.  W.R. Loar, the man seated at right, would go on to establish a photography business with his son.  Unfortunately, he would lose one of his daughters to croup in 1896.  In West Virginia, child mortality from such illnesses was greater at that time then it is today, making family moments like the one captured here all the more special.
1900s — Randolph County: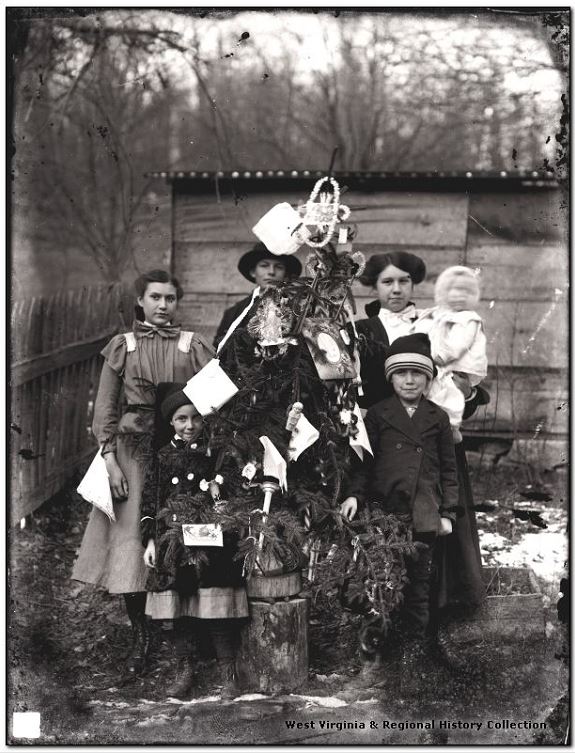 In this photo, children of the Shock family (with neighbor Dan Halderman, center rear) gathered around the Christmas tree in Helvetia, WV, a small community of German-speaking Swiss immigrants, in 1907.  West Virginia attracted a wide array of immigrants, including people of Swiss, German, English, Irish, Scottish, and Italian descent, who were looking to put down roots in new agricultural communities or to find work in the mines.  The state even had a position for Immigration Commissioner from 1864 to 1931.  The first person to fill this position was Joseph Diss Debar; some of his letters and his sketchbook are in the WVRHC's collections.
1910s – Monongalia County: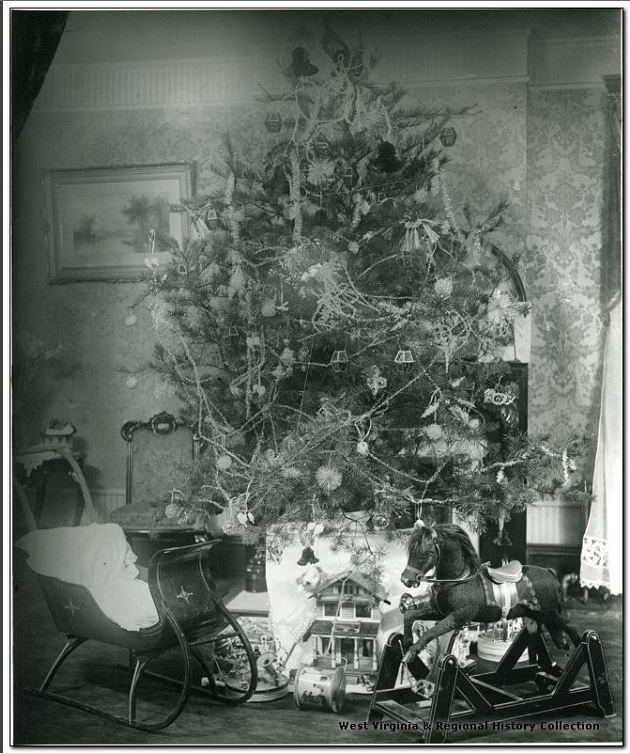 In a scene that probably mirrored living rooms across the state, this photo shows a joyfully decorated Christmas tree from a home in Morgantown, WV, ca. 1910.  The tree is surrounded by gifts including a rocking horse, a child's sleigh, and a doll house.  If you look closely, you can see some contemporary furniture in the background.
1920s — Roane County: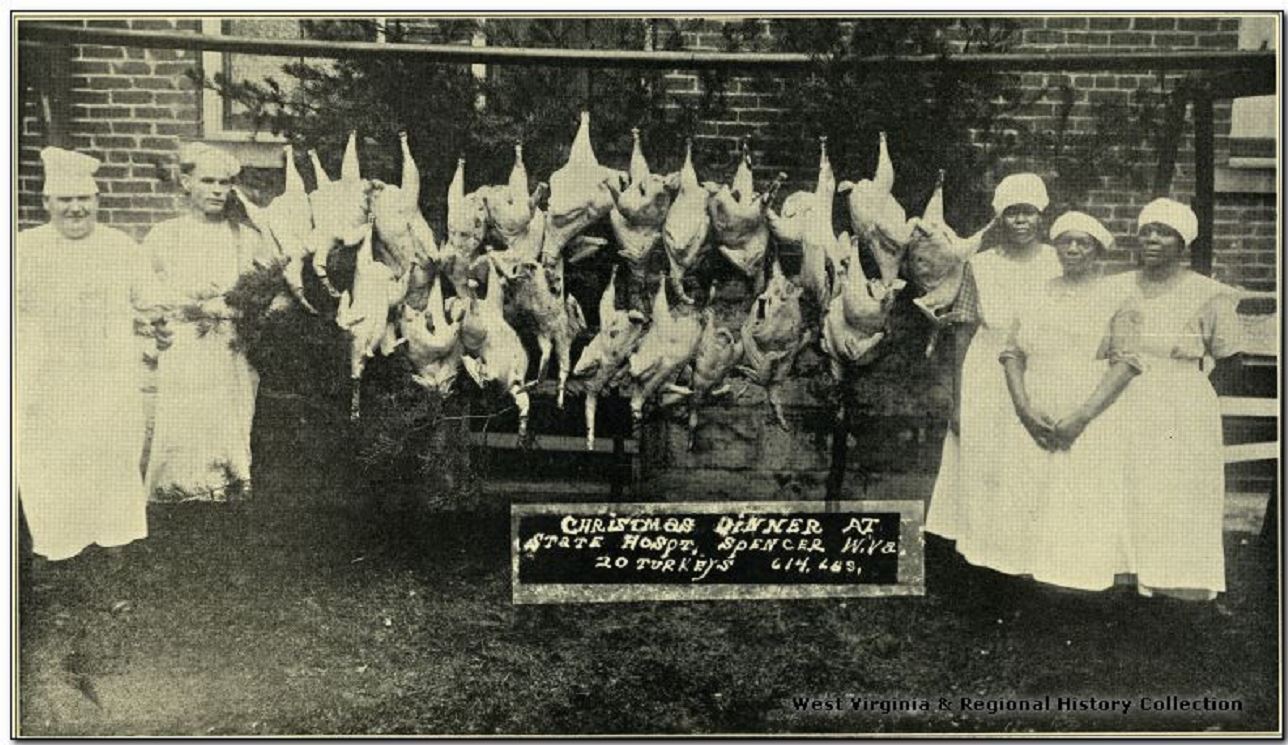 This photo, published in the Biennial Report of the State Board of Control, shows Christmas turkeys displayed outside of Spencer State Hospital (formerly known as the Second Hospital for the Insane), ca. 1924.  The hospital opened in 1893 and was closed in 1989.  Initially, it was meant to relieve overcrowding at the Weston State Hospital and serve the mentally ill, but accepted patients with physical ailments at some points in its history.  At the time this photograph was taken, the hospital served over 600 patients.
1930s – Marion County: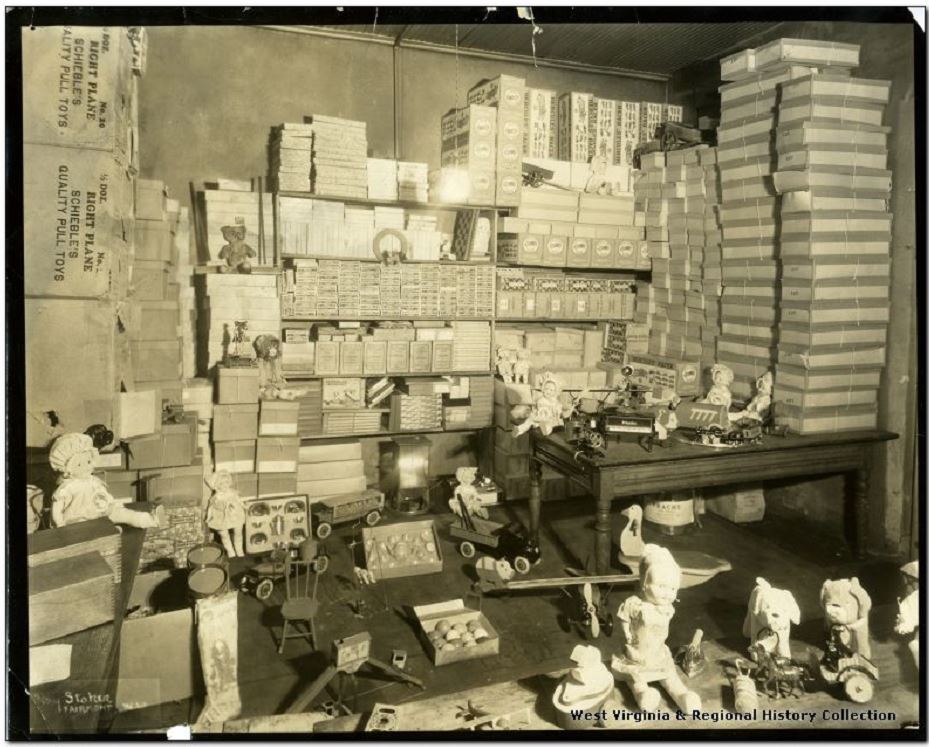 Artist and photographer Ray Stoker's image of toys collected for the 1930 Times Christmas Fund, in Fairmont, WV, showcases the community's generosity.  Presumably donated to less fortunate citizens, this wonderful array of toys is especially remarkable, considering that the Great Depression had begun over a year before.
1940s – Jefferson County: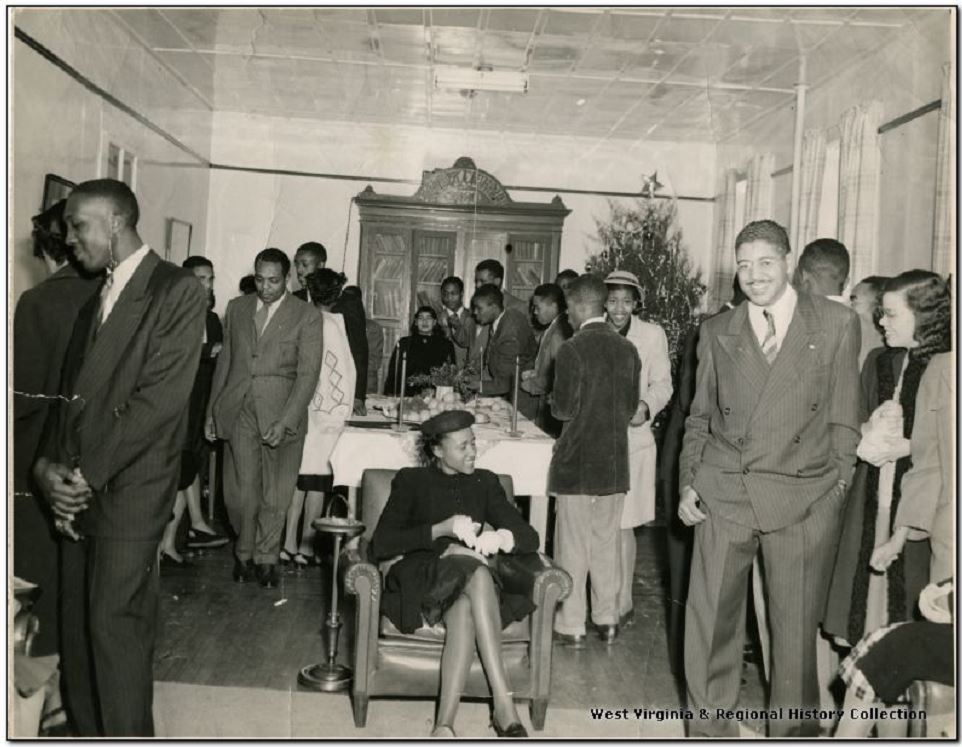 This candid photo gives us a glimpse of a Storer College Christmas party in Mosher Hall, Harpers Ferry, WV, 1947.  A historically black college, Storer began as a primary school for freedmen in 1865 and operated until 1955.  The college's library and records were dispersed to other institutions; some of the records are available for research at the WVRHC.
1950s – Monongalia County: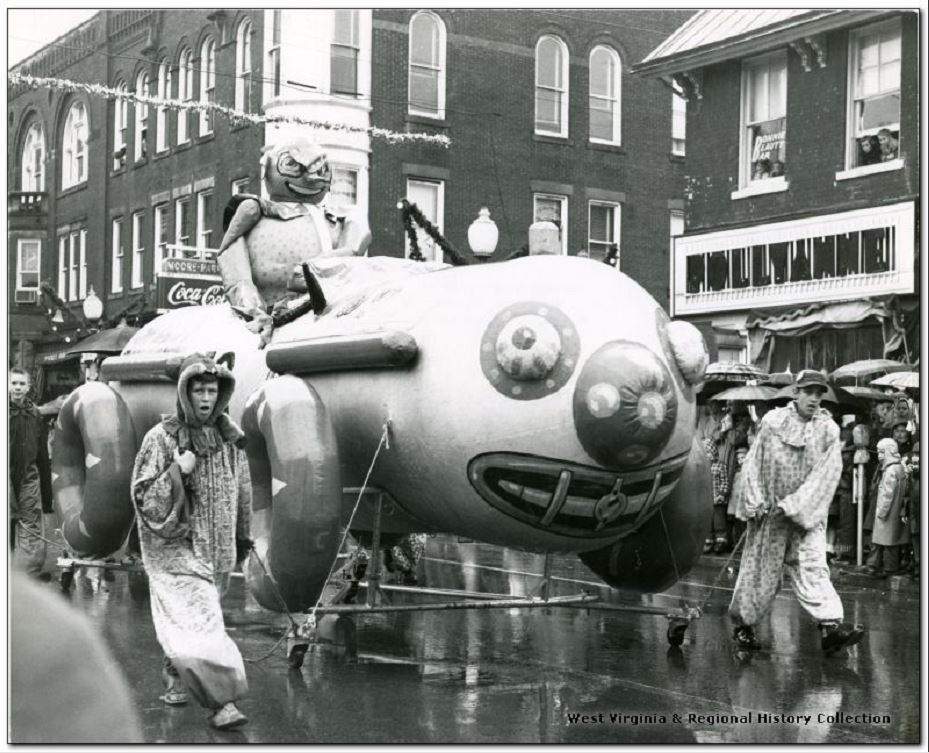 Christmas parades have a long tradition in America, and Morgantown, WV is no exception.  This photo shows a float in the 1957.  Do you recognize the character that the float depicts?  Send an email to Jane Metters to let us know!
1960s – Monongalia County: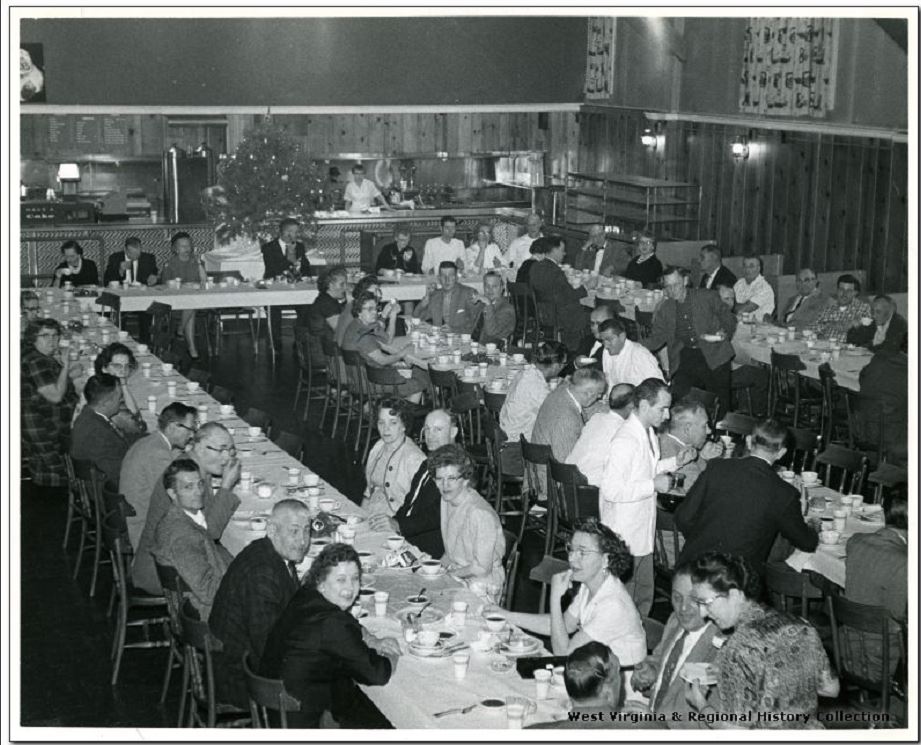 Here we see WVU custodians relaxing at a Christmas party in 1964; their holiday party tradition continues today.  Many thanks to our hard-working custodians who keep campus buildings clean, especially during hectic exam times!
1970s – Monongalia County: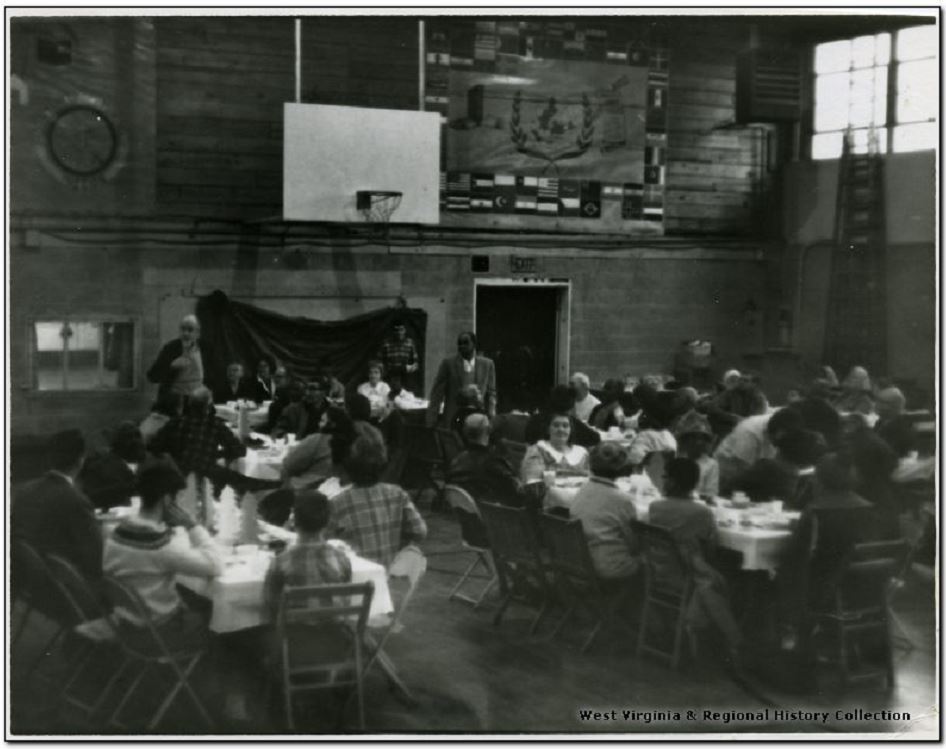 This candid photo, taken in the gym of the Shack, Scotts Run, WV, shows community members at the Old Folk's Dinner at Christmas in 1971.  The Shack is a community center, started in 1928 and especially active during the Great Depression.  It continues to provide social, educational, and recreational activities for members of this once-thriving coal community.
Blog post by Jane Metters, Assistant Curator, WVRHC.