Posted by Monte Maxwell.
October 28th, 2015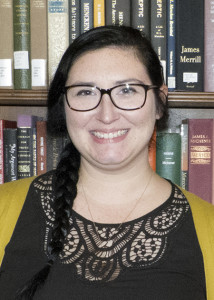 West Virginia University Libraries' newly hired Wikipedian in Residence for Gender Equity, Kelly Doyle, will help Wikipedia address its gender gap while increasing the presence of Mountain State natives in the online encyclopedia.
"We are thrilled for Kelly Doyle to lead West Virginia University in this extensive endeavor to enhance Wikipedia's content and reliability," said Jon E. Cawthorne, dean of the WVU Libraries. "This project will enable us to promote the accomplishments of West Virginians, both historical figures and those making a difference in the world today."
A Wikipedian in Residence (WiR) is an editor based at an institution to facilitate the creation and improvement of Wikipedia articles related to that institution's mission. A relatively new role, the first WiR was a volunteer at the British Museum in 2010. By 2014, there were 31 Wikipedians working at institutions around the world.
WVU's WiR, funded by a $27,100 grant from the Wikimedia Foundation, stems from a joint event held last March by the Libraries and the Reed College of Media – "Where Are all the Women? Wikipedia's Gender Gap" – to foster critical discussion regarding Wikipedia's gender gap.
According to Wikipedia, nearly 90 percent of the site's volunteer editors are male. As a result, there is generally more content about men and male-related topics than about women and female-related topics on Wikipedia.
"I'm excited about the social justice aspect of addressing Wikipedia's gender gap," Doyle said. "Our goal is to make the online encyclopedia's content better and more accurately reflect the world around us."
In her role at WVU Libraries, Doyle will facilitate the research and writing of articles about West Virginia women who have excelled in their fields – whether that be science, healthcare, business, or entertainment – but who have not yet garnered the public attention they deserve. She will be responsible for organizing volunteer writers, training them to write and edit for Wikipedia, and identifying subjects for the articles.
Doyle currently teaches in WVU's Department of English. She previously worked as a research assistant with the Avery Research Center for African American History and Culture at the College of Charleston, Charleston, S.C. and as an academic support specialist at the Citadel's Academic Support Center. She earned her bachelor's in English from University of Delaware and master's in English literature from the College of Charleston and The Citadel Graduate College.
She will work closely with Carroll Wilkinson, director of Strategic Library Initiatives for the WVU Libraries, who assisted in organizing the March 4th Wikipedia panel and applied for the Wikimedia grant.
"We are excited to have Kelly Doyle on board, and we are eager to begin work on improving the public's knowledge about so many amazing West Virginia women and the important issues they face," Wilkinson said.
Their team begins with high expectation. The Wikimedia Foundation hopes to see a 25-percent increase in the number of articles on Wikipedia about West Virginia women and gender studies by the end of the year-long project.
Leave a Reply