Posted by Jane Metters LaBarbara.
April 20th, 2016

Blog post by Stewart Plein, Rare Book Librarian.
Four hundred years ago, on April 23, 1616, or thereabouts, Shakespeare died at the young age of 52.  You see, there's a bit of a mystery surrounding Shakespeare's birth and death, though both occasions are believed to be on the same day. While the actual date of his death escaped documentation, it is believed he died on April 23, but there again, no one is quite sure.  What we do know is that he was buried on April 25, 1616, and like today, it would have been customary for a couple of days to pass after the death to make arrangements for the funeral services.  So, give or take a few days, we've settled on the 23rd.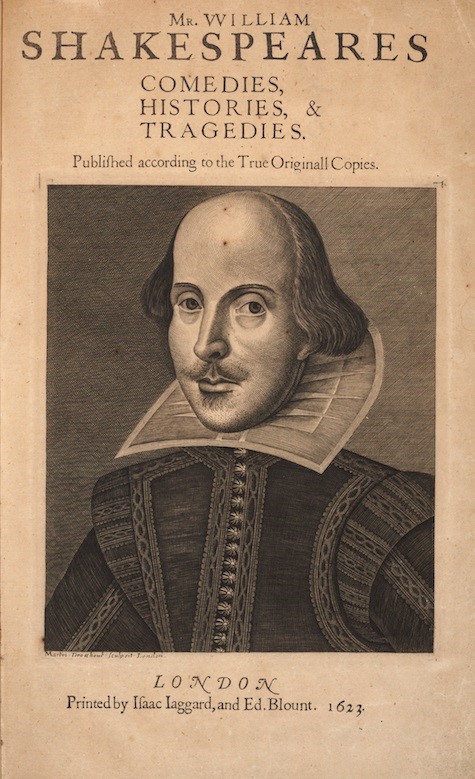 Little is known about Shakespeare's life either.  His marriage to Anne Hathaway, his children and his theatrical home, the Globe Theatre in London, are known certainties.  Without a doubt there is also the widespread recognition of his literary genius and the impact his plays and poetry have made on generations of devoted readers.  But even his literary accomplishments are a little cloudy, as debates still arise as to the authorship of some plays believed by scholars and readers alike to be the work of other 17th century playwrights.
What we do know is that we like reading Shakespeare.  He had a gift for exploring and explaining and relating the day to day life that sheds light on our humanity, summing it up so succinctly with this line from his play, A Midsummer Night's Dream, "What fools these mortals be."
To celebrate the 400th anniversary of Shakespeare's death, we will look at the first published collection of Shakespeare's plays, commonly referred to as the First Folio, rather than its actual title: Mr. William Shakespeare's Comedies, Histories and Tragedies, published in 1623.
What exactly do we mean when we refer to the collected plays of Shakespeare as the First Folio?  In this case, the first folio refers to the first publication of Shakespeare's collected plays in a large size.  This book is made up of large sheets of paper known as folio, for their size.  This was an unusual size for a book of plays in 1623, the time of publication, when large sizes were used primarily for scholarly works.
This book is significant not only because it is the first published collection of Shakespeare's plays, but also because without it, plays like Macbeth, my personal favorite, or The Tempest, Measure for Measure, Twelfth Night, Julius Caesar, and Anthony and Cleopatra would have remained unknown to us.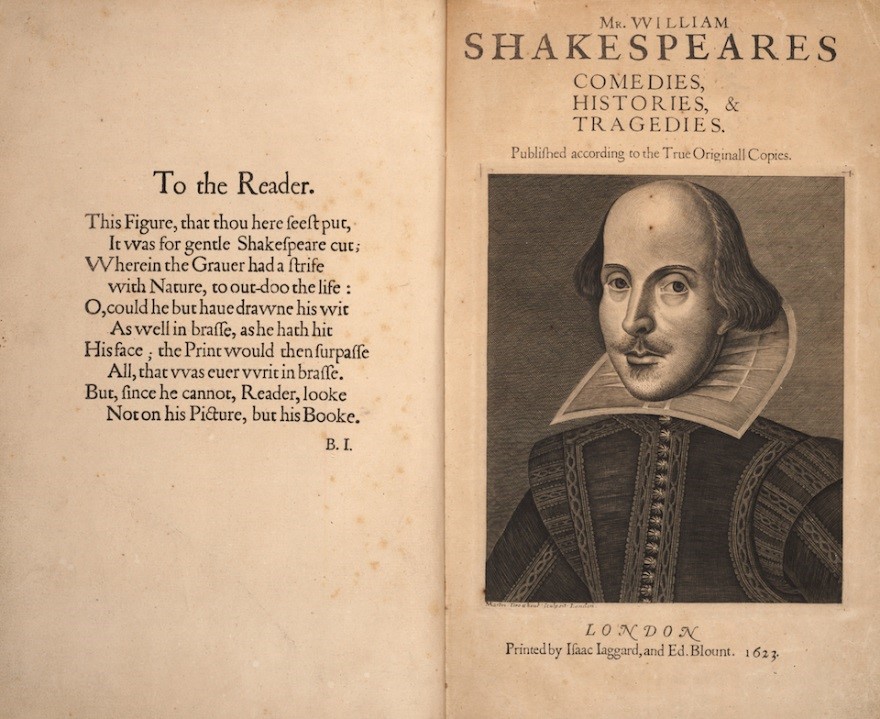 Above, the Reader's Preface, by one of Shakespeare's friends, Ben Jonson, and title page of the First Folio with what is perhaps the best known portrait of Shakespeare by Martin Droeshout.
Two of my favorite things about the First Folio are the Reader's preface, by Shakespeare's friend and playwright, Ben Jonson and the portrait of Shakespeare by the engraver, Martin Droeshout. "To the Reader" is Jonson's dedication to Shakespeare.  Though the spelling looks antiquated to us today, it is a charming poem commemorating the life and plays of his friend.
Reading Jonson's prefatory poem today we can't help but notice the unusual spellings and that funky "s" that seems to make no sense to us.  However, in 1623, things were a little different.  There were only 23 letters in the alphabet – no letter j, u, or w.  That's why you'll see Jonson's "To the Reader" dedication signed B.I.  The letter I was interchangeable in pronunciation.
You'll also see Jonson use the long "s."  This is a character that looks like an "f" but without the crossbar.  We no longer use this character today, but it was commonplace at the time.  The preface may be easier to read using our current mode of spelling.
This Figure, that thou here seest put,
It was for gentle Shakespeare cut:
Wherein the Graver had a strife
with Nature, to outdo the life:
O, could he but have drawn his wit
As well in brass, as he hath hit
His face; the Print would then surpass
All, that was ever writ in brass.
But, since he cannot, Reader, look
Not on his picture, but his Book.
Jonson is referring to the Droeshout portrait of Shakespeare opposite his preface and explains to the reader that this portrait, no matter how accurate a representation of Shakespeare it may be, cannot provide the heart and soul of the author that can be achieved by reading the plays.  The Shakespeare portrait was "cut" or "graved" on a brass plate by an engraver to create the image used on the title page, but the plays are the work of the author himself.
The Rare Book Room in the West Virginia & Regional History Center is fortunate to have five Shakespeare folios.  Among them are the first folio, two copies of the second folio, the third and the final folio, the fourth.  Shakespeare's First Folio will be on display Friday, April 22, between 1:00 – 3:00 PM.  Please stop by and join the celebration.
Sources:
Folio images and content: http://thevarsity.ca/2016/02/22/shakespeares-first-folio-goes-on-display-at-fisher-library/
Death of Shakespeare:  http://www.shakespeare-online.com/biography/deathofshakespeare.html
Ben Jonson preface:  http://www.shakespeare-online.com/biography/firstfolio.html
Martin Droeshout:  https://en.wikipedia.org/wiki/Martin_Droeshout
Leave a Reply