Posted by Jane Metters LaBarbara.
April 26th, 2016
Blog post by Lori Hostuttler, Digital Projects and Outreach Archivist, WVRHC.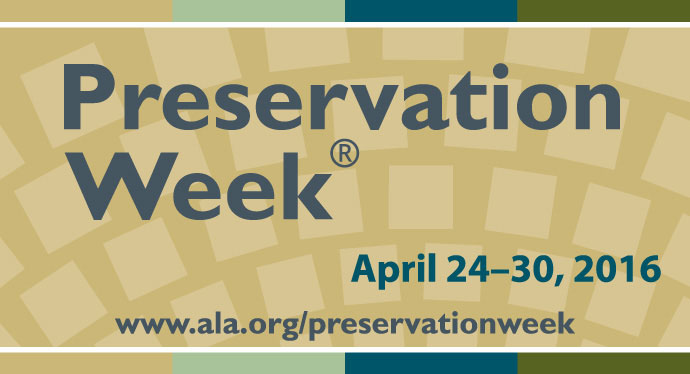 A key part of the mission of the West Virginia & Regional History Center is preservation of the papers, photos, maps, artifacts and other materials that tell the rich story of our state and its people.  Each year we celebrate Preservation Week to promote awareness of the importance of preservation and to provide information on preservation tips and techniques. 
The Association for Library Collections and Technical Services, a division of the American Library Association, offers free educational webinars during Preservation Week.  This year there are two scheduled webinars.  The first, From Cassette to Cloud: Reformatting Audiotape will air live today, Tuesday, April 26 at 2:00 p.m. EST.  If you can't attend the live webinar, the recording will be made available for later viewing.
The second webinar, Preserving Your Digital Life, is scheduled for Thursday, April 28 at 2:00 p.m. EST. The WVU Libraries will host a group viewing of this webinar in Room 2036 of the Downtown Campus Library.  All are welcome to attend this highly relevant webinar. Smartphones have given us the opportunity to easily record video and audio – but how do we ensure this vivid documentation of our daily lives will survive? This webinar will offer steps to help preserve the audio and video that many of us capture every day. Please join us for this educational opportunity!  The recording for this webinar will also be available after the live viewing.
If you are interested in preserving your own collections, whether paper-based or electronic, resources abound online.  Here are a few suggested sites to help you protect your personal history:
ALCTS Preservation Webinar Series
Northeast Document Conservation Center Preservation Leaflets
Preservation Resources from the Conservation Center for Art and Historic Artifacts
Last but not least, we are happy to offer our expertise at the West Virginia & Regional History Center for simple preservation issues.
Please join us on Thursday for the webinar. Thinking about preservation now will allow you to "save your stuff & pass it on!"
Leave a Reply