Posted by Jane Metters LaBarbara.
June 6th, 2016
Blog post by Lori Hostuttler, Assistant Director & Digital Projects and Outreach Archivist, WVRHC.
One week ago, on Memorial Day, we honored those who died in service to our country and today, June 6, we mark the 72nd anniversary of the invasion of Normandy, D-Day, the turning point for the Allies in World War II.  The Ralph John World War II Letters (A&M 3600) held by the West Virginia & Regional History Center provide insight into the military life of a soldier who made the ultimate sacrifice to secure our peace and freedom.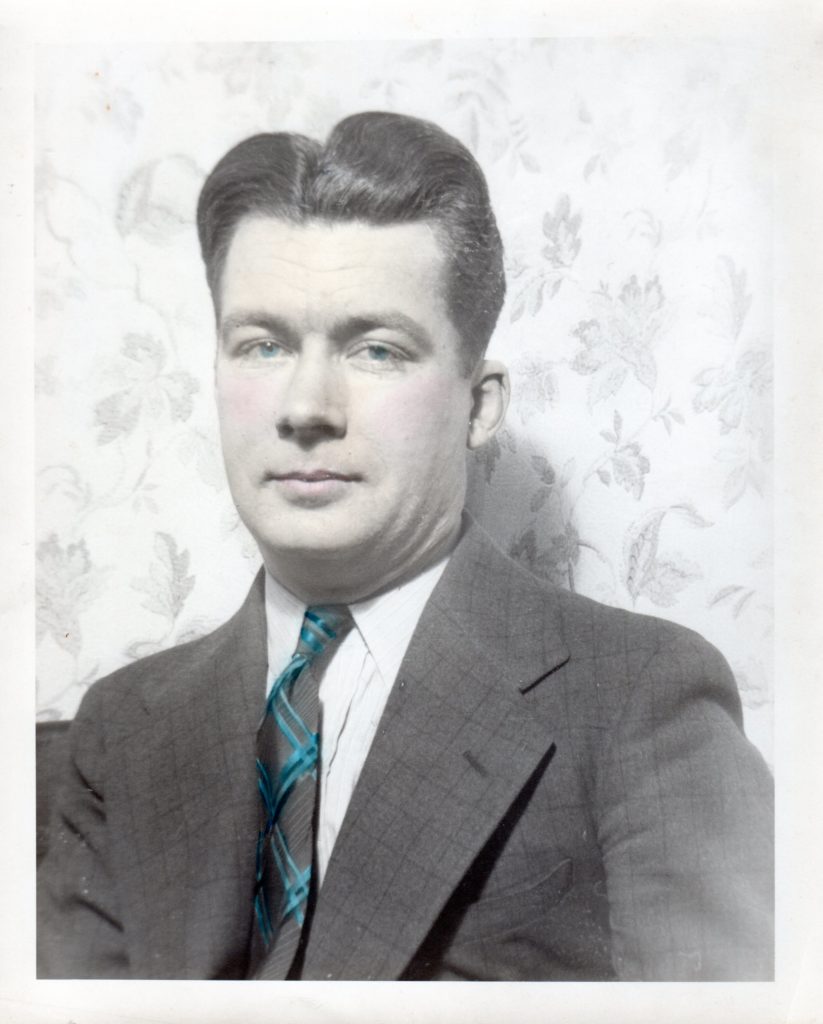 Ralph John was a native of Mt. Morris in Greene County, Pennsylvania, just a few miles north of Morgantown.  He was born on March 9, 1914, the son of Ross and Margarette John.  He began his World War II service in the Field Hospital but was transferred to the Infantry because of his skill as a shooter.  Private John served in the 3rd Battalion, Headquarters Company, 112th Infantry, 28th Division.
The collection includes some news clippings, ephemeral items, and some material about his parent's business.  The majority of the collection consists of Private John's letters while in various training camps in the United States and while being stationed in England. The limitations on what soldiers could write about sometimes made the discourse mundane, but Ralph John's letters reveal a jovial and pious man who loved his parents and hometown community.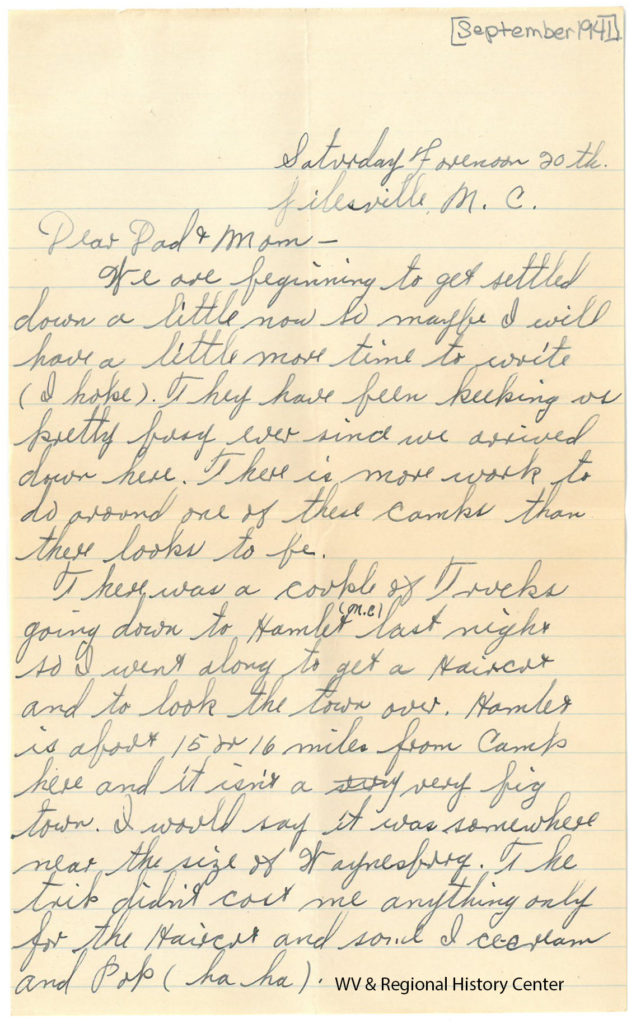 A first page of an early letter from Private John detailing camp life in North Carolina and the nearby town of Hamlet, which he described as about the size of Waynesburg.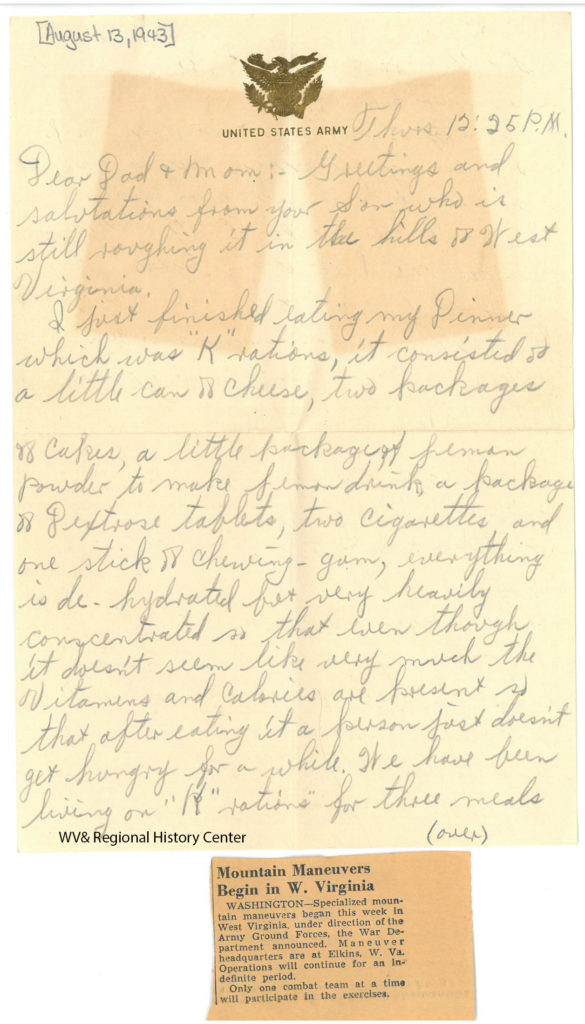 Private John wrote to his parents during his mountain maneuvers training in Randolph County, West Virginia and included a clipping from the Army Times.  The dark spots at the top of the letter show the degradation of the newsprint where the clipping was in the folded letter for many years.  On this first page, John described the "K" rations the men were eating.  On a later page he was careful to let his parents know that he was not smoking the cigarettes included in the rations, but trading them for cakes, adding a "ha ha" after the sentence.  He ended the letter with this post script, "This is a very beautiful day up in these hills – it is one of those days that makes you glad that you are still among the living and can still enjoy the beauty of nature which I can see all around me here as I sit with my back up against a tree writing to you."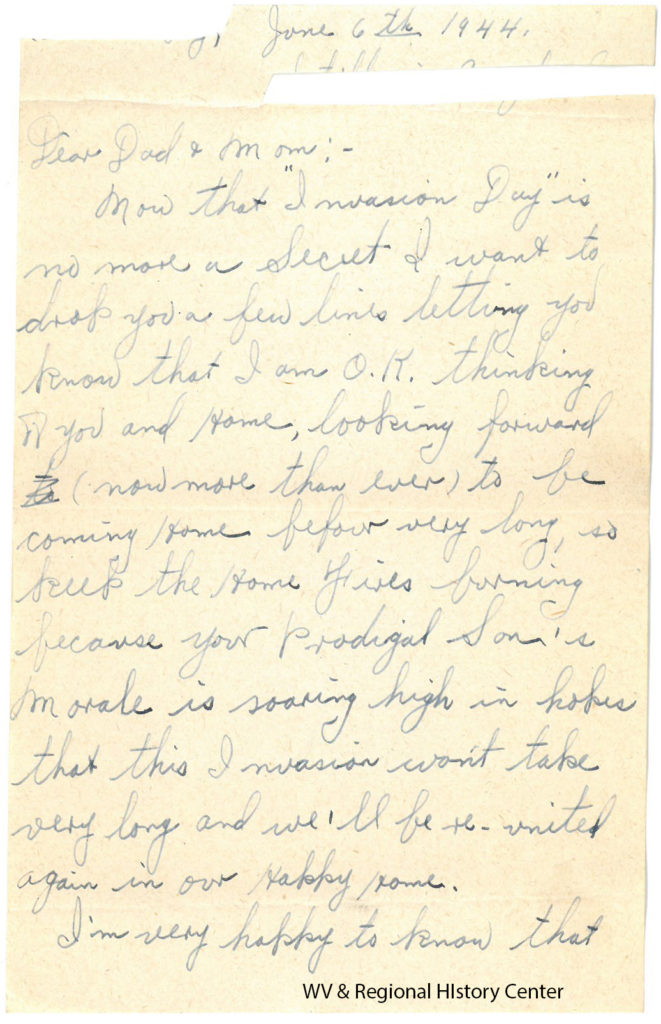 On D-Day, Private John wrote to his parents to let them know he was still in England and doing fine.  Army censors removed details they thought could be used by the enemy.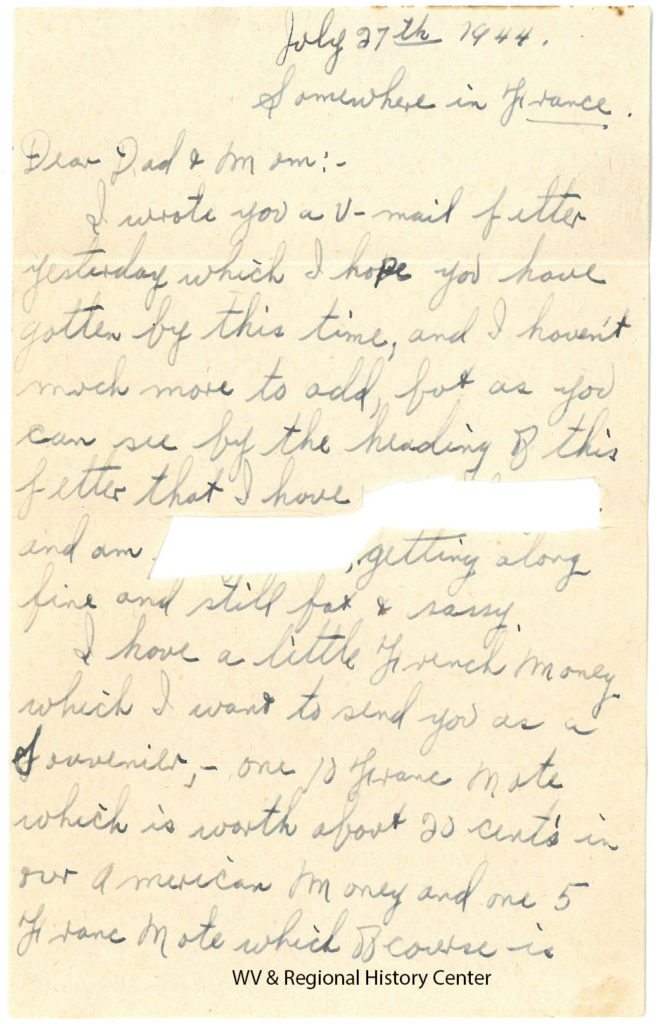 The last letter written by Private John to his parents, sent from somewhere in France.  This letter was also censored.  John was killed in action near St. Lo, France on August 15, 1944 only a couple of weeks after sending this letter.  He was 30 years old.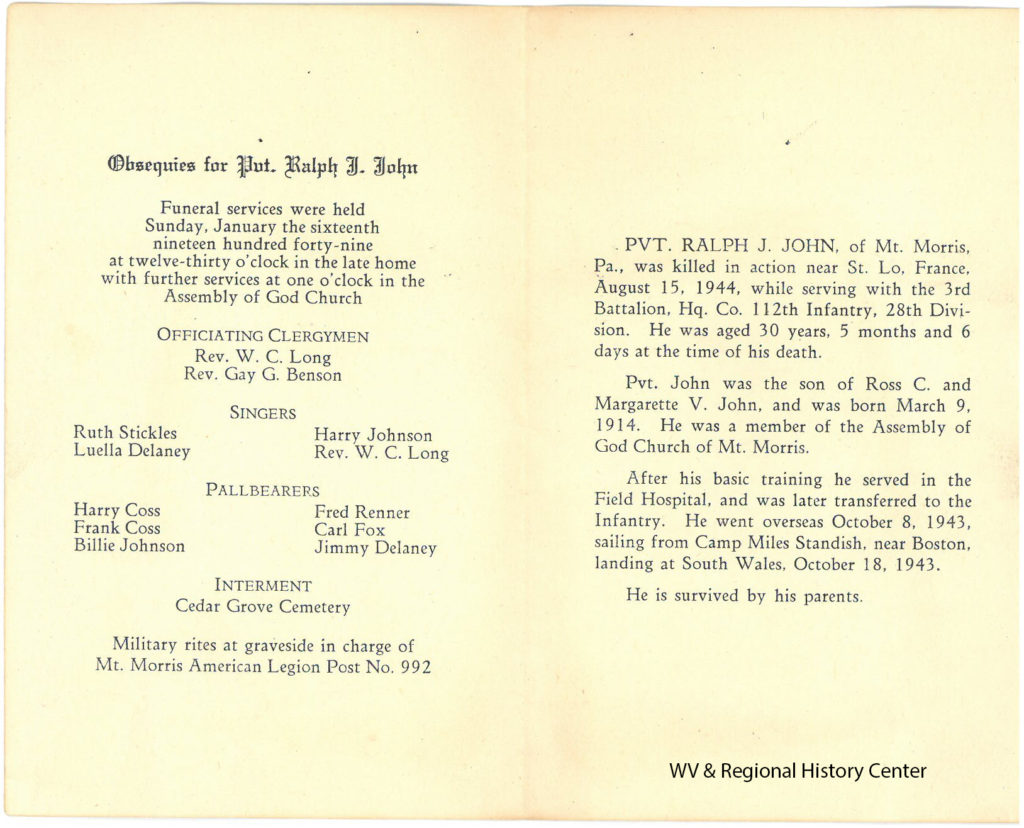 Obsequies, or funeral rites, were held for Private John in Mt. Morris five years after his death.
Although A&M 3600 does not include a photograph of Private John, the rich collection of letters leaves an impression of a loving son who was devoted to his country.  At the West Virginia & Regional History Center, we are committed to collecting more materials that document World War II and those who fought.  Please contact us if you have something that you would like to donate.
For more on Ralph John, see "Soldier's Letters at the WVRHC"
Leave a Reply