Posted by Jane Metters LaBarbara.
June 20th, 2016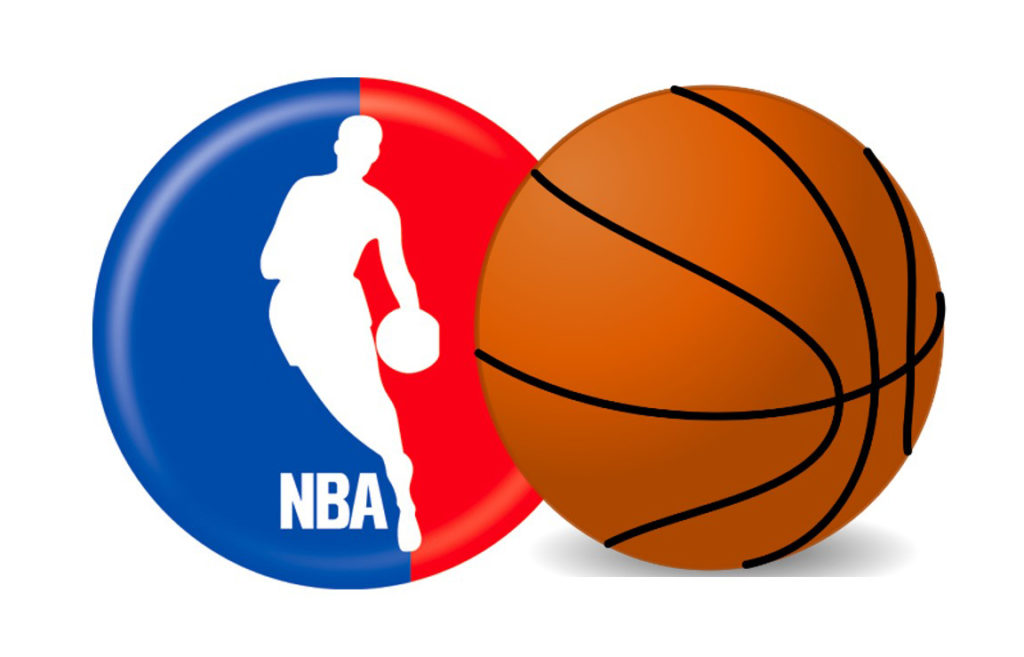 Blog post by Stewart Plein, Rare Book Librarian.
When it comes to sports, West Virginia has been home to many great athletes.  Certainly no other state can lay claim to not one but two of the greatest basketball figures of all time, and both of them have earned the title,  "Mr. Basketball."  Jerry West and Clair Bee have both held that honor. 
This West Virginia Day, June 20, the West Virginia and Regional History Center and the WVU Libraries will celebrate the extraordinary career of basketball great Jerry West.  A native West Virginian, West was born in Cabin Creek, but grew up in the vicinity of Chelyan in Kanawha County.  The hills of West Virginia and a love of basketball saw West through a difficult childhood that included a life of poverty and the loss of a beloved brother.  West's passion for basketball saw him through it all.
From his high school basketball days to his forty year career with the Lakers, Jerry West has consistently played to win.  In his senior year at East Bank High School, West became the first player in West Virginia sports history to score over 900 points in a single season.  As a senior, West was recruited by some big names, but he chose to stay close to home and attend WVU.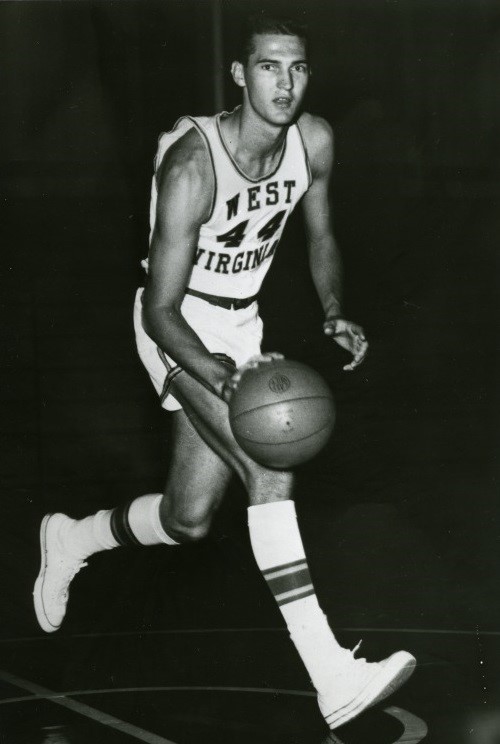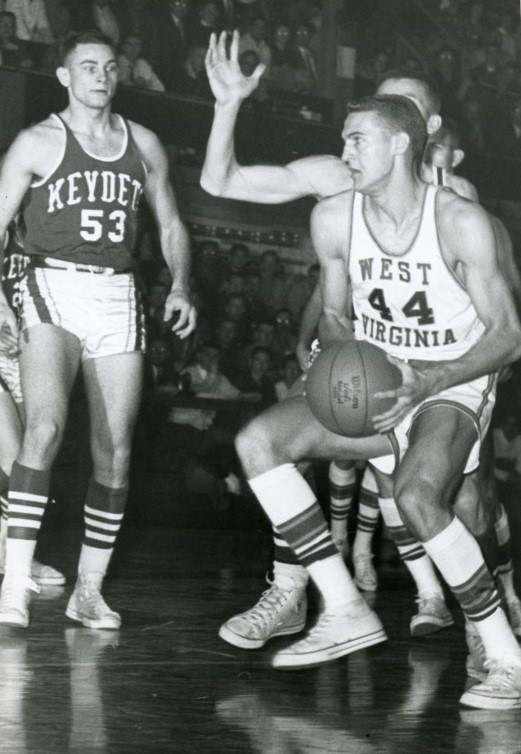 Although the move from Chelyan to Morgantown was a bit much for the young student, once West had a ball in his hands all his worries disappeared.  West played for WVU and Coach Fred Schaus from 1957 – 1960.  During this time he was named All-American twice.  With greats like Jerry West and classmate Willie Akers on the team, the Mountaineers won 81 games with only 12 losses.
From there it was on to the Olympics as co-captain for the United States Mens Basketball team.  West and his teammates won the gold medal at the XVII Olympic Games in Rome, Italy.  Upon his return home, West's status as an amateur changed to that of a professional when the Lakers drafted him.  West began his tenure with the Lakers in Minneapolis and continued to play with the team after the move to Los Angeles.  It was there in L.A. that West's sports prowess would earn him the nickname "Mr. Clutch," for his famous buzzer-beating 60-foot shot against the New York Knicks, tying Game 3 of the 1970 NBA Finals.  West would go on to spent 40 years with the Lakers, as a player, coach and later, as scout.
West was awarded icon status when his silhouette was chosen as the symbol for the NBA.  Just this year, President Obama honored Jerry West at the White House as part of the Golden State Warrior event, where he received a standing ovation.
The First Mr. Basketball:  Clair Bee
Before there was Jerry West, there was Clair Bee.  Born in Grafton in 1896, Bee graduated from Grafton High School in 1920 after his high school years were interrupted by his military service in World War I.  The Grafton year book, the Vox Discipuli, ("the voice of students") was filled with photos of Bee, an all-around athlete who played football, baseball and basketball.
Although he could play all sports, Bee was to make his name in basketball.  Not just as a player, though he excelled on the court, but as a coach.  Bee attended Waynesburg College in Waynesburg, Pennsylvania, and after graduation began his coaching career in basketball at an Ohio high school.  Though he was only there for a single year before he joined the faculty at Rider College in Trenton, New Jersey, Bee's coaching career had begun.
Originally hired as an accounting instructor for Rider, Bee's love of sports led him to organize football, baseball and basketball as intercollegiate sports, a first for the college.  Next, Bee would assume the mantle of Athletic Director and coach for all three sports.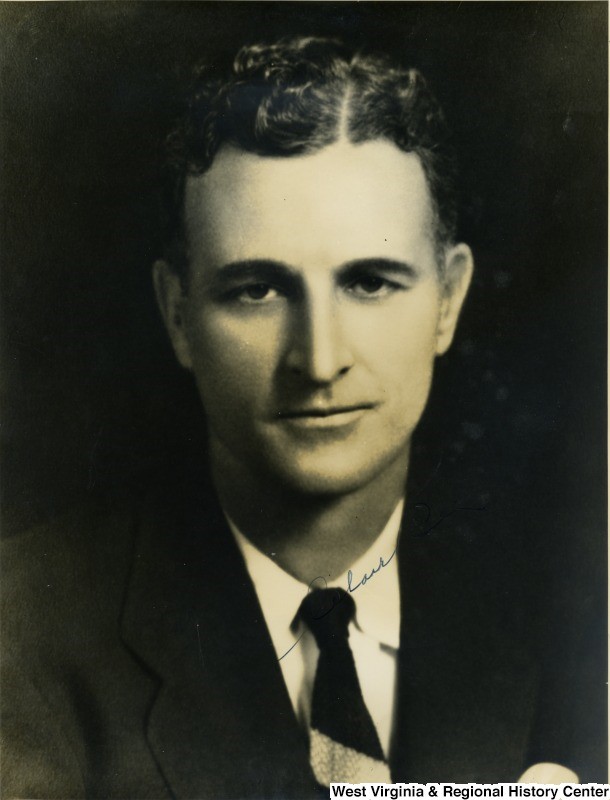 His first season as basketball coach for the Rider "Broncs" was an astounding success with a record of 19-3.  The second and third seasons at Rider were just as thrilling with a record of 18-2.
With records like that, Long Island University came knocking and lured Bee away from Rider College to be the head basketball coach at LIU.  LIU was so strapped they didn't even have a University gymnasium, but despite that obstacle, Bee was able to excel at LIU and won his first season with a 16 – 4 record.  From there Bee continued on his winning streak, taking LIU to the top.  In one season alone, 1933 – 34, the team won 26 out of 27 games for a 26 -1 record!
Although Bee was well known for coaching, to many he may be best known as an author.  Bee wrote a popular children's book series on sports that continues to this day.  His first book, Touchdown Pass, introduced "Chip" Hilton, an all-around student athlete at Valley Falls High School.  Twenty two more books followed the first with titles such as Clutch Hitter, Hoop Crazy, and Strike Three!
Bee also authored several coaching books, including The Clair Bee Basketball Library, published in 1942 by A.S. Barnes, and this set proved to be the top coaching series of its day.  Credited with the invention of the Zone Defense, Bee revolutionized the game.
With a career of this stature it's no wonder two of the top sports awards are the "Chip" Hilton Player of the Year Award and the Clair Bee Coach of the Year Award.  Bee was even honored by Jay Rockefeller with "Clair Bee Day," celebrated on May 25, and lauded with high praise from colleague and coach, Bobby Knight, who said "Clair Bee was Basketball!"
You are invited to attend the events for West Virginia Day, Monday, June 20, at the West Virginia and Regional History Center where the Jerry West Collection and books by Clair Bee will be on display.  You can also access the new Jerry West Digital Collection from the WVRHC website:  https://jerrywest.lib.wvu.edu/   The West Virginia Day Program can be found at the West Virginia and Regional History website:  https://wvday.lib.wvu.edu/
Sources:
Images:
Text citations:
Leave a Reply