Posted by Jane Metters LaBarbara.
July 11th, 2016
Blog post by Jane Metters LaBarbara, Assistant Curator, WVRHC.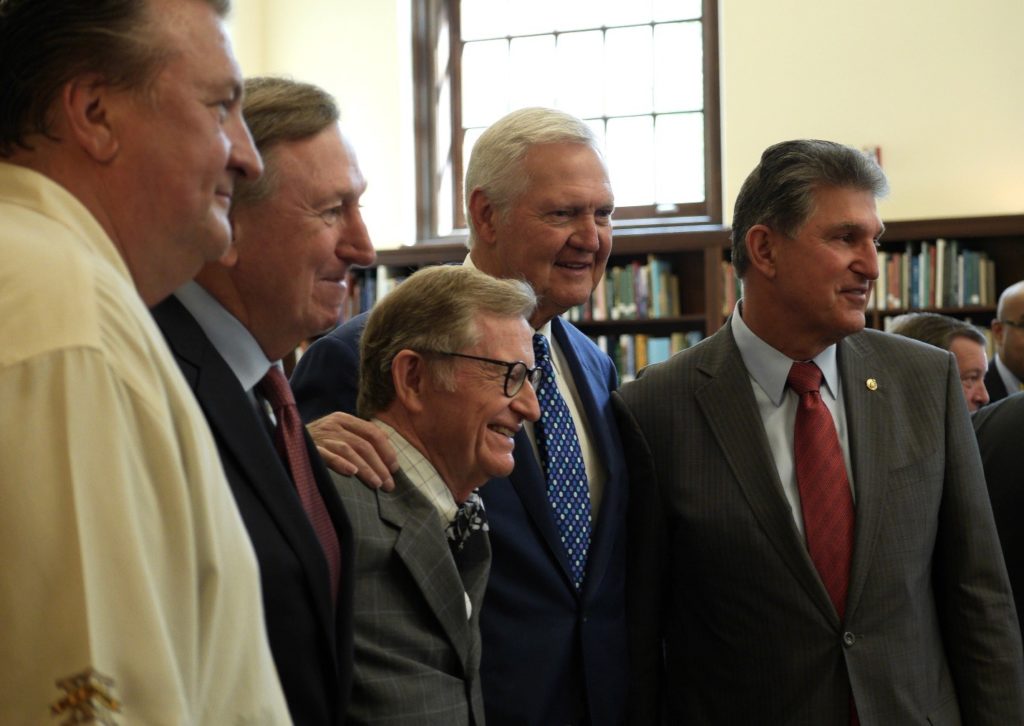 Bob Huggins, Rod Thorn, President Gee, Jerry West, and Senator Joe Manchin
(Willie Akers, not pictured, also spoke)
Our West Virginia Day event on June 20 was a big success!  We had a great group of speakers, we shared the state's birthday cake, we opened our physical collection of Jerry West materials to researchers, debuted our Jerry West digital collection, and opened our exhibit of Jerry West memorabilia.  However, we know that not everyone who wanted to come could join us that day, and many fans from afar may not be able to visit the exhibit at all.  Staff at the WVRHC will make a slide presentation of our physical exhibit, as we've done the past few years, but that won't be ready until the fall semester.  I put together a little preview for Jerry West and WVRHC fans far away.  Enjoy!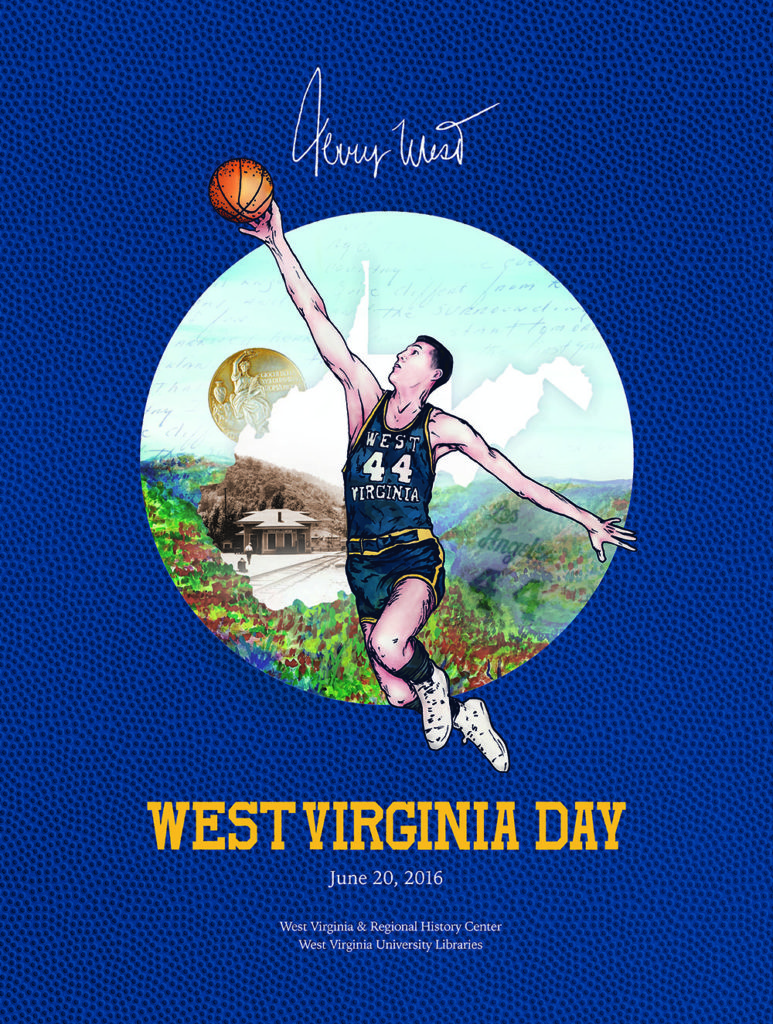 This year's commemorative WV Day poster–we still have some left, if you'd like one!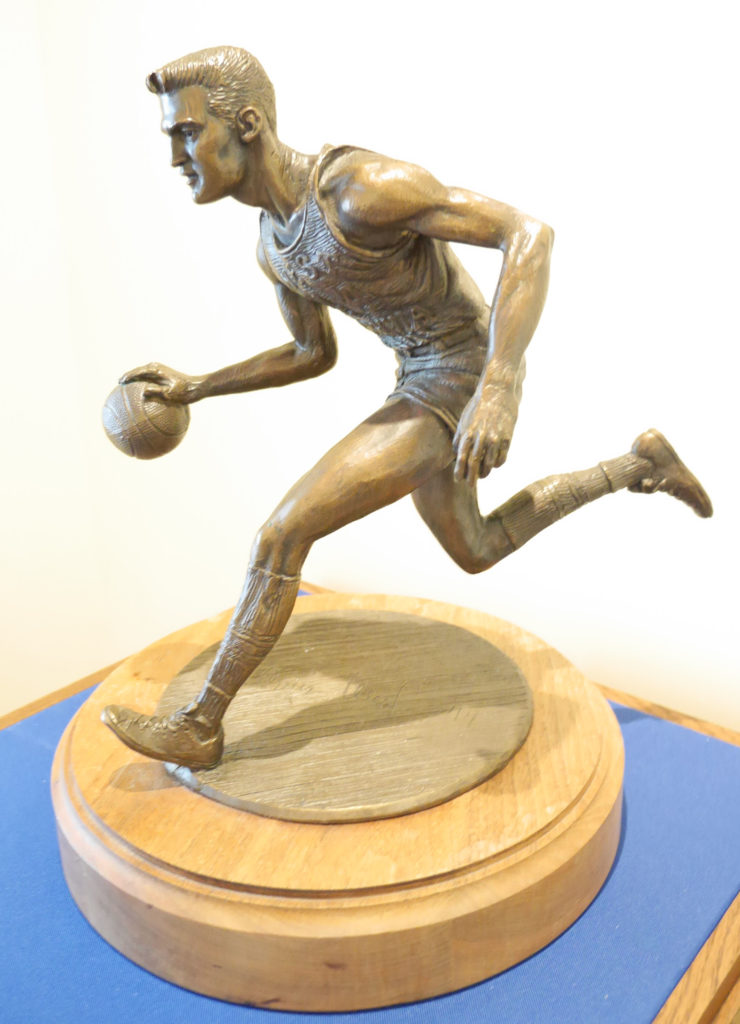 Jerry West, by Jamie Lester
Jerry West looms large in WVU sports history, and indeed in the history of sports in America.  His name is a household word and his image is figurally and literally iconic.
In 2006, to commemorate the 50th anniversary of West's enrollment, West Virginia University dedicated a life-size statue of West created by the nationally known Morgantown sculptor Jamie Lester.  The image above is of a "maquette" (a scaled down model) made by Lester of the sculpture which was installed and dedicated at the WVU Coliseum in February 2007.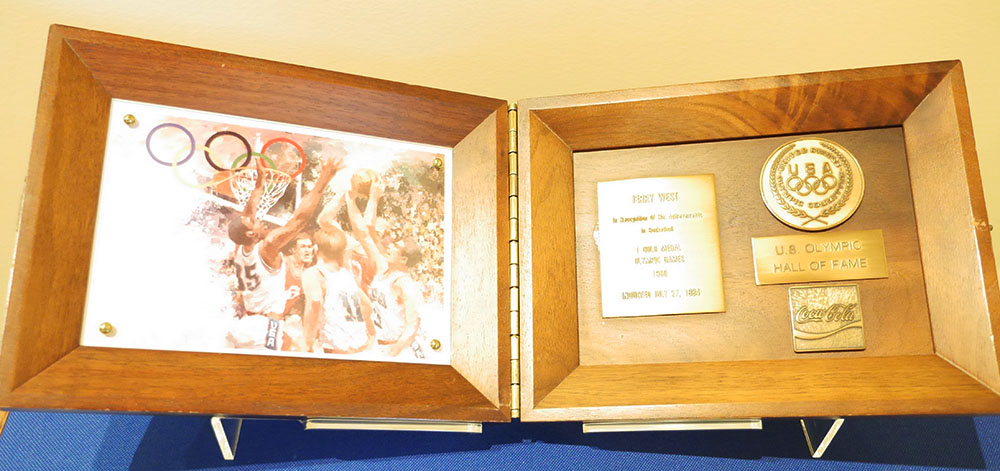 Commemorative Olympic Plaque celebrating West's gold medal from the 1960 Olympic games and his induction into the U.S. Olympic Hall of Fame in 1984.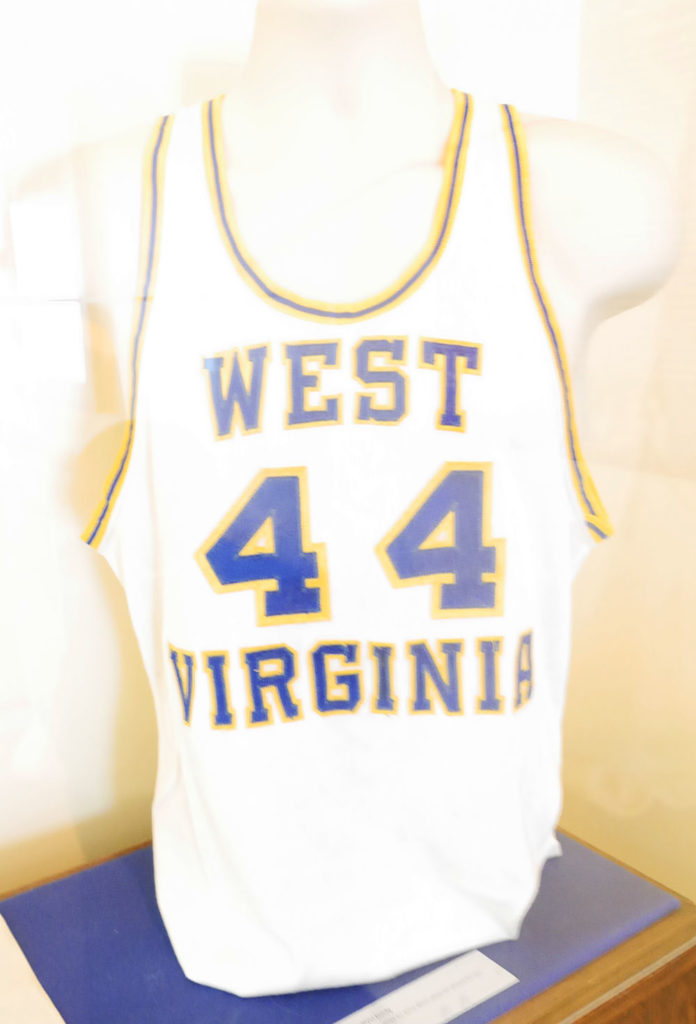 This authentic jersey was worn by Jerry West when he played for the Mountaineers.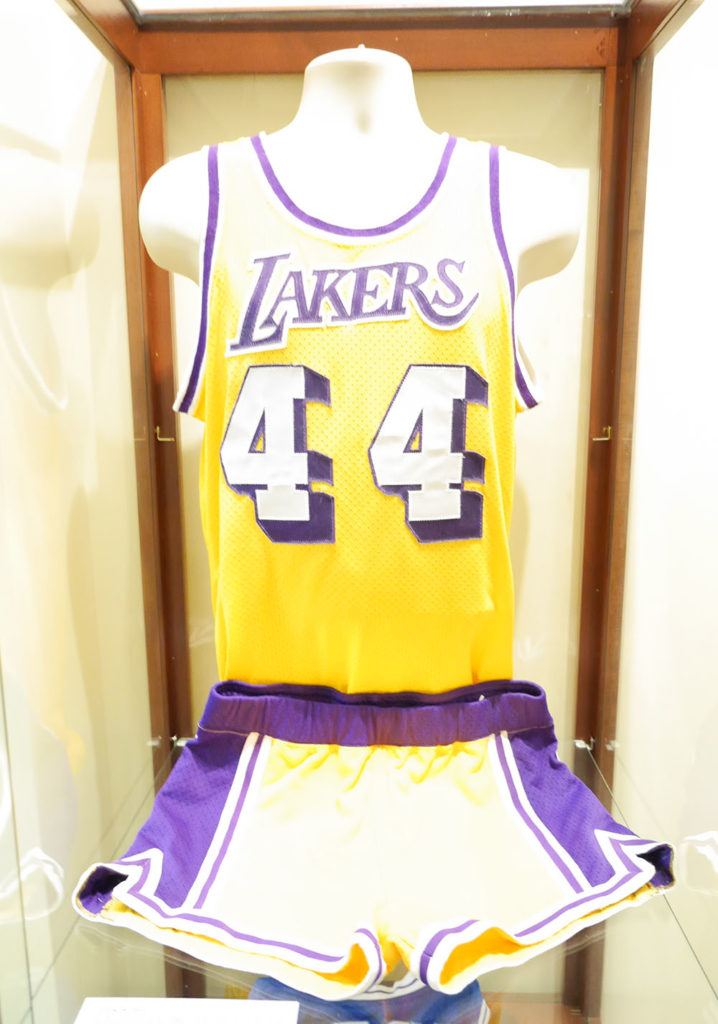 Joining the Lakers.  In 1960, after winning the Olympic Gold, Jerry West was drafted by the Lakers just as they were moving from Minneapolis to Los Angeles.  Over the next fourteen years, Jerry played in 932 games averaging a remarkable 27 points, 5.8 rebounds, and 6.7 assists per game.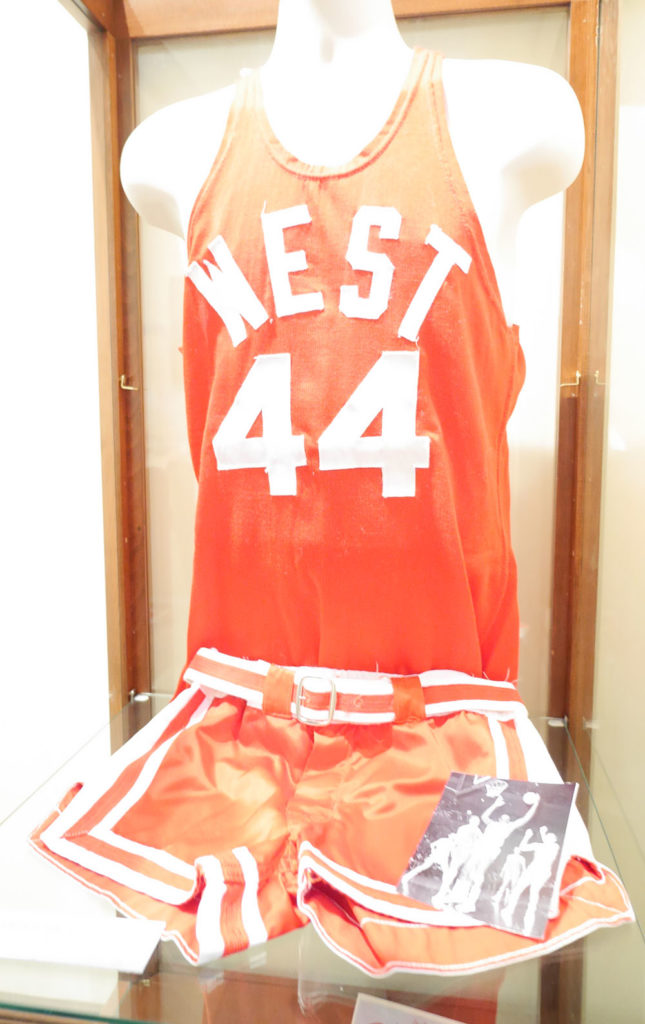 Original Jerry West All-Star Uniform.  Jerry West was selected as an All Star every year he played for the Lakers, a total of fourteen times from 1960 to 1974.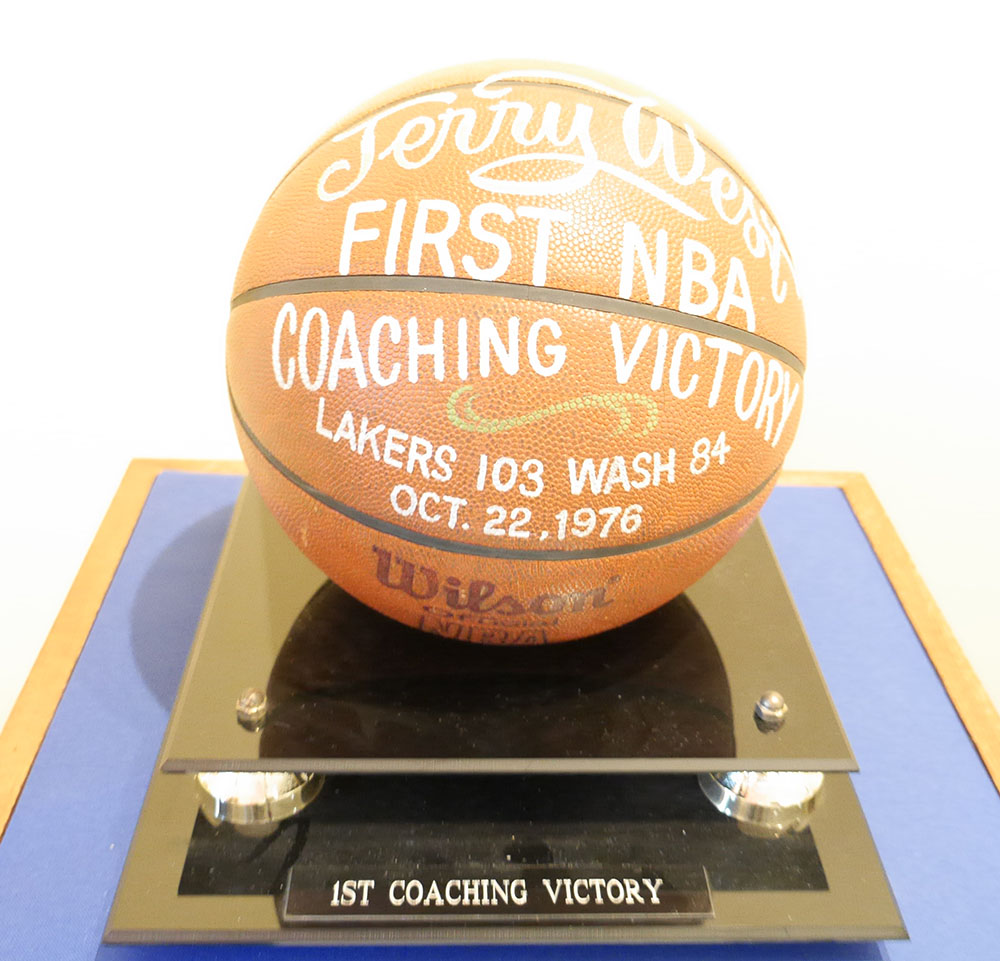 Game Ball from First Victory of Coach Jerry West.  Jerry West achieved his first victory as a coach of the Lakers when they defeated the Washington Bullets on October 22, 1976.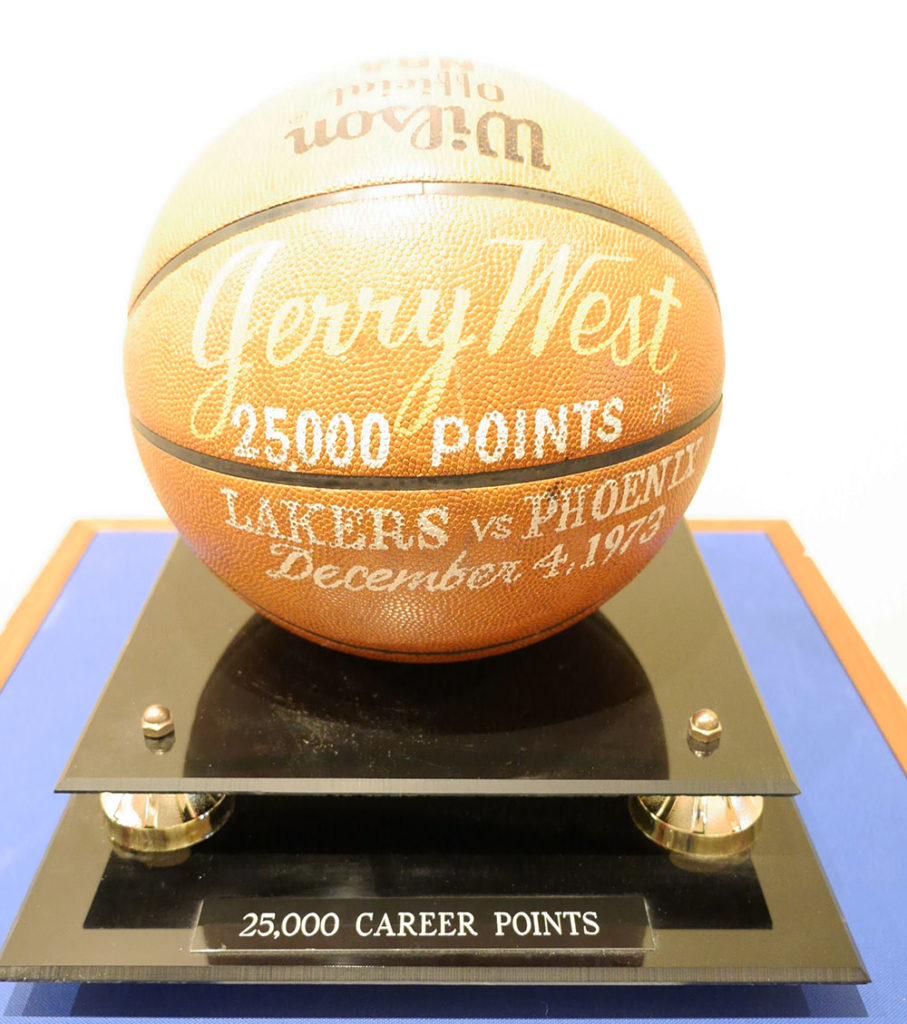 25,000 points.  In 1974, Jerry West became the third player in NBA history to reach the 25,000 point milestone.  He was preceded in that feat by Wilt Chamberlain and Oscar Robertson.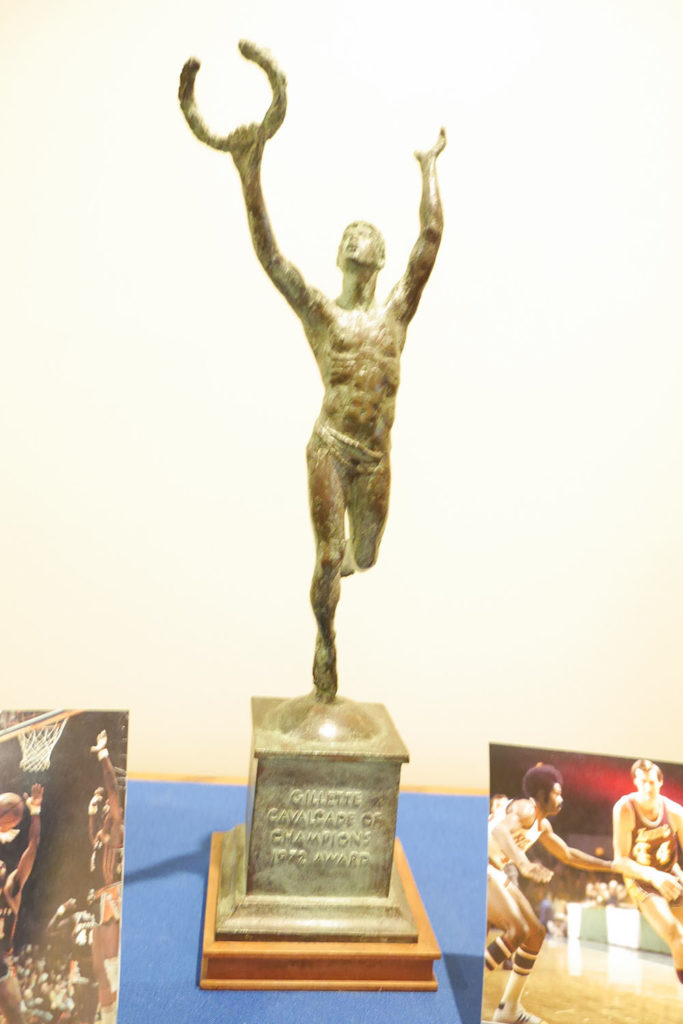 Gillette Cavalcade of Champions Award.  In the early 1970s, the Gillette Company sponsored "champions" awards to recognize achievements in all fields of athletics.  Nominees of the Champions Award were determined by a nationwide ballot and the winners were selected by sports writers and sports casters.  Bob Hope hosted the awards show during prime time on NBC. Jerry West won the award for excellence in basketball in 1972. Other winners of the prestigious award included Mark Spitz and OJ Simpson.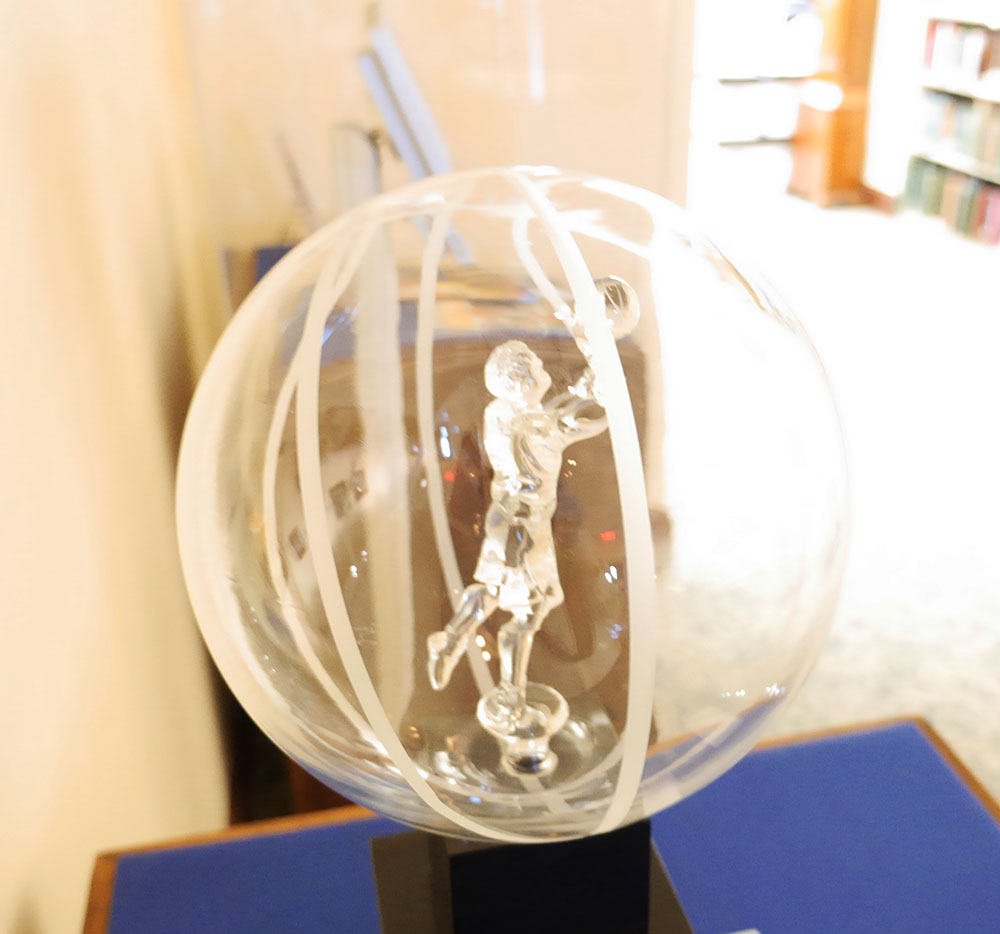 National Basketball Retired Players Association Founder Award.  The National Basketball Retired Players Association was founded in 1992 by NBA stars Dave DeBusschere, Dave Bing, Archie Clark, Dave Cowens, and Oscar Robertson.  Jerry West received this trophy in 2004.
The items shown above are from Jerry West's personal collection.  They will only be on exhibit temporarily.
Leave a Reply