Posted by Jane Metters LaBarbara.
July 19th, 2016
Blog post by Stewart Plein, Rare Book Librarian.
One hundred and eighteen years ago, the name Andrew Summers Rowan (1857-1943), a native of Union, West Virginia, was on everybody's lips.  A decorated war veteran, Rowan was widely recognized for accomplishing the impossible during the Spanish-American War, the same war that brought Teddy Roosevelt and his Rough Riders to public prominence, paving the way for Roosevelt's future presidency.
Seemingly larger than life, Rowan's great military achievement received mythological status in his day.  The oft repeated tale begins with President McKinley's request for a soldier capable of tracking down General Calixto Garcia, the leader of insurgents in Cuba's civil war with Spain.  McKinley's goal was to find a way to communicate to Garcia that the United States planned to enter the war on the side of Cuba.  An important message to be sure and one that Garcia would find most welcome.  But in order to accomplish this treacherous mission, McKinley needed a man who could face all threats and successfully carry out this important task.  Rowan was that man.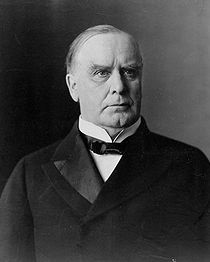 President McKinley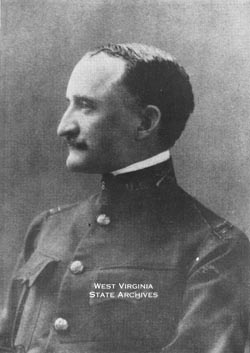 Andrew Summers Rowan
As the story goes, Lt. Rowan, then serving in the War Department in the Bureau of Military Intelligence, was asked to meet his commanding officer, Colonel Arthur L. Wagner, for lunch.  Over lunch, Wagner asked Rowan if he could depart for Jamaica on a moment's notice.  Rowan could and left the next day.  From Jamaica Rowan traveled 150 miles by sea on a fishing boat to Cuba and with the help of Cuban insurgents he was able to navigate the tropical wilderness, barely escaping capture by the Spanish on a number of occasions.  It took four days to reach Garcia, who was in hiding from the Spanish, and deliver McKinley's message.
According to the unofficial Arlington National Cemetery website, Rowan "crossed the island of Cuba, and not only succeeded in delivering a message to General Garcia, but secured secret information relative to existing military conditions in that region of such great value that it had an important bearing on the quick ending of the struggle and the complete success of the U.S. Army."
Within three weeks Rowan, in the company of five Cubans assigned by Garcia, was back on American shores.  The journey home was anything but easy.  First the men had to hack their way through the jungle without supplies of any kind, hunting for food along the way.  Then, in a tiny boat with sails they made from gunnysacks, they made a perilous journey across the sea to return to the United States, dodging the Spanish along the way.  After their arrival Rowan and his companions met President McKinley during a Cabinet meeting to relay their hard earned information.  As a result, Rowan was hailed a hero for his daring military adventure.
The following year, 1899, Elbert Hubbard, a well-known entrepreneur, publisher, and celebrity, was having dinner with his son, Bert, when the discussion turned to the events of the Spanish American War.  Hubbard's son mentioned Rowan as the true hero of the war, and Hubbard was sparked with inspiration.  As Hubbard put it "he got up from the table" whipped up a short essay "in a single hour" and called it "A Message to Garcia."  Hubbard took Rowan's exploits and used them analogously to urge young men not to laze about but to "take charge" and accomplish great things in business and in life.   He published it without a title in his journal "The Philistine" issued by his own publishing house, The Roycrofter Press.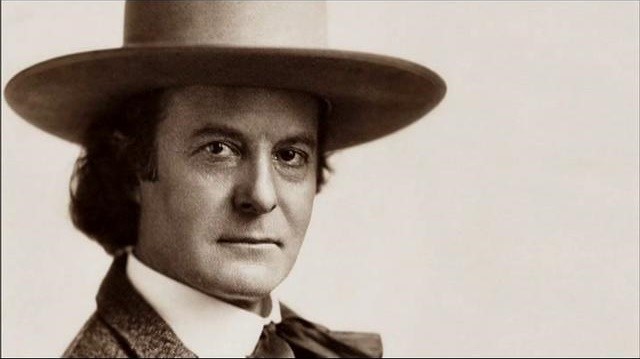 Elbert Hubbard
Much to Hubbard's surprise this brief, untitled essay was a runaway success.  Orders poured in for copies.  To meet the demand, Hubbard printed the essay in book form as a four page pamphlet and sold it for 25 cents a copy.  This short text was reprinted innumerable times in many languages.  With all this publicity, Rowan and his "message to Garcia" became a household name worldwide.
Declared a hero for his exploits, Rowan was awarded the Distinguished Service Cross for extraordinary heroism in action for his service in Cuba in May of 1898.  He was also awarded Cuba's highest decoration, the Order Carlos Manuel de Cespedes.  Recognized as a liberator of Cuba, bronze plaques and tablets to Rowan were placed in Havana and Bayamo, Garcia's headquarters while hiding from the Spanish.  A bronze bust of Rowan was also placed in Havana.
Though Hubbard immortalized Rowan's message as a letter, wrapped in an "oilskin pouch" and "strapped it over his heart," in actuality his message was a verbal one.  This way, if Rowan were captured, no document could be found to compromise his mission.
Now, a new book has been published on Rowan that sheds a scholarly light on his life, his military achievements and the era in which he served.  The West Virginia University Press has published Donald Tunnicliff Rice's book: Cast in Deathless Bronze: Andrew Rowan, The Spanish American War, and the Origins of American Empire.   It is currently available from the WVU Press.  The book will also be available for study at the West Virginia and Regional History Center.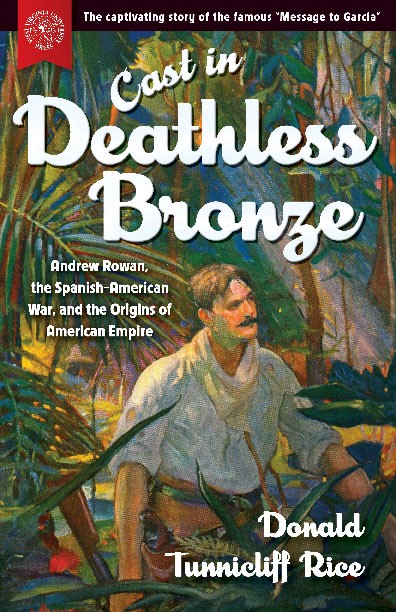 The Rare Book Room owns a 1924 copy of Hubbard's A Message to Garcia.  You are invited to make an appointment to view this copy at the West Virginia and Regional History Center.
You can read Hubbard's A Message to Garcia online at Rowan's page on the unofficial Arlington National Cemetery website, as well as his own account of his exploits:  http://www.arlingtoncemetery.net/asrowan.htm
Rowans' own account was also published in the newspaper, the Weston Democrat, in 1929.  It is available at the WV Culture website:  http://www.wvculture.org/history/military/rowanandrew01.html
Resources:
Images:
Cast in Deathless Bronze: Andrew Rowan, The Spanish American War, and the Origins of American Empire, Donald Tunnicliff Rice book cover image: http://wvupressonline.com/node/648
Sources:
Leave a Reply