Posted by Jane Metters LaBarbara.
December 7th, 2016
Blog post by Lori Hostuttler, Assistant Director, WVRHC.
Seventy five years ago today, on December 7, 1941, a date that lives on in infamy, the United States Naval Base at Pearl Harbor, Hawaii, was attacked by the Japanese.  Over 2400 US servicemen were killed and close to 1200 were injured.  Cruisers, destroyers, and a significant number of US aircraft were destroyed. Eight US battleships were damaged including West Virginia's name sake, the USS West Virginia.  Despite the devastating attack, West Virginia was repaired and sent back into duty, earning the moniker, "The Phoenix of Pearl Harbor."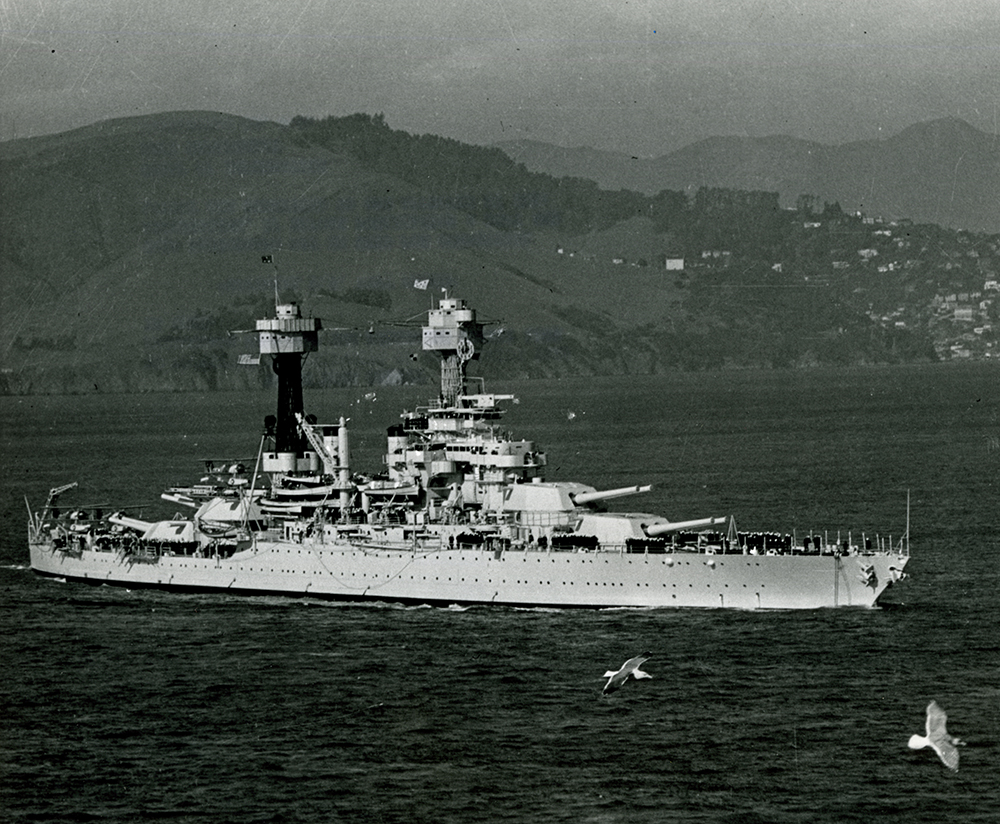 The USS West Virginia ca. 1940
The West Virginia & Regional History Center honors the USS West Virginia and all who endured the attack at Pearl Harbor with a new exhibition in the Rockefeller Gallery of the Wise Library.  The exhibit, The USS West Virginia: Phoenix of Pearl Harbor, will be on display through March 2017. It includes uniforms, medals, artifacts, images, and documents from a number of collections in the Center archives.  All are invited to view the exhibit during the library's open hours.
The Center has also created on online photograph collection featuring more than 165 images of the West Virginia.  Below is a small sampling of what you will find in the exhibit and online collection.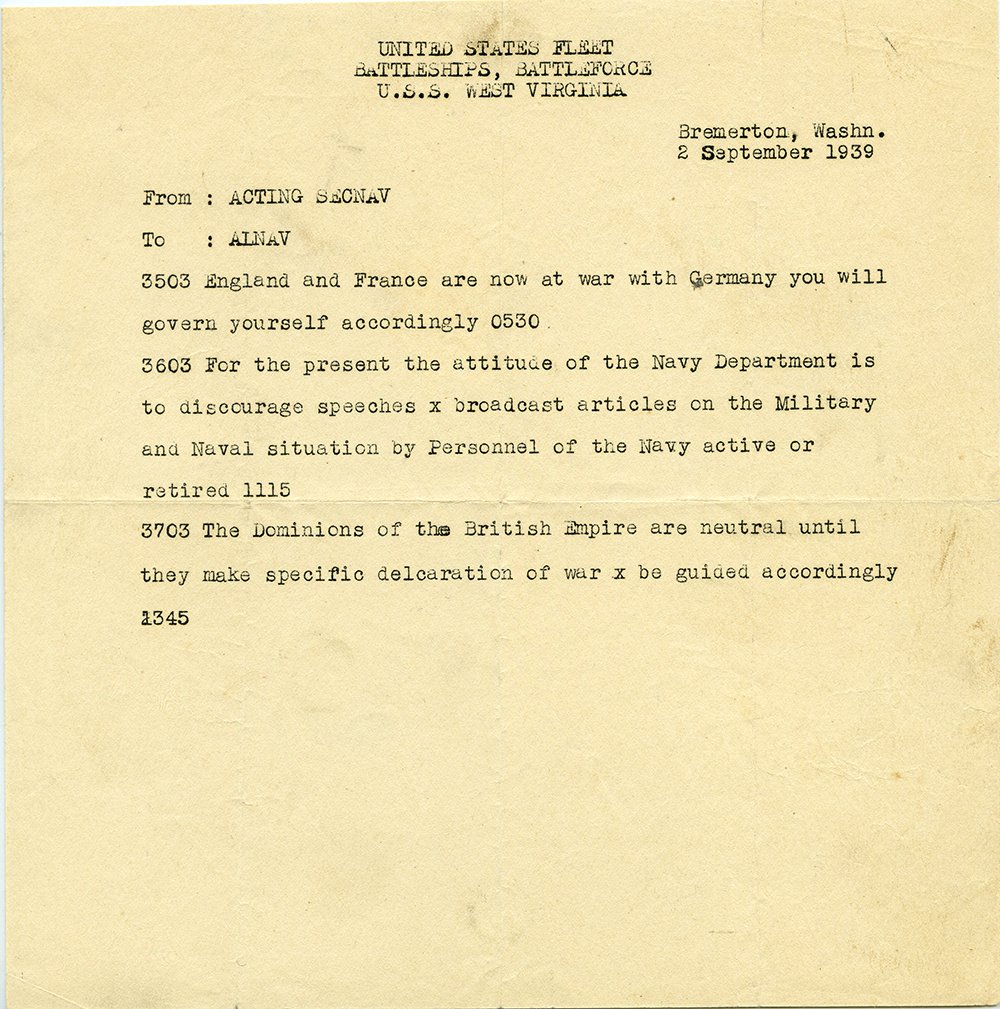 Communication reporting that England and France are at war with Germany and instructing navy personnel to "govern themselves accordingly," September 2, 1939.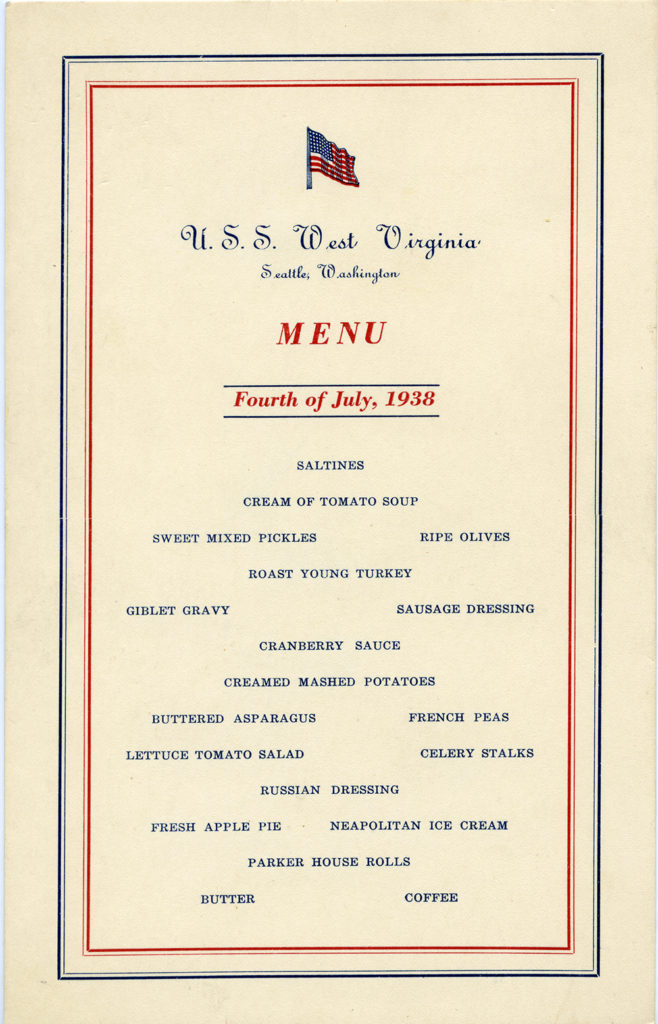 USS West Virginia Independence Day menu, July 4, 1938.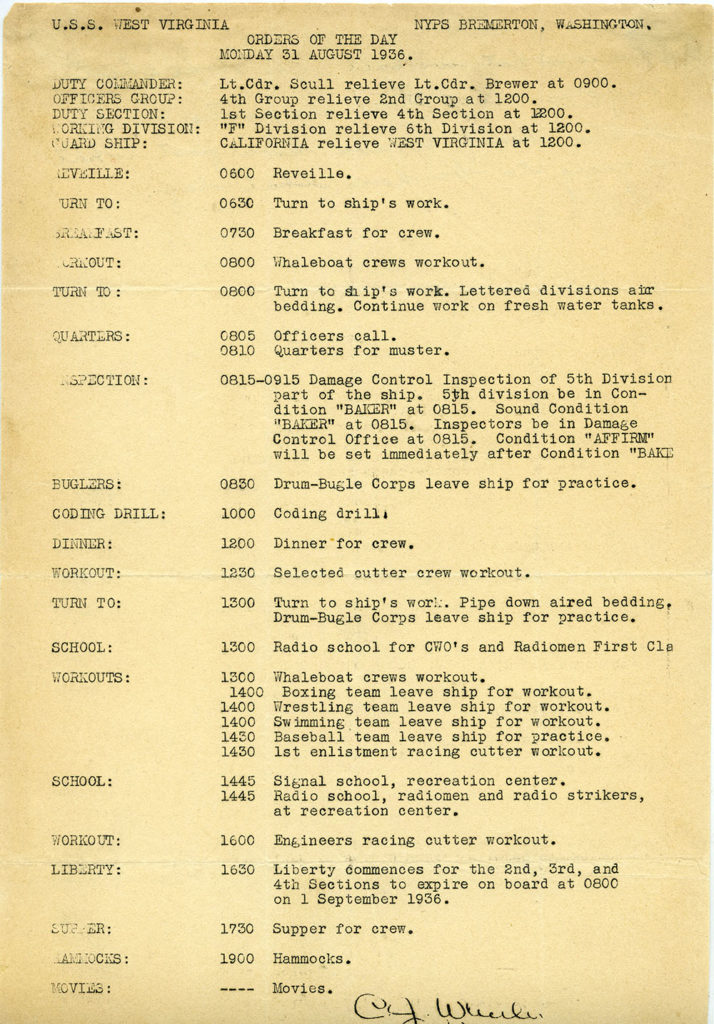 USS West Virginia Orders of the Day, August 31, 1936.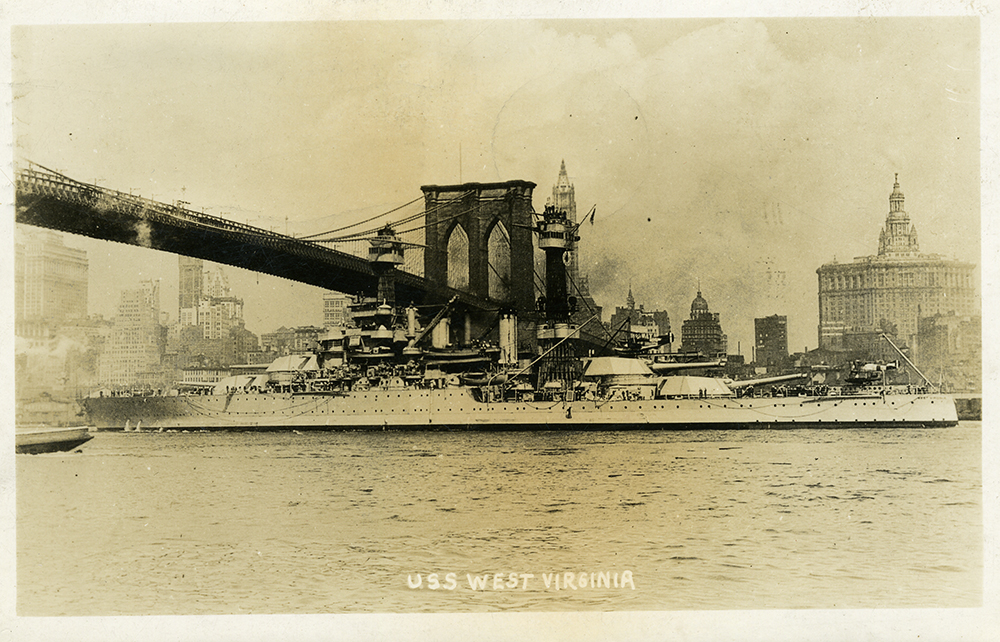 USS West Virginia sails under the Brooklyn Bridge, ca. 1936.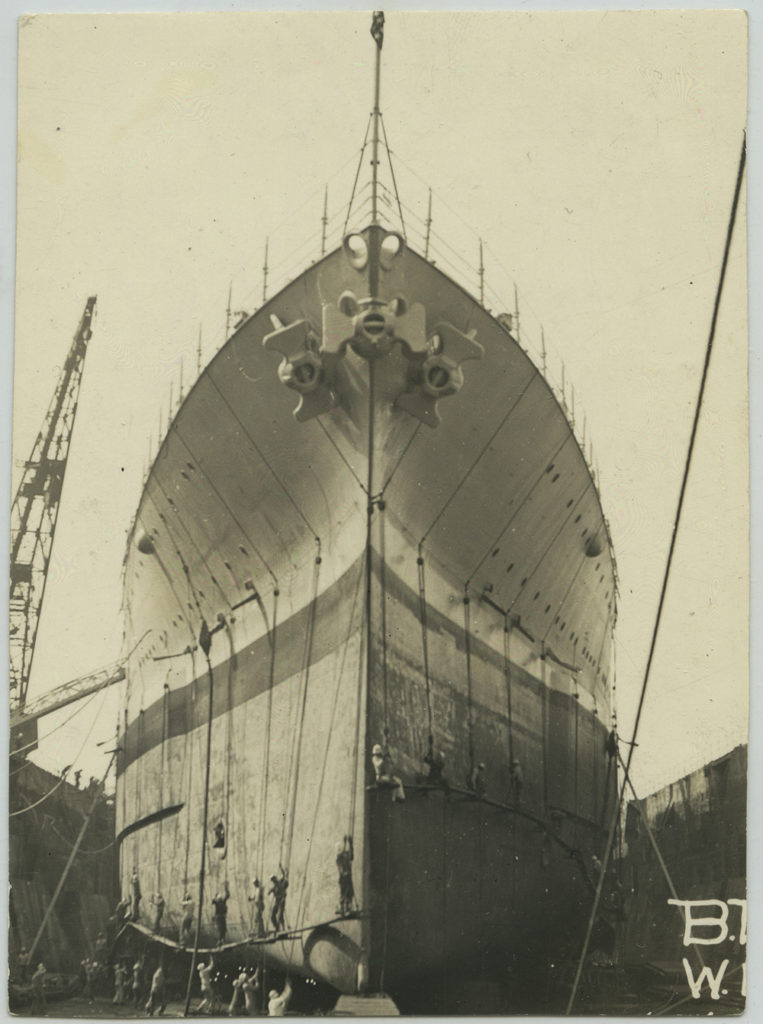 The USS West Virginia at dry dock in Washington, DC, 1936.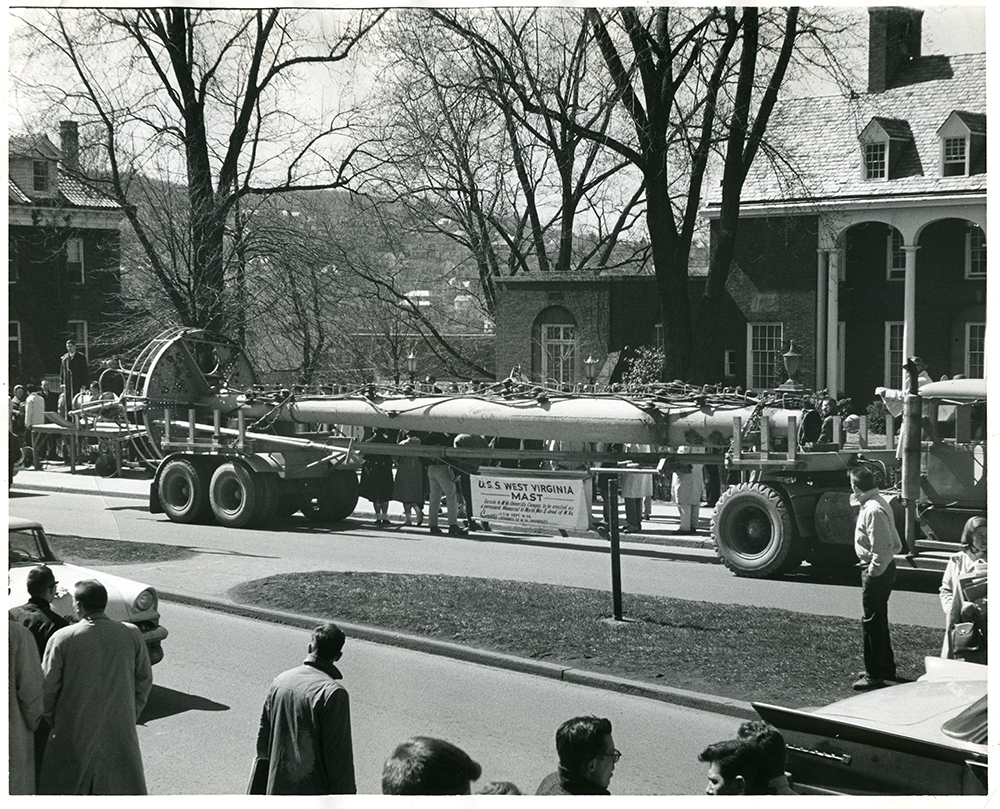 The mast of the USS West Virginia arrives on the WVU Campus, March 17, 1961.
As we revisit the tragic events of 75 years ago, let us remember the USS West Virginia and "her gallant crew and … all West Virginians who have served our country in the Armed Forces."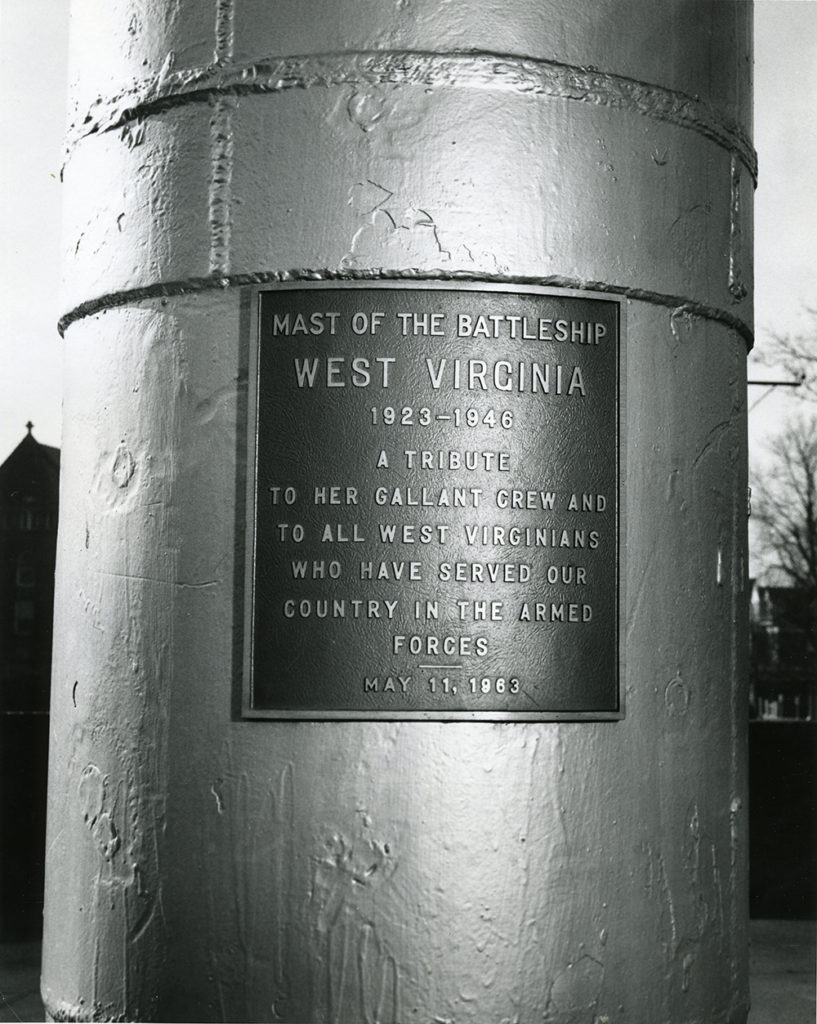 Plaque on the mast of the USS West Virginia located on Memorial Plaza on the campus of WVU.
One Response to 'USS West Virginia: The Phoenix of Pearl Harbor'
Andrew Busch Says:
January 8th, 2017 at 8:22 pm

Thanks for the 2016 Christmas card. Very creative and some nice history of the WeeVee.
Leave a Reply