Posted by Jane Metters LaBarbara.
January 12th, 2017
Blog post by Stewart Plein, Rare Book Librarian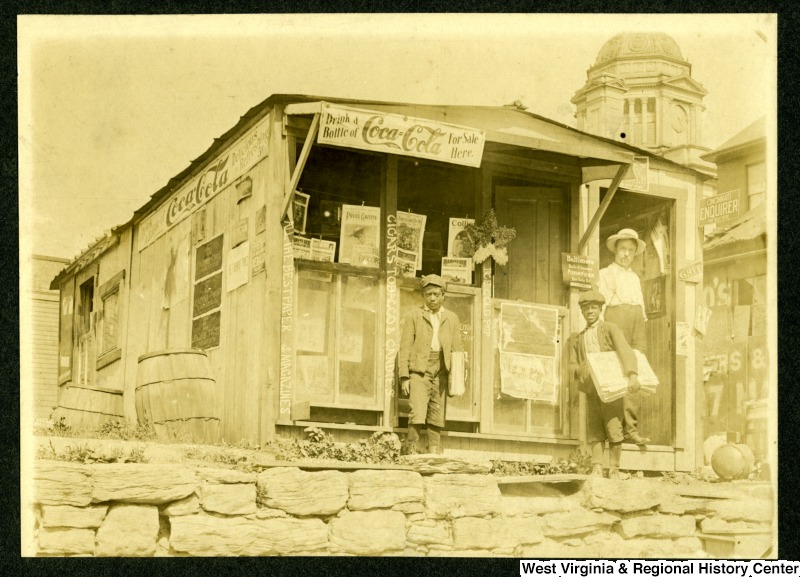 C.N. Chilins News Stand, Fairmont, W. V. 1904/06. Two African-American Newsboys and Unidentified man stand outside C. N Chilins, located on Madison Ave.. Fairmont, W. V., eventually (relocated) to the first floor of Watson Hotel.
Beset with a fluctuating subscriber base, the constant need for funds, and personnel shortages, African American newspapers in West Virginia during the late nineteenth and early twentieth centuries struggled to survive.  Many were short lived, publishing issues for a couple of years at best.  Some papers found themselves shutting down production for weeks or even months at a time, waiting for subscribers and advertisers to provide enough funding to begin publishing again. 
As was often the case, few people could afford to subscribe and issues were frequently passed from hand to hand, shared among family members and throughout the community.  The act of sharing brought important news to a wider audience, but the lack of subscribers was nearly certain death for the publisher.  Even as late as 1944, the editor of the West Virginia Digest, I.J.K. Wells, printed this plea to his readers:
"The West Virginia Digest, the people's paper, will no doubt appear infrequently because of labor shortage and help.  It will not make its weekly schedule for some time.  Because you fail to see it every week, don't think it's dead.  The cause for which it stands cannot die, and because there is a need for a newspaper, this one or some other one will spring up from time to time."
The founders of the state's African American newspapers were recognized as community leaders.  More than one served their readers as ministers.  Editors were also attorneys, educators, and politicians.  As leaders, editors took strong stands on racism with topics that included political events, Jim Crow laws, unfair mine labor practices, civil rights, and the military, which often limited soldiers to positions of service.  Newspapers advocated for education, community pride, and party alliances that would benefit African Americans. Cultural activities, including church and social events, also filled their pages as did articles provided by wire services, such as the Associated Press, and the all-important advertisements.
The earliest African American newspaper in West Virginia, the Pioneer Press, was owned by J.R. Clifford, a man of many talents and abilities.  Clifford was a graduate of the first West Virginia institution of higher learning for African Americans, Storer College.  He was a Civil War veteran and the first African American attorney in West Virginia.  A colleague of W.E.B. DuBois, Clifford was a key figure in the Niagara Movement, a precursor of the NAACP.  Clifford published the Pioneer Press for over 30 years and the paper's subscription base was nationwide.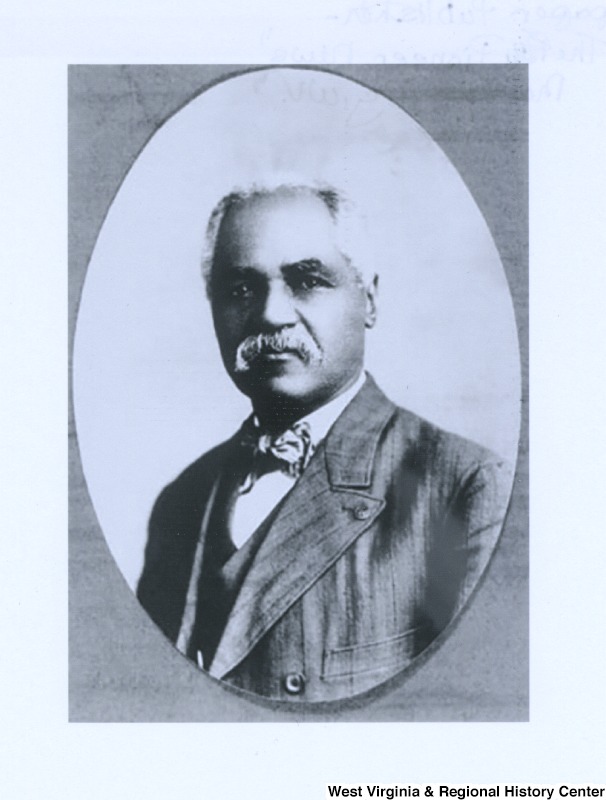 J.R. Clifford
The West Virginia & Regional History Center owns microfilm of the surviving issues of the Pioneer Press covering the years 1911 – 1917.  These issues are currently being digitized for the Library of Congress Chronicling America site for historic newspapers.  For more information on Clifford and the Pioneer Press, see the WVRHC blog post: https://news.lib.wvu.edu/2014/08/18/j-r-clifford-and-the-pioneer-press/
Four African American newspapers were published in Huntington during the late 1880s through the early years of the 1920s.  These newspapers are the Huntington Enterprise, the West Virginia Spokesman, the Breeze, and the Huntington Times.  These newspapers documented an extraordinary time in Huntington's history, a time Dr. Cicero Fain refers to as a "Black Renaissance," a period of intellectual and cultural significance for Huntington's African American community.
The survival rate for extant issues, actual hard copies of original newspapers, or even microfilm facsimiles, is rare.  Sadly, only one issue out of these four Huntington newspapers is known to survive today. The West Virginia & Regional History Center has a single original issue of the Huntington Times, for May 15, 1920. Contents of this issue include news on political candidates, world events, and an announcement for an upcoming NAACP meeting to be held at Huntington's Frederick Douglass high school, Monday, May 17.
The announcement above the NCAAP meeting includes news of a lecture by General Leonard Wood on Friday, May 21.  Wood was most likely in Huntington to campaign for his presidential run in the 1920 election.  As a candidate Wood was a well-known Republican from New Hampshire whose military career included service as the Army's Chief of Staff as well as Military Governor of Cuba, and Governor General of the Philippines.  In fact, at the Republican National Convention just a couple of months later, in June, Wood's popularity was so great that he was tied with Governor Frank Orren Lowden of Illinois for the nomination.  However, Warren G. Harding secured the nomination and went on to win the election, serving as our twenty-ninth president.  These headlines reveal just two of the major stories that ran in the Huntington Times.
Today, few people read or subscribe to newspapers, and those that do dispose of them either by recycling or throwing them out with the trash.  That was the fate of West Virginia's African American newspapers too.  Any type of reuse counts as recycling, and fodder for fires or removal as trash spelled the end for the everyday issues of African American newspapers.   Only three West Virginia African American newspapers are available at the WVRHC on microfilm, the rest are lost to time.
There were 14 African American newspapers known to exist in West Virginia.  These papers span more than one hundred years of publication beginning in 1882.  The state's only African American newspaper that continued into this century is the Beacon Digest in Charleston, until it ceased publication in 2006.
List of West Virginia Historic African American Newspapers Known to Exist by City
| City and Paper | Editor |
| --- | --- |
| Huntington: | |
| Huntington Enterprise: 1885 – | Rev. Dr. C. H. Payne |
| West Virginia Spokesman: 1900 – | C. H. Barnett |
| Breeze: 1920s | J. W. Scott |
| Huntington Times: 1918 – | A. N. Johnson |
| Charleston: | |
| Advocate: 1901 – 1913 (Weekly) | unknown |
| West Virginia Digest: 1939 – 1946 | I.J.K. Wells |
| Bacon Journal/Beacon Digest: Founded 1957 – 2006 | Benjamin R. Starks |
| West Virginia Beacon Digest: 1970 – 1989 scattered issues | Benjamin R. Starks |
| West Virginia Enterprise: 1885 – (Weekly) | Rev. Dr. C. H. Payne |
| West Virginia Weekly: 1933 – 1935 | Earl K. Kogar |
| Keystone: | |
| McDowell Herald/Times: 1904 – 1941 (Weekly) | M.T. Whittico & R.W. White |
| Montgomery: | |
| The Pioneer: 1890s – 1900s | Rev. Dr. C. H. Payne |
| West Virginia Eagle: 1890s – 1900s | Rev. Dr. C. H. Payne |
| Martinsburg: | |
| The Pioneer Press: 1882 – 1917 (Weekly) | J.R. Clifford |
All three of the surviving African American newspapers on microfilm are being digitized with funding provided by a grant awarded by the National Endowment for the Humanities and the Library of Congress to the WVU Libraries and the West Virginia & Regional History Center.  In a few short months you will be able to once again flip through the pages of the Pioneer Press, the Charleston Advocate and the McDowell Times. But this time you can view them for free.  And like their original readers, you can read them at home from the comfort of your favorite easy chair.  You can also stop by the WVRHC and see them today on microfilm.
Resources:
Images: West Virginia & Regional History Center's West Virginia History OnView: http://wvhistoryonview.org/
Hart, Betty L. Powell. "Spicy Editorials and Fearless Sayings: the Black Press in West Virginia."  Appalachian Heritage Volume 19, Number 4, Fall 1991
51-55 | 10.1353/aph.1991.0120. Project Muse:  https://muse.jhu.edu/article/438658/summary  Accessed 1/10/17.
Hart, Betty L. Powell. "The Black Press in West Virginia: A Brief History," in Honoring Our Past: Proceedings of the First Two Conferences on West Virginia's Black History, editors, Trotter, Joe William and Ancella Radford Bickley.
Fain, Cicero M., III. "Race, River, and the Railroad: Black Huntington, West Virginia, 1871-1929." OhioLINK: Electronic Theses and Dissertation Center:   https://etd.ohiolink.edu/ap/10?0::NO:10:P10_ACCESSION_NUM:osu1258477477
E-WV: West Virginia Beacon Digest http://www.wvencyclopedia.org/articles/1028
E-WV: Newspapers: http://www.wvencyclopedia.org/articles/1666
Wikipedia: African-American Newspapers: https://en.wikipedia.org/wiki/African-American_newspapers
Wikipedia: General Leonard Wood: https://en.wikipedia.org/wiki/Leonard_Wood
Wikipedia: United States Presidential Election, 1920: https://en.wikipedia.org/wiki/United_States_presidential_election,_1920
Wikipedia: Warren G. Harding: https://en.wikipedia.org/wiki/Warren_G._Harding
4 Responses to 'The African American Press in West Virginia'
Leave a Reply