Posted by Jane Metters LaBarbara.
January 23rd, 2017
Blog post by Michael Ridderbusch, Associate Curator, WVRHC.
The West Virginia and Regional History Center, in collaboration with the Library of Virginia, has been digitizing its newspaper collection for the Library of Congress website Chronicling America.  This 200,000 page collection of West Virginia newspapers is easily accessible through character string searching, and therefore offers extraordinary access to a treasure trove of primary historical resource material.  More specifically, this collection covers the period 1836-1922; the titles currently available are listed on the website, including mainly papers from Charles Town, Clarksburg, Fairmont, and Wheeling.  This digital collection will take a quantum leap forward in August 2017 when an additional 100,000 pages go online!
Having recently encountered on the internet news of the plans to restore the historic Robinson Grand Theater located in Clarksburg, West Virginia (which is scheduled to open in Spring 2018), I thought I would test the search engine by looking up the early history of the theater.  I was immediately rewarded with a wealth of easily accessible information regarding events connected with the topic.  In reviewing this snapshot of early entertainment history at the Robinson Grand we sometimes also encounter broader themes of national history that were concerning Americans at that time.
Among the results of my research, I found a front page report regarding a public reception occurring on February 6, the day before the theater opened on February 7: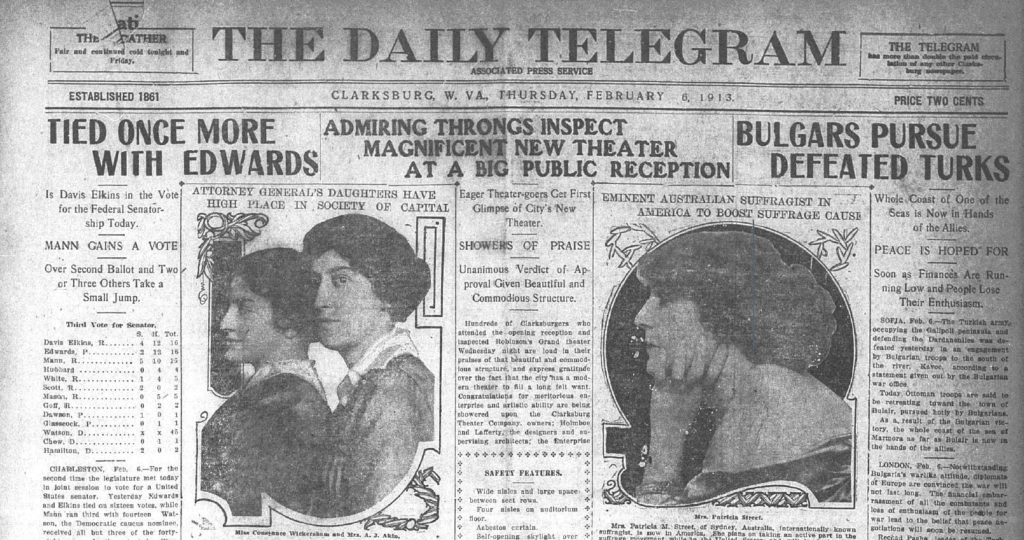 News of Robinson Grand Theater Reception, 6 February 1913.
In the paper of February 8, there is a review of the first drama to be staged at the theater the previous day, "The Case of Becky":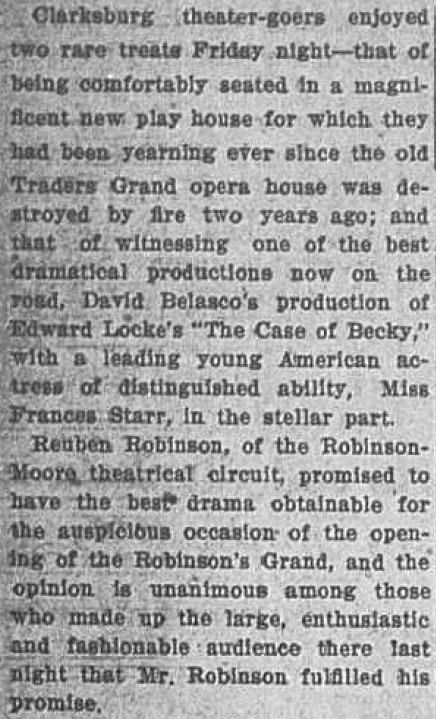 Excerpt of review of "The Case of Becky," 8 February 1913.
The same February 8 issue also announced the first musical to be staged at the theater, "Seven Hours in New York":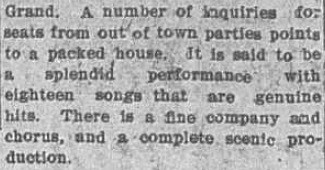 Announcement of "Seven Hours in New York" 8 February 1913.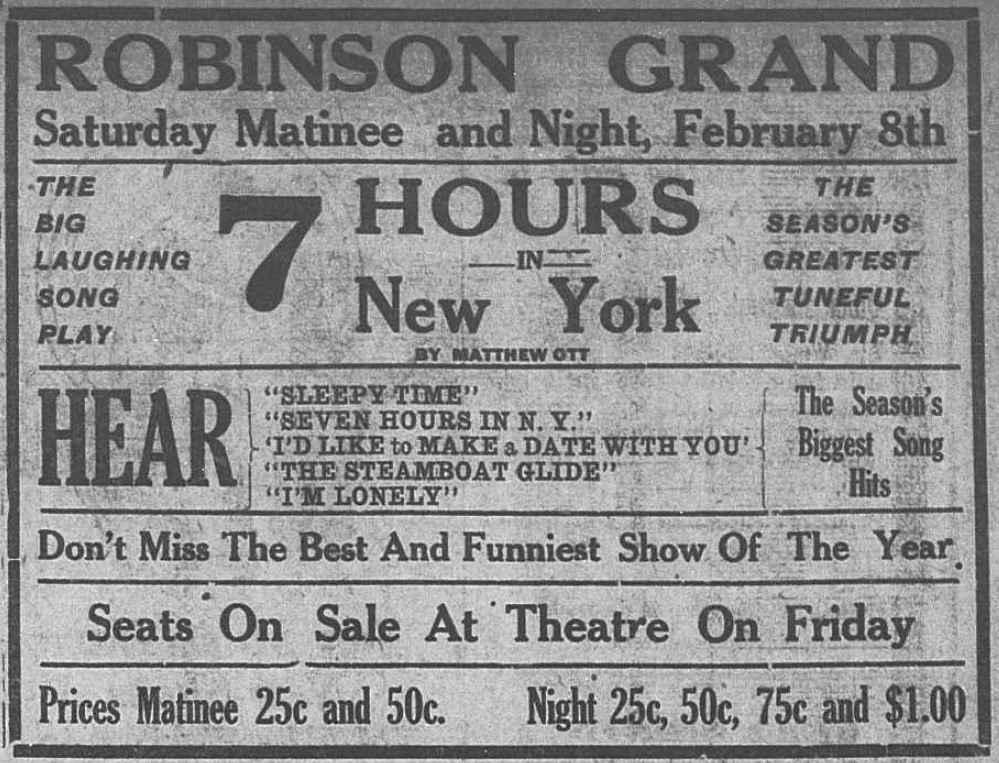 Announcement of "Seven Hours in New York" 8 February 1913.
Later that same year, in November 1913, the touring blockbuster "Ben Hur" was staged at the Robinson Grand.  In a blog by Cait Miller of the Library of Congress, we learn that "Ben-Hur opened at New York City's Broadway Theater on November 29, 1899," and that this "theatrical extravaganza thrilled audiences with its amazing chariot race scene."  "Real horses, trained to run on treadmills, seemed to hurtle toward the spectators as a cyclorama rotated in the background, creating the illusion of moving scenery.  The mega-hit ran for 6000 performances over twenty-one years, and was estimated to have been seen by more than 20 million people."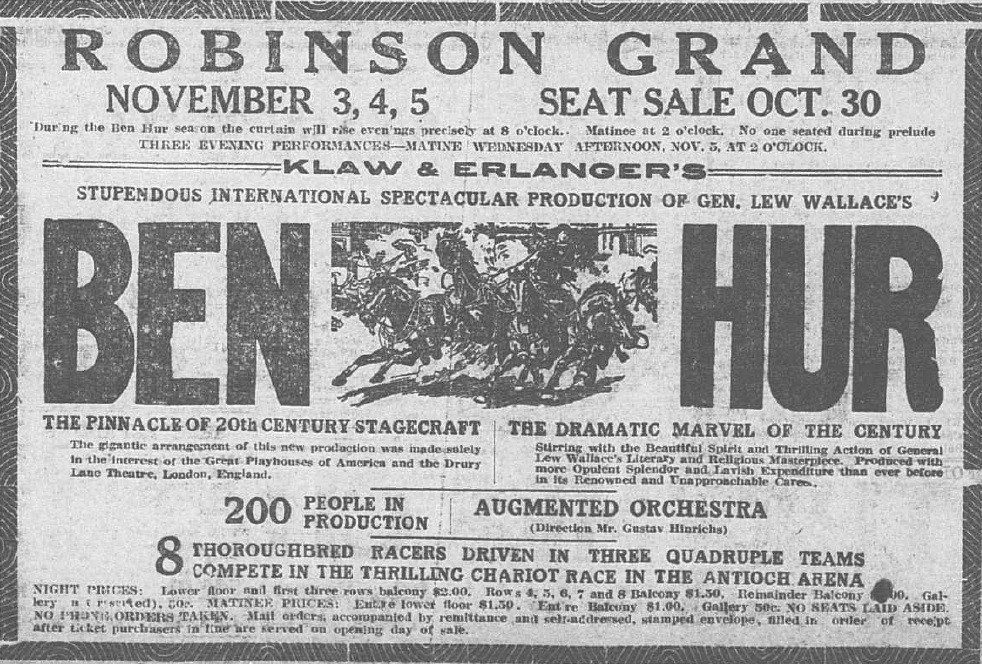 Announcement of "Ben Hur" 29 October 1913.
The conductor for this staged production, Gustav Hinrichs, preserved the score, which is now at the Library of Congress.  When it closed in 1921, filmed versions followed in 1925, 1959, and 2016.
"Ten Nights in a Bar Room" exhibited at the Robinson Grand in October 1914.  Based on the second most popular book of the 19th century, "Ten Nights in a Bar-Room and What I Saw There" of 1854 (outsold by Uncle Tom's Cabin), this adaptation of the novel, among others for the stage and screen, was designed to advocate temperance.  Prohibition, of course, was around the corner, with the Volstead Act of 1919.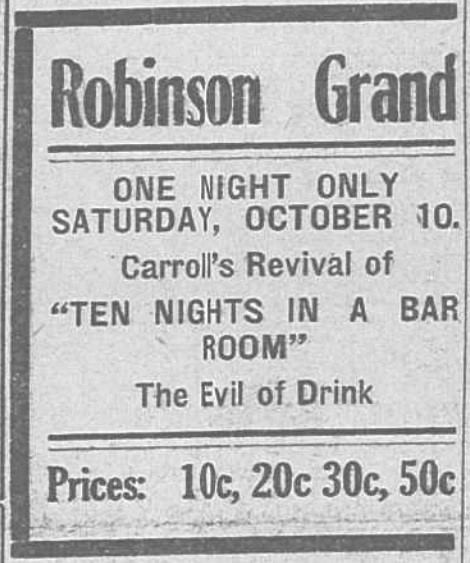 Announcement for "Ten Nights" at the Robinson Grand, 8 October 1914.
In that same month of 1914, a motion picture of the dance team of Irene and Vernon Castle was screened at the Robinson Grand, showing the reach of these New York based trend-setters.  Irene is credited with popularizing the short haircut known as the "bob."  They also toured with an African-American orchestra led by James Reese Europe, whom musical luminary Eubie Blake characterized as the "Martin Luther King of music."  The music they danced to was a rhythmically energetic ragtime, which has been authentically reconstructed with original arrangements by the Paragon Ragtime Orchestra in such numbers as "Castle House Rag" and "The Castle Walk," among others.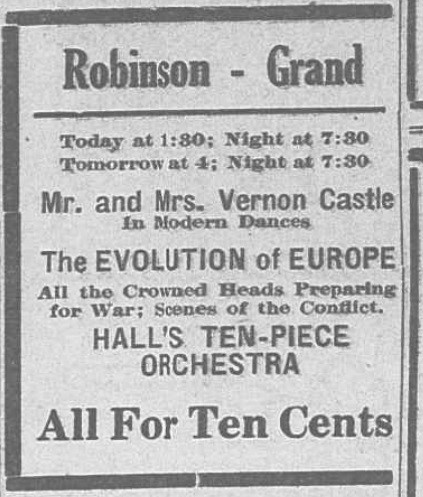 October 1914 announcement for motion pictures at the Robinson Grand,
including one featuring the Castles.
This was likely the newsreel "Social and Theatrical Dancing" of 1914.
For a final example of the early history of bookings at the Robinson Grand, it should be mentioned that a performance of Irving Berlin's first musical, "Watch Your Step," was staged on December 15, 1916 by a touring company after the original production of 1914.  The score was written for the Castles by Berlin.  A piano transcription of the overture performed by Frederick Hodges, currently available online, effectively renders the music.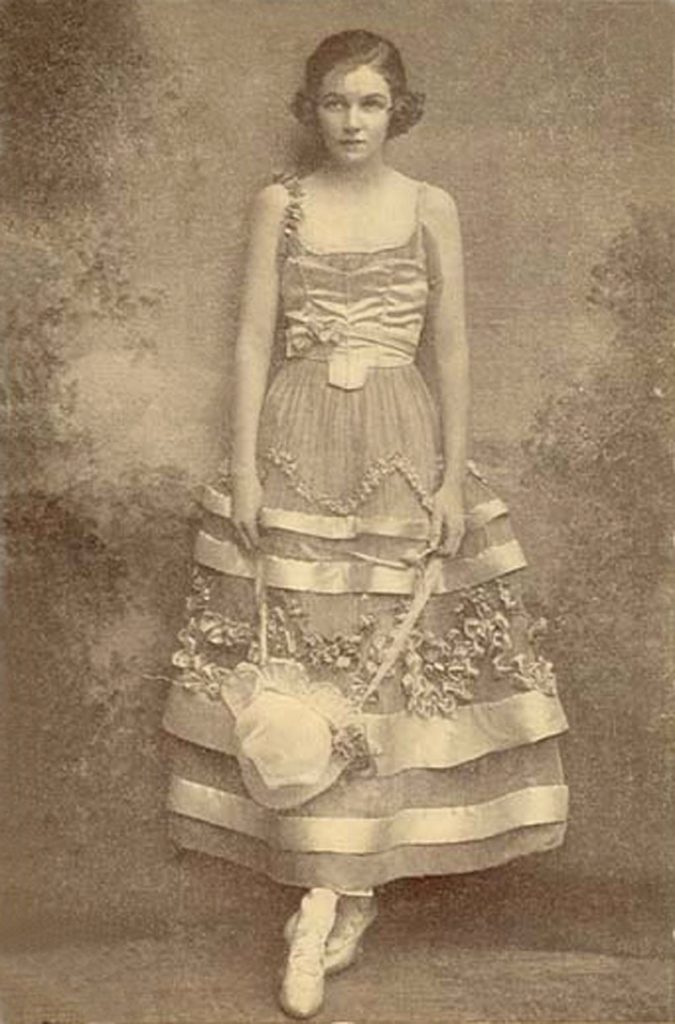 Irene Castle in costume for "Watch Your Step", 1914.
(photograph from Wikipedia)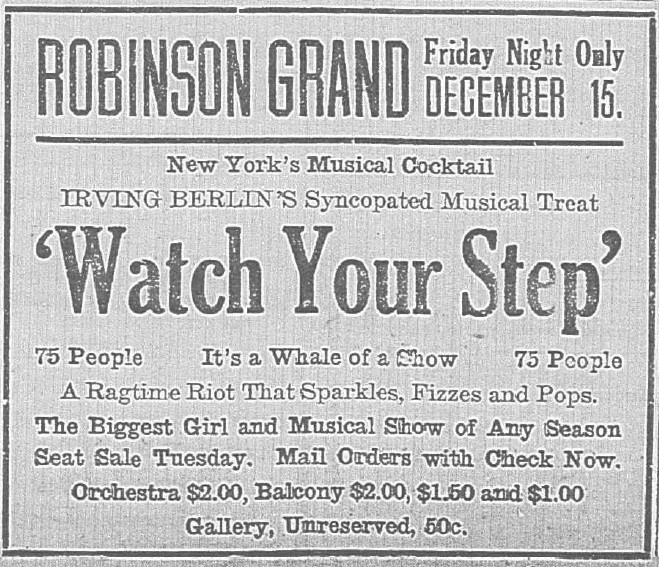 Announcement for "Watch Your Step," 10 December 1916.
In conducting this research project, the Chronicling America site proved to be an effective and efficient method for uncovering detailed information regarding early 20th century American history specific to West Virginia.  A similar test could be conducted with 19th century topics.  I highly recommend sampling the Chronicling America site to discover its research potential.
Sources Consulted:
Wikipedia articles on Jame Reese Europe, Prohibition in the United States, Ten Nights in a Bar-Room and What I Saw There, and Vernon and Irene Castle; and Library of Congress Blog by Cait Miller on Ben-Hur and Music to Race Chariots By.
Leave a Reply