Posted by Jane Metters LaBarbara.
February 7th, 2017
Blog post by Stewart Plein, Rare Book Librarian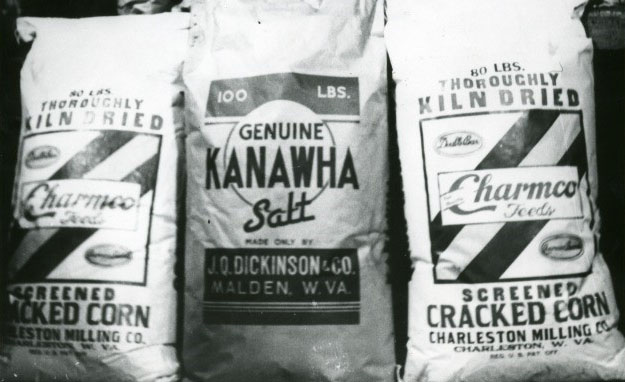 Along the banks of the Kanawha River lies an ancient deposit of briny saline, or salt deposits.  Their salty presence figures prominently over millennia and they have played an important role for centuries and for generations of people in West Virginia.
The Kanawha Salines, the name given to the salt fields of West Virginia, travel along both banks of the Kanawha River until the waters reach Charleston, a distance of approximately ten miles.  The origin of the region can be traced back to the earliest times, 600 million years ago, to an ocean that predates even the Atlantic, the Iapetus Ocean, so named for the father of Atlantis, whose own name was given to the Atlantic Ocean we know today.
Native people harvested salt from the region and stories report that Indian captive, Mary Draper Ingles, an early western Virginia pioneer, whose capture in 1755 in the Kanawha Valley and subsequent escape were chronicled in the bestselling book by James Alexander Thom, Follow the River, did as well. During her captivity Ingles was taught to harvest the brine as it emerged from the ground, the residue of the ancient Iapetus Ocean, and make salt.
Before this time and after, wild animals, such as the elk, bison, and deer that roamed the Kanawha Valley, were attracted to salt licks like the Kanawha Salines.  Hunters and native peoples were well aware of licks as gathering spots for wild animals and used them as hunting grounds.
As early as 1808, the Kanawha Salines were put to production and a salt making and refining industry was developed by Joseph and David Ruffner, who drilled for brine and established furnaces to process it.  This area, particularly around present day Malden, West Virginia, where the salinity was at a high point, would develop into an important resource for the meat packing industry.  By 1815, furnaces dotted the landscape, leading to the development of the area as one of the great salt manufacturing regions in the United States, as the use of salt to pack meat for shipment ensured it would arrive to destinations in good condition.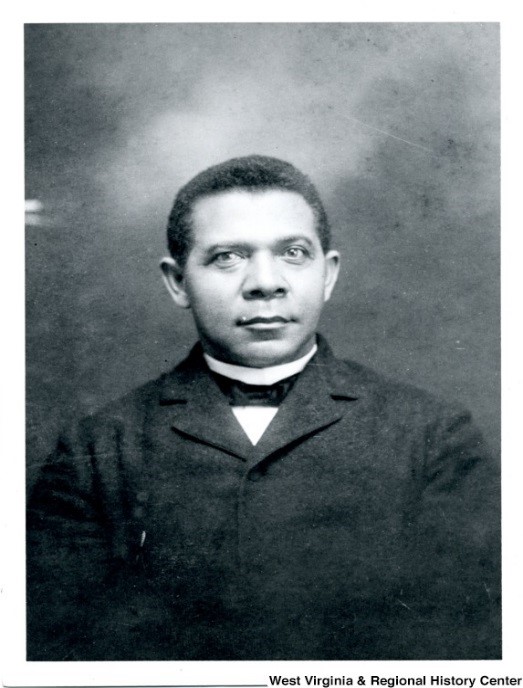 Following the Civil War, with its new found freedom for African Americans, this industry brought Booker T. Washington to West Virginia.  Born a slave in Franklin County, Virginia in 1856, Booker traveled with his mother, Jane, and siblings, at the young age of 9, to West Virginia in 1865 to live and work with his stepfather, Wash (short for Washington) Ferguson.  Ferguson had forwarded money to Jane to buy a wagon and horses for the trip.  Her health was deteriorating and she would have been unable to make the journey with young children to look after without some form of transportation.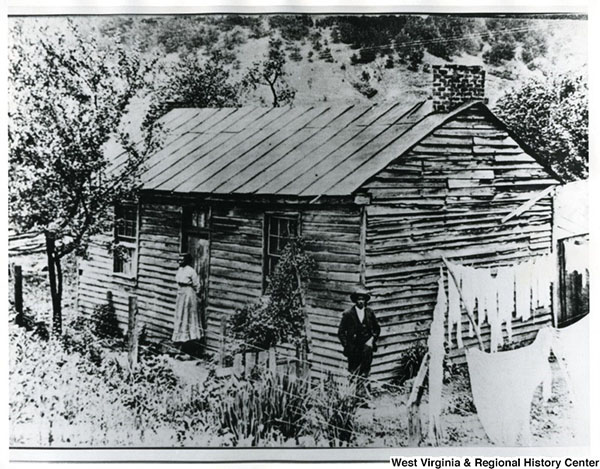 The house where Booker T. Washington lived in Malden, West Virginia.
Ferguson, as his stepfather, took Booker to work with him in the salt works.  Here, Booker worked long hours, often on the job before dawn until dark as unskilled labor with the lowest pay, shoveling and packing salt into barrels to be shipped out.  Packing was the hardest part of the job as the salt had to be pounded into the barrels to meet weight requirements.  At the end of the day, Booker had nothing to show for his work as his stepfather took his pay.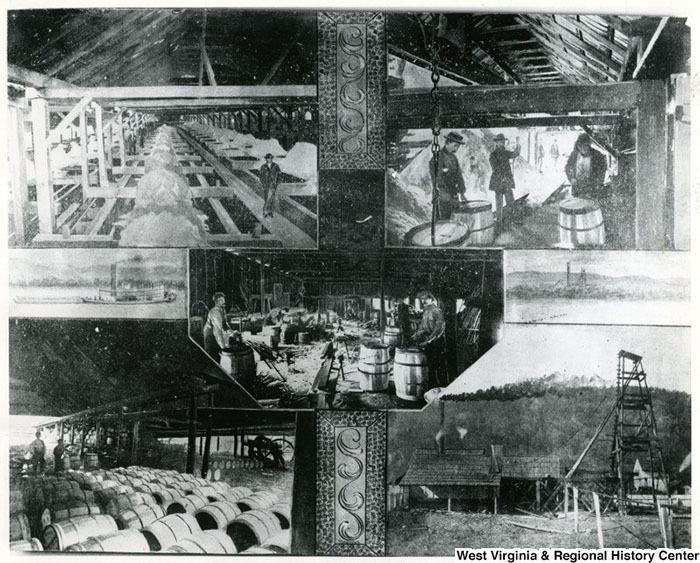 Collage Images of the Salt Industry: These pictures are believed to be made before 1898.  Photo in upper left corner shows salt piled on drain boards after being lifted by hand from the crystallizing vats. Upper right picture shows salt being packed in barrels for shipment. Middle scene is in cooper shop. 'All salt at that time was shipped in barrels.' Lower left scene shows barrels of salt on a platform ready to lower down an incline to load on barges. All salt was shipped by barge or taken across Kanawha River and loaded on railroad at South Malden.  AM 2112, J.Q. Dickinson Collection.
Unable to read or write, Booker's life at this time was one of extreme poverty, hard work, and no hope for the education he longed for.  The first thing he learned to read was the number assigned to the barrels that were designated as the work of Wash Ferguson.  Each of these barrels was labeled with the number 18 and the young Booker recognized that this number was important.  Later, Booker would be allowed to begin his education while he worked with his stepfather at the salt works.  His struggle to balance work and school in West Virginia set the stage for Booker T. Washington's lifelong desire for education.
As an educator himself, Booker T. Washington was able to instill in others a desire, coupled with the opportunity, for education when he founded the Tuskegee Institute in Alabama after attending Hampton Normal and Agricultural Institute (now Hampton University) and Wayland Seminary in Washington, D.C. (now Virginia Union University).  Washington channeled the desire he felt as a young man working in the salt works in West Virginia into his future role as educator and as a national leader for the promotion of African American education.
You can visit the West Virginia and Regional History Center to see books written by and about Booker T. Washington, as well as books and photographs on the Kanawha Salines.
Resources:
Leave a Reply