Posted by Monte Maxwell.
February 16th, 2017
A forum that focused on how images in the media affect the nation's perceptions of Appalachia is now available online.
The event, held February 7 in the Downtown Campus Library, was inspired by Looking at Appalachia, a juried collection of images by amateur and professional photographers currently on display at the DCL as part of the West Virginia University Libraries' Art in the Libraries series.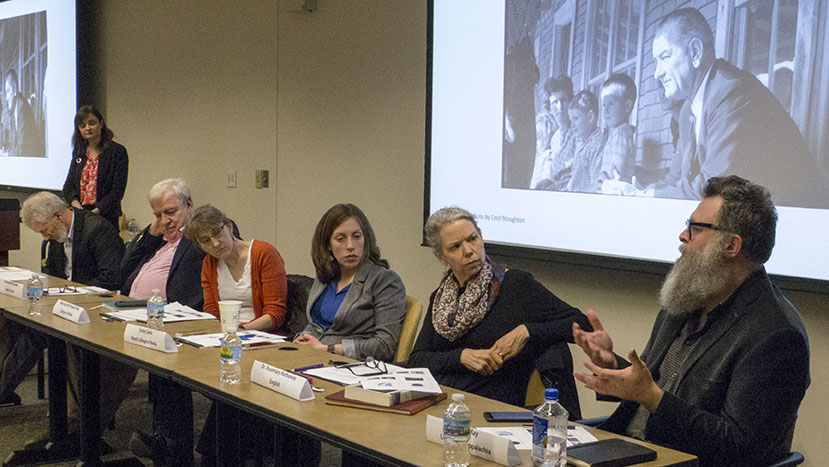 West Virginia native Roger May directs the ongoing Looking at Appalachia project that chronicles life in the 13-state region more than 50 years after President Lyndon Johnson's War on Poverty. One of his goals is to expand the image and description of people in Appalachia beyond impoverished.
The panel, composed of WVU faculty from journalism to public health, included Emily Corio, Reed College of Media; Dr. Ken Fones-Wolf, History; Dr. Rosemary Hathaway, English; Mary Kay McFarland, Reed College of Media; and Dr. Michael McCawley, Public Health. Dr. Brandi Slider Weekly, Education, moderated the event.
Discussions delved into how the War on Poverty and an accompanying photo project made poverty a dominant narrative concerning the people and region of Appalachia. Panelists shared how the narrative has shaped their respective fields and their own work.
The Looking at Appalachia will remain on display until June 30. For more information, contact Alyssa Wright at 304.293.0337 or alyssa.wright@mail.wvu.edu.
Leave a Reply