Posted by Jessica Tapia.
April 5th, 2017
West Virginia continuously falls at or near the bottom of national statistics when it comes to the social determinants of health including employment, poverty, education, and healthy food access…but why is that? Dr. Lauri Andress, assistant professor in the Department of Health Policy, Management, and Leadership in the West Virginia University School of Public Health, is exploring this question through her research on low wealth communities, community and economic development, and nontraditional ' policy analysis tools'.
People may now get a glimpse into her work through an exhibition, Imagining the West Side: Constructing Health through the Built Environment, on display at the WVU Robert C. Byrd Health Sciences Center April 10-27, with a tour and panel discussion April 19.
Incorporating participatory photoanalytics, GIS mapping, and video with an aim of  integrating the voices of   vulnerable groups into  public policy decision-making, the exhibit sheds light on the built environment and population health status of Charleston, W.Va.'s west side, with photos and narratives supplied by community members and WVU School of Medicine students.
"This exhibit reveals important issues, but also provides solutions," said Dean of WVU Libraries Jon Cawthorne, "We are honored and privileged to showcase Dr. Andress' research in the WVU Libraries."
The exhibit provides a visual display of her research on social determinants of health, inequities, and the built environment of low wealth regions undergoing economic development and possibly displacement.  As viewers reach the end of the exhibition they will find suggested policy solutions to help ensure equitable development.
Viewers are then encouraged to contribute their ideas on population health, economic development and the built environment with a survey.
Said Kathleen Bors, Assistant Dean for Student Services at WVU School of Medicine, Charleston Division: "The West Side Photovoice project was a powerful experience in partnership with West Side community leaders and mentors, along with their stories and tours of the neighborhood. The group discussions between medical students and neighborhood residents offered us all a helpful overview and perspective on the impact of community factors on population health, from toxic stress due to crime ridden, dangerous neighborhood features to hopeful interventions..  The medical students learned a great deal, and were very touched by the event."
On April 19, Andress will present a narrated tour of the exhibition at 11 a.m., followed by the panel discussion at 12 p.m. The panel will be in Okey Patteson Auditorium while the narrated exhibition tour will start in the Pylons area of the Health Sciences Center.  An exhibition video is available at https://tinyurl.com/mhopfv9.
Lunch will be available to the first 40 people who RSVP at mrobin10@hsc.wvu.edu.
The exhibit is jointly facilitated by the West Virginia School of Public Health, West Virginia University Libraries, and the West Virginia Clinical and Translational Science Institute. The project described was supported in part by the National Institute of General Medical Sciences, U54GM104942. The content is solely the responsibility of the authors and does not necessarily represent the official views of the NIH.
Matthew P. Purtill, a WVU Ph.D. student in Geography, also contributed to the curating of the exhibit, which will travel to the Downtown Campus Library this fall.
The Robert C. Byrd Health Sciences Center is located at 1 Medical Drive, Morgantown, WV, 26505.  For more information, visit www.hsc.wvu.edu/.
Images attached for use: credit West Virginia University School of Medicine in Charleston photographer Adam Cunningham.
-WVU-
sd/4/6/17
CONTACT: Sally Deskins, Exhibits & Programs Coordinator, WVU Libraries
304.293.0369; sbdeskins@mail.wvu.edu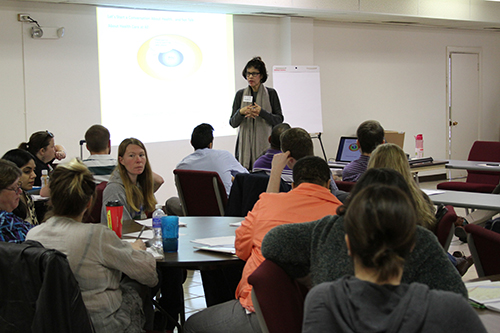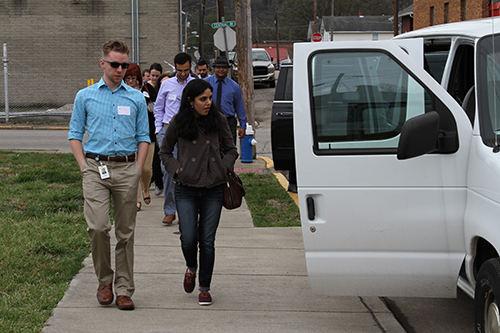 Leave a Reply