Posted by Jane Metters LaBarbara.
April 16th, 2017
Blog post by Jessica Eichlin, Photographs Manager and Preservationist, WVRHC.
Easter is this weekend, and with it comes time spent with family and friends, good meals, and holiday symbols such as rabbits, baby chicks, and flowers.
Items related to Easter can be found in our Reading Room, in Archives and Manuscripts collections, and in our photograph collections.  We hope you enjoy this small selection of items celebrating the holiday.  Happy Easter!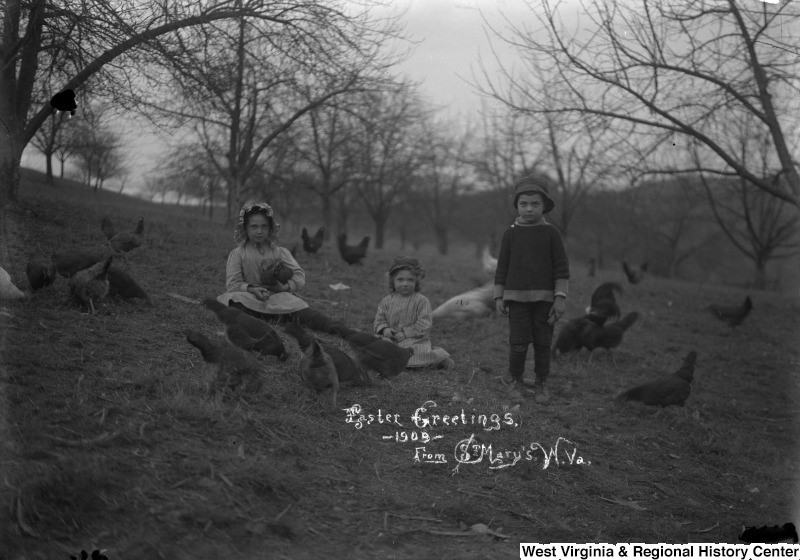 "Easter Greetings from St. Mary's W. Va." shows a young Virginia, Jeanette, and James Green Jr. on their family's farm.  The photograph, dated 1909, shows a six year old Virginia, three year old Jeanette, and five year old James Jr.  James Sr., the patriarch of the family, purchased his first his first camera in 1900.  The collection held by the WVRHC contains over 500 of his glass plate negatives.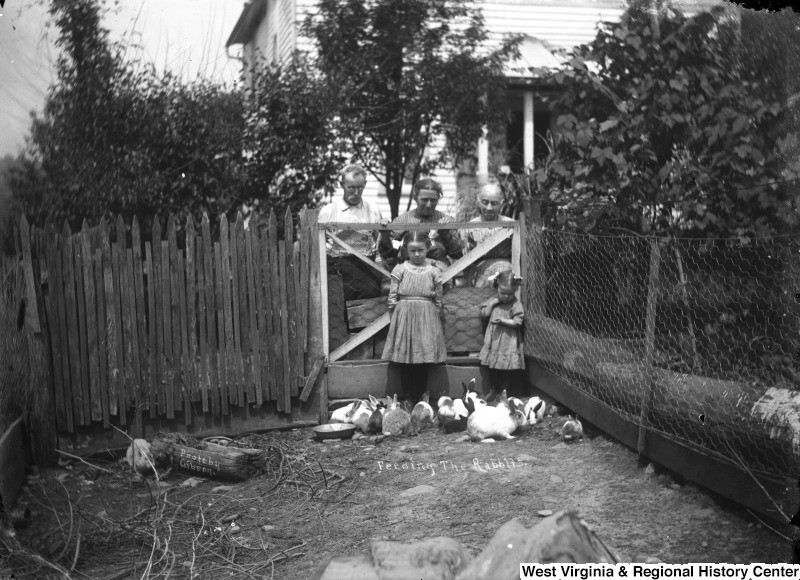 Two young girls feed their family's rabbits while three adults look on.  Scott Gibson, the photographer, captured portraits as well as images of buildings, animals, and industry throughout Preston County, West Virginia, from 1900-1920.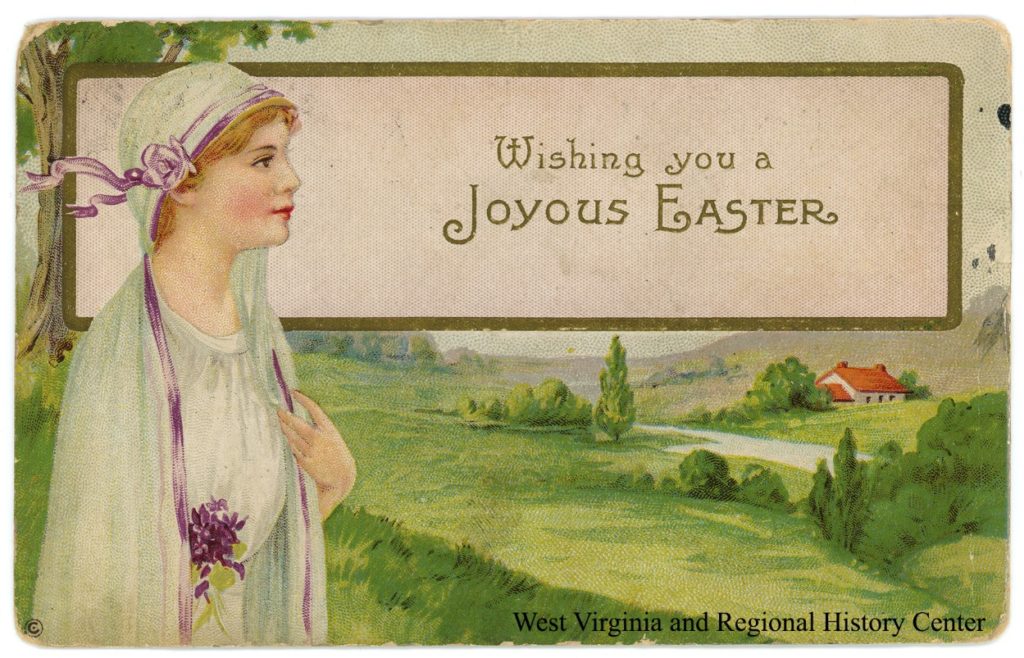 "Wishing you a Joyous Easter," a postcard sending well-wishes to Blanche from Pearl for Easter in 1915.  Pearl writes "Hope you are Happier today."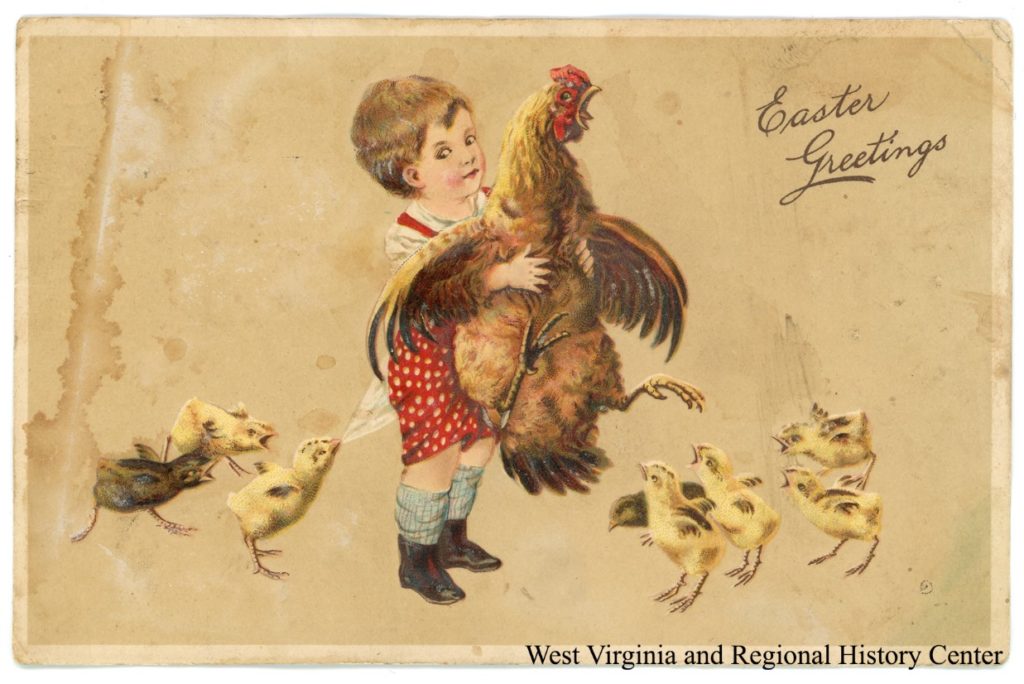 "Easter Greetings" to Master Hayward Casto from C. R. Casto, who is likely his father, Clifford.  Hayward, around age 7 in 1914, is instructed to tell Virginia and Russell, his siblings, "not to eat to many eggs."
To wrap up this post, we have an oversize "Easter Greeting" card from the early 1900s.  This Easter card, which doubles as an advertisement, is almost 14 inches tall and 10 inches wide.   On the back, an advertisement for C. D. Kenny, a Tea Dealer and Coffee Roaster, lists store locations in the southeastern region of the United States.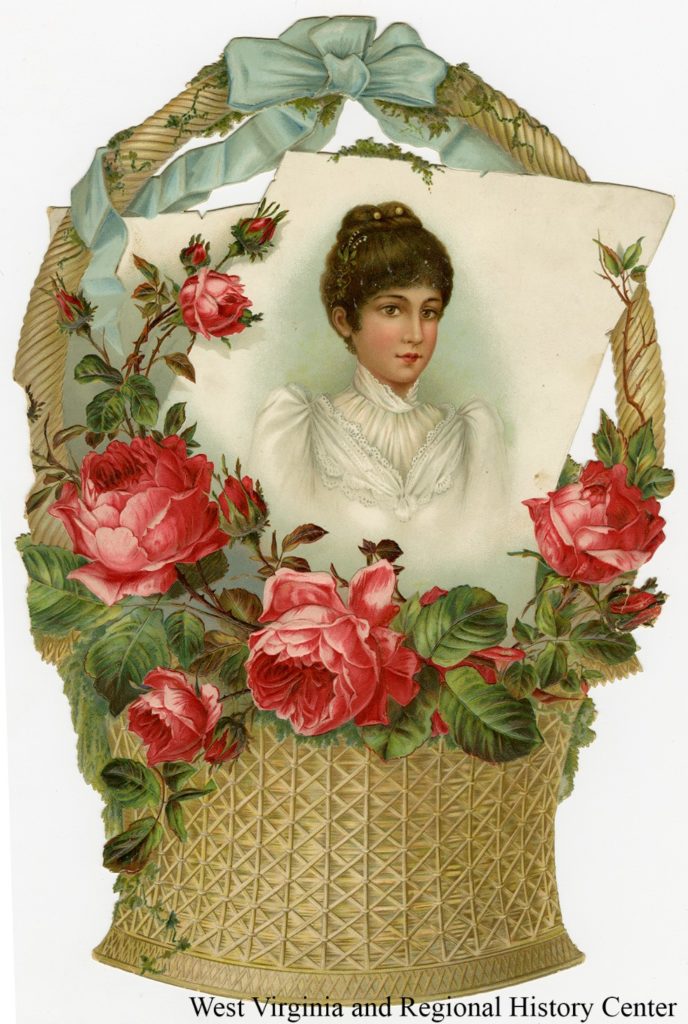 Happy Easter from all of us here at the History Center!
Sources:
A&M 3460
A&M 4023
A&M 3989
A&M 2537
1910 Census accessed through Ancestry.com
Leave a Reply