Posted by Jane Metters LaBarbara.
April 24th, 2017
Blog post by Ashleigh Coren, Visiting Librarian.
What happens when you search for "activist" in the West Virginia & Regional History Center? You'll see the usual suspects like Mother Jones or John Brown, but, there are a few other gems worth exploring. Last fall I had the pleasure of interviewing bookseller and Appalachian scholar George Brosi, owner of Appalachian Mountain Books in Berea, Kentucky. George, who spent some time in Morgantown in the 1970s, spoke a great deal about the various examples of activism that took place during that time and also in the 1960s.  After our conversation I thought about what I might find in our collection, and as it turns out there's some pretty fantastic items. 
Search #1 – Let's start with our West Virginia & Regional History Center Website. On the right side of the webpage you'll see a tab where you can select the type of collection you're interested in exploring. Selected "Archives and Manuscripts." I typed in activis* which in library language is what we call a "truncated search." Using the asterisk after the "s" will provide results that include the words: activism, activist, and activists! Let's dig into some of the results…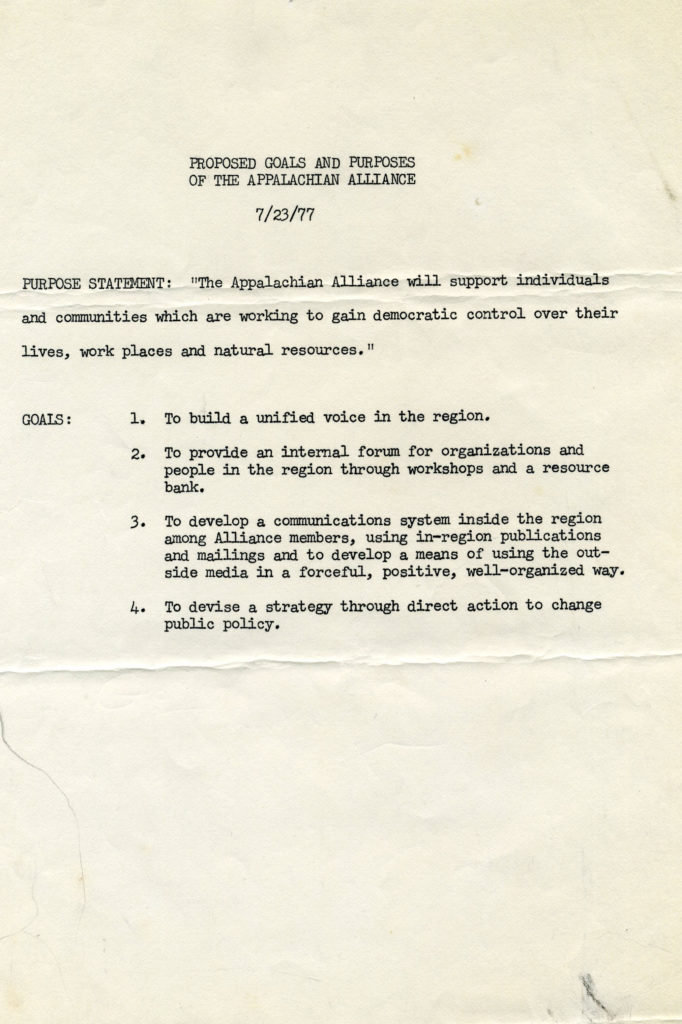 In 1977 West Virginians Jerry Hildebrand and James Hannah created the Appalachian Alliance, an advocacy group with members in various states in the region.[1] This small collection includes meeting minutes and other interesting tidbits.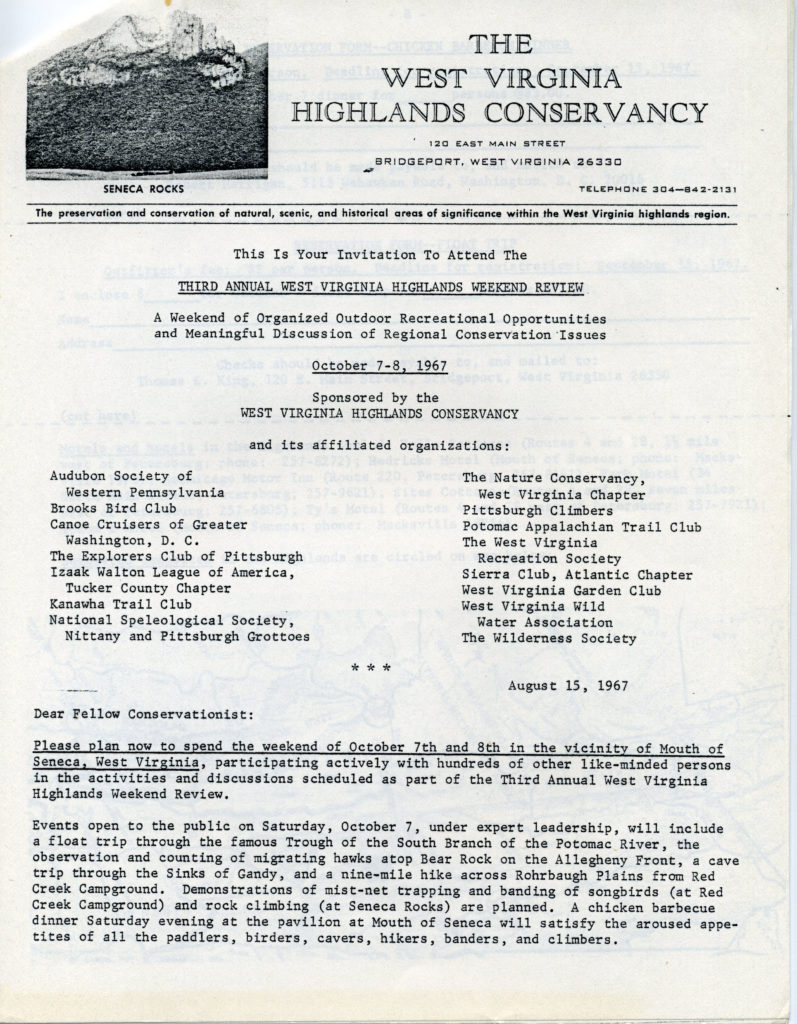 The conservancy, which was founded in the mid-1960s, was an activist group formed to advocate for and preserve natural resources within the state of West Virginia.[2] Over the last fifty years the group has been highly successful and their work has helped the passage of the Surface Mine Control and Reclamation Act and the National Forest Management Act.[3]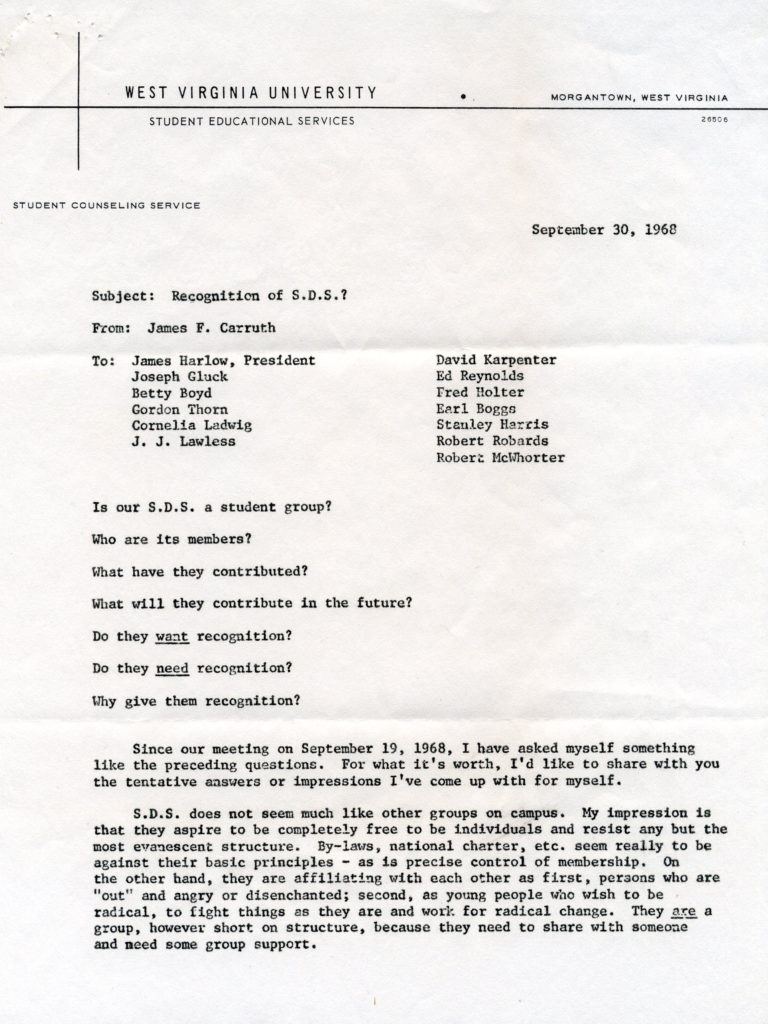 This interesting memo from James F. Carruth, then the Assistant Director of Student Educational Services, raises the issue of officially recognizing the WVU chapter of the Students for a Democratic Society (SDS). The document, addressed to university administrators including former WVU President James Harlow, includes Carruth's impressions and the politics behind adding new student organizations.
Search #2 – West Virginia History OnView. Now that we've found some great paper-based collections, let's discover some photographs! The results for this search, while tiny, are quite diverse and include WVU students and visiting luminaries like Dick Gregory and Ossie Davis. To search, I would encourage users to keep it simple and just look for "activist."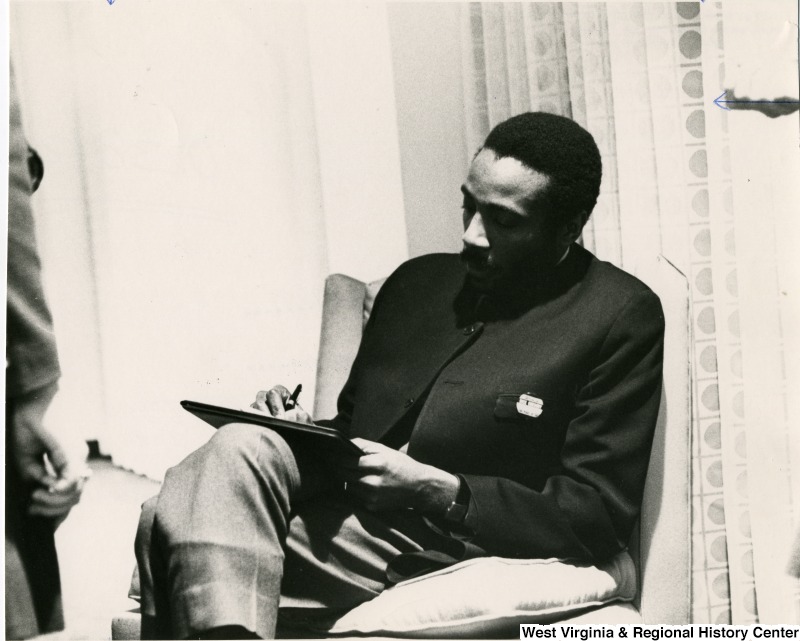 During his Presidential Campaign in 1968 comedian and lifelong activist Dick Gregory visited the university.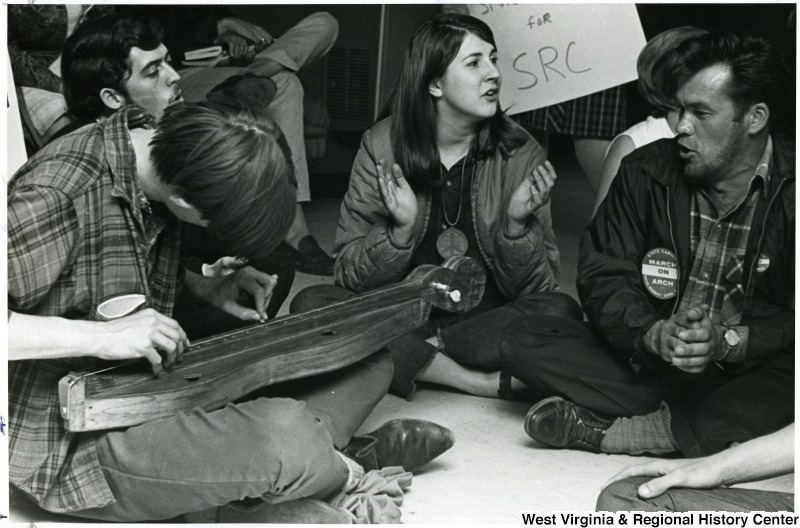 In 1969 a number of WVU students staged a protest to support State Road Commission workers, who at the time were in a strike against former Governor Arch Moore.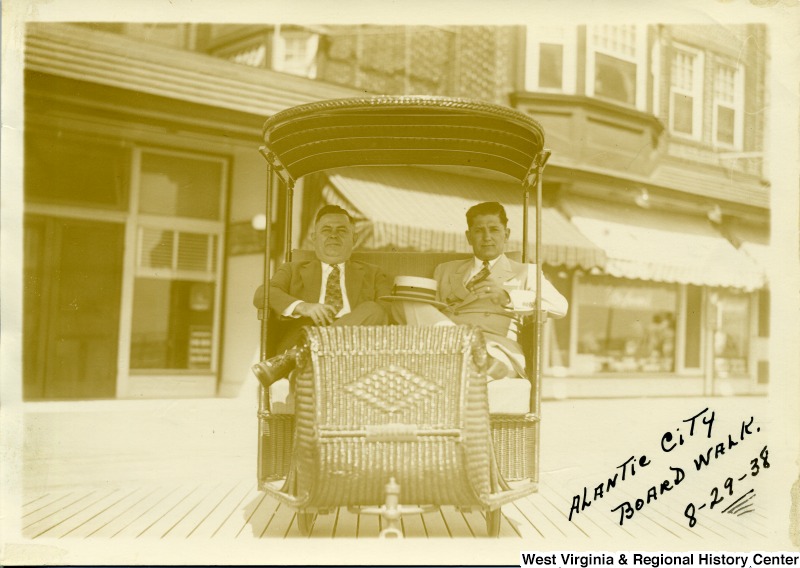 Joseph Ozanic was an officer of the Progressive Mine Workers of America, and was also a member of the United Mine Workers of America.
Stop by the Center (virtually or in-person), to learn more about these great collections!
[1] Franklin, B. A. (1982, March 13). AN OASIS IN APPALACHIA. Retrieved April 17, 2017, from http://www.nytimes.com/1982/03/14/travel/an-oasis-in-appalachia.html?pagewanted=all
[2] e-WV: The West Virginia Encyclopedia "West Virginia Highlands Conservancy." e-WV: The West Virginia Encyclopedia. 12 November 2010. Web. 17 April 2017.
[3] West Virginia Highlands Conservancy (n.d.). About Us. Retrieved April 17, 2017, from https://wvhighlands.org/about-us-2/
Leave a Reply