Posted by Jane Metters LaBarbara.
May 8th, 2017
Blog post by Stewart Plein, Rare Book Librarian

When Dr. Anna Elfenbein asked if she could schedule a visit to the Rare Book Room for her That's Amoré group, who had recently returned from a week-long trip to Italy, I was happy to comply.  We scheduled a visit to preview materials on Italian cities and culture, Italian studies, and the country of Italy.  Dr. Elfenbein asked if the class could have an opportunity to examine Shakespeare's First Folio, the first printing of Shakespeare's collected plays, as many of them, like Julius Caesar, Romeo and Juliet, and Two Gentlemen of Verona, have Italian settings.  I made a list of materials the class would be using and a request for the history of the bust of Dante in one of the Downtown Library's historic settings, the Robinson Reading Room.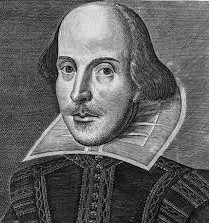 I believe most people think that a visit to the Rare Book Room is a serious and somber occasion.  We might wear white gloves, speak in hushed tones, and examine centuries of priceless historic volumes.  Sometimes it can be like that.  And then, there are other visits that turn out to be a lot of fun, like Saturday's visit with Dr. Elfenbein's That's Amoré group! 
The group looked at Italian illustrated newspapers from World War I, Dante's Inferno illustrated by Gustave Doré, a woodcut of the ancient Roman poet, Ovid, in the Nuremberg Chronicle, a book on Roman Antiquities from 1663 with a fold out map of Rome, and much more.
After the class looked at the text of Romeo and Juliet in Shakespeare's First Folio, I brought out a copy of Boydell's Shakespeare Gallery, a book filled with illustrations from Shakespeare's plays.  In the late 18th century, publisher and engraver John Boydell capitalized on the popularity of Shakespeare by commissioning well known artists, like Joshua Reynolds, to complete a series of illustrations, engravings and portraits based on dramatic moments in Shakespeare's plays.  Boydell hung these in a gallery and charged the public admission to view them.  Boydell's Shakespeare Gallery was an enormous success.  People clambered to see, for the very first time, illustrations of Shakespeare's plays.  As a result Boydell published his gallery images in a book, grandly title, Graphic illustrations of the dramatic works, of Shakspeare; consisting of a series of prints forming an elegant and useful companion to the various editions of his works, engraved from pictures, purposeley painted by the very first artists, and lately exhibited at the Shakspeare gallery. The engraved title page is shown below.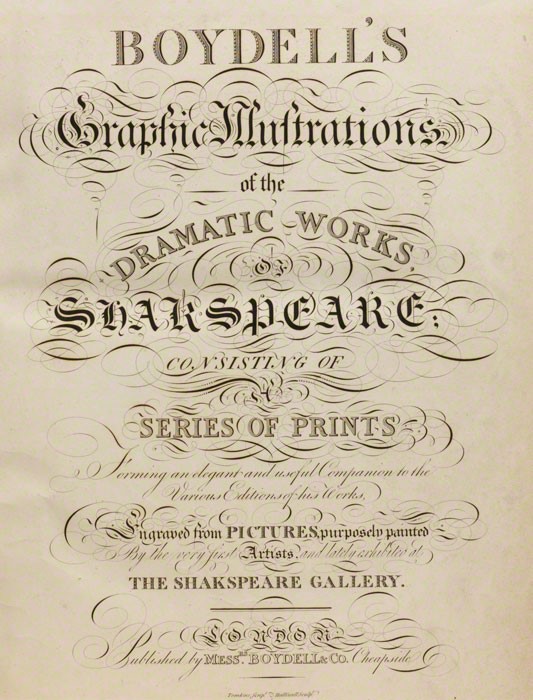 As we turned the pages of WVU's copy of Boydell's Shakespeare Gallery we came across a dramatic image of the three witches from Shakespeare play, Macbeth.  Although this play is set in Scotland, the image appealed to the class and they immediately set about recreating it!  Here's the illustration from Boydell's Shakespeare Gallery and the photo beneath shows Soofia Lateef, Natalie Marquart, and Dylan Vest as they strike a pose – an on the spot re-creation of Shakespeare!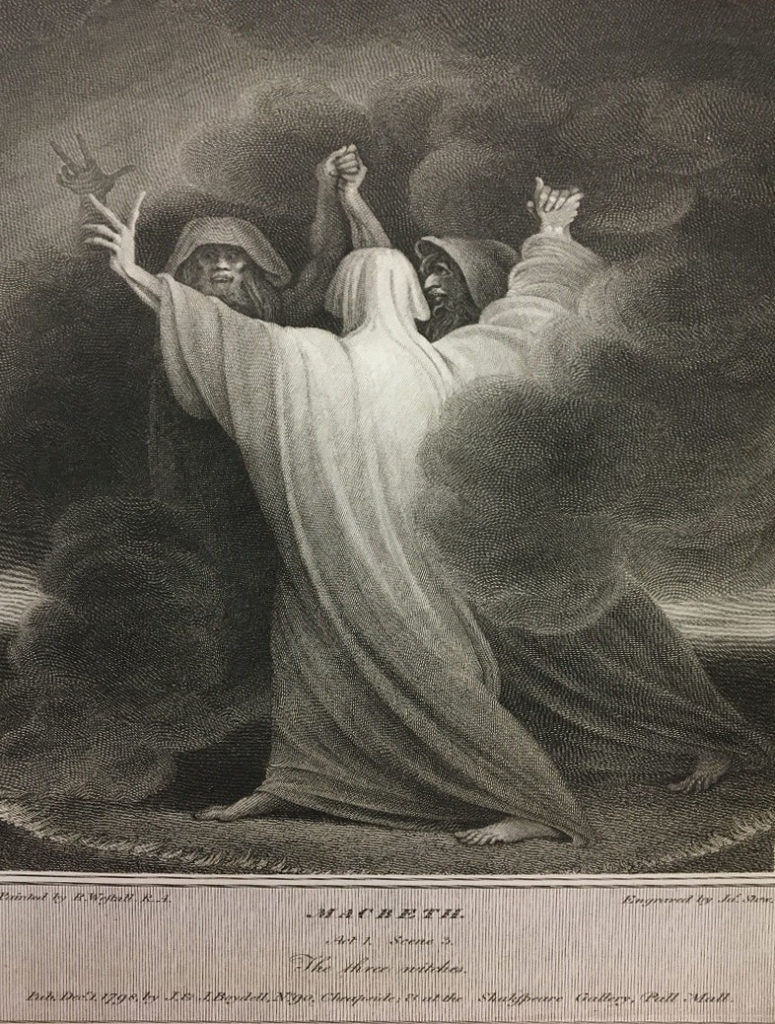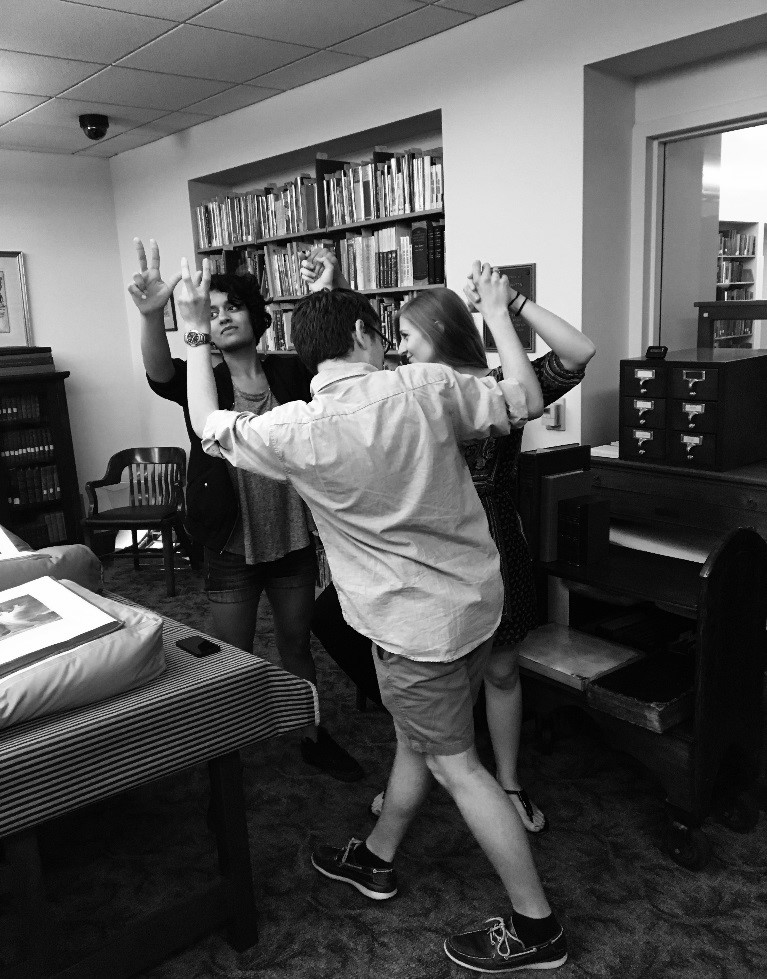 I think they did a great job!  The book is open to the illustration on the table beside them and they carefully copied the pose.  So, as you can see, we can have lots of fun in the Rare Book Room!  Make your appointment with me today to see Boydell's Shakespeare Gallery and "strike a pose!"
And that bust of Dante – it was a gift from a grateful Italian immigrant.  Here's the story from the book, The Charles C. Wise Library: A Retrospective:
"While most library donations have been in the form of books, there are a few noteworthy exceptions. In 1896, an 18-year-old Italian named Thoney Pietro crossed the Atlantic to start a new life in the United States. Pietro entered the States with no money and no place to go, but was soon living the American dream. Starting out with only a wheelbarrow and a trowel for laying bricks, he soon amassed a fortune as a skilled and respected contractor. In 1940, the retired contractor contacted Peter Bazzanti of Florence, Italy, to commission a thank-you gift to America for having offered him such opportunity. Bazzanti sculpted a bust of the famous Italian poet, Dante Alighieri. Due to numerous confusing encounters with customs and its temporary holding at the Library of Congress, Pietro's gift was eight years in transit before arriving at its final resting place at the WVU library. The bust of Dante was sculpted from white marble and rests atop a green and brown marble pedestal. On the day of its dedication, Pietro said, "The gift I am making is only a symbol which I hope for years to come will remind our young people of Italy — not the strife-torn, misguided Italy, but the real Italy, of music, laughter, art, and friendship." The impressive bust can now be found in the library's Robinson Reading Room, keeping careful watch over each new generation."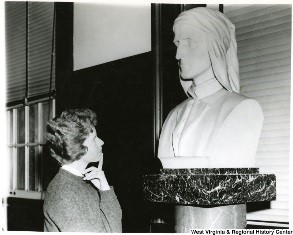 Resources:
Image of Boydell's Shakespeare Gallery title page:  https://www.baumanrarebooks.com/BookImages/69542a.jpg
Image of Shakespeare portrait from the title page of the First Folio:
Photograph of student reenactment by Sundus Lateef featuring Soofia Lateef, Natalie Marquart, and Dylan Vest posing as the three witches from Shakespeare's play, Macbeth.
Wikipedia:  Boydell's Shakespeare Gallery:  https://en.wikipedia.org/wiki/Boydell_Shakespeare_Gallery
The Charles C. Wise Library: A Retrospective by Luke Bosco, page 29.
"Poet's Bust in WVU Library Took 8 Years to Reach Campus," The Morgantown Post, 21 November 1959.
Photograph of patron looking at bust of Dante: West Virginia & Regional History Center
Leave a Reply