Posted by Jane Metters LaBarbara.
May 15th, 2017
Blog post by Jessica Eichlin, Photographs Manager and Preservationist, with editing, insight, and additional salad-making by Stewart Plein, Assistant Curator for WV Books & Printed Resources & Rare Book Librarian
We are always looking for new ways to share items in our collections, so when we found out that May is National Salad Month, we knew we had to find something to share.  Although the West Virginia and Regional History Center has an entire section of cookbooks which feature recipes for salads, we thought it would be more fitting to share an entire book devoted exclusively to salads.  The New Calendar of Salads features a full 365 recipes for a variety of salads–one for every day of the year–as well as a variety of dressings and sauces.  Written by Elizabeth O. Hiller, the New Calendar of Salads debuted in the 1910s.
For someone who has authored at least 14 different cookbooks, Mrs. Elizabeth O. Hiller is surprisingly difficult to pin down.  During the course of our research, we were unable to find any concrete information about her.  Nevertheless, Hiller likely lived in Chicago during her active period.  Advertisements in Good Housekeeping indicate that she founded the Chicago Domestic Science Training School.  The school offered "plain and advanced cookery, carving, dining room service, training of butlers and waitresses, and sickroom cookery."  A note in the "News and Notes" section of The Boston Cooking-School Magazine of Culinary Science and Domestic Economics, Volume 5 from 1900 indicates that invitations for the opening day are being acknowledged and that "Mrs. E. O. Hiller, class of '98, is principal of this school."
Hiller also spent time traveling around the country, performing cooking demonstrations to audiences of "two to four thousand per day."  A search on Chronicling America, a digital archive for American newspapers, yielded a number of advertisements featuring Mrs. Hiller's approval.  Products such as Cottolene (a beef tallow and cottonseed oil alternative to lard), Fruited Wheat and Fruited Oats, Pike's Peak Self-Rising Flour, and Tone Spices were all endorsed by Hiller in newspapers.
Hiller even wrote cookbooks for companies to help them market their products.  Her book Left-Over Foods and How to Use Them: With Suggestions Regarding the Preservation of Foods in the Home, was written for McCray Refrigerators and offered in newspaper ads as a free book.
Between teaching, writing sponsored cookbooks, and performing cooking demonstrations around the country, Hiller still managed to write several recipe calendars.  These calendar cookbooks contained 365 recipes, one for each day of the year.
The New Calendar of Salads that we have in our Rare Book Room is accompanied by a storage box and appears to have been lightly used, if at all.  The cover art is vibrant, with pastel colors and a metallic gold paint.
Hiller offers a wide variety of creative salads which, although strange-sounding to our modern ears, were probably standard fare in the mid 1910s, when this book was published.  To celebrate National Salad Month, and to give us a chance to try one of these recipes, we picked the recipe for May 15th to prepare individually.  The recipe for that day is Egg Salad, one of several egg salads or egg-focused salads in the calendar.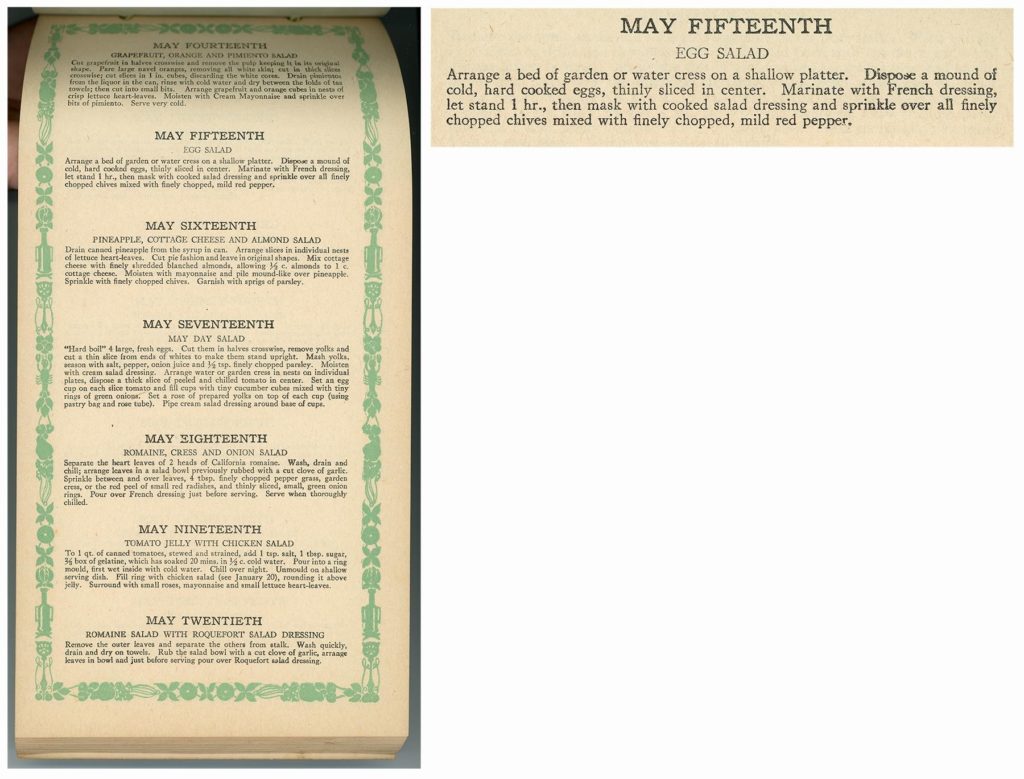 The calendar, luckily, has a section at the back which lists recipes for salad dressings used in Hiller's salads, including the French dressing and "cooked salad dressing" required for the May 15th dish.  The authors of this post both attempted this dish so that we could compare our interpretation of the recipe and our results.  We found that the most difficult part of recreating this recipe was the vagueness of the recipe.  What is considered "a mound of eggs"?  How do you "mask" something with salad dressing?
Both dishes we prepared turned out to be fairly similar.  Stewart chose butter lettuce while Jessica went with a standard green leaf lettuce.  The recipe instructed to "marinate [the eggs] with French dressing."  After making the dressing from scratch, Stewart chose to top the eggs with the dressing, while Jessica attempted to marinate the eggs in a bowl and then carefully remove them from the liquid.
The cooked salad dressing was the next step.  Having never made a cooked salad dressing before, neither of us knew what to expect.  Hiller's salad calendar luckily contained three similar recipes for cooked salad dressing.  The first cooked salad dressing was the one that we both followed to create the fluffy 'dressing' made with butter, flour, paprika, egg yolks, and heavy cream whipped until stiff.
When we decided to both create the same recipe from Mrs. Hiller's salad calendar, we made a point not to discuss techniques or the instructions beforehand.  There were certainly differences in our techniques, but our final dishes looked (and smelled) the same!
Although Mrs. Hiller's recipes (the attempted Egg Salad included) are not ones that we would normally prepare in our daily life, we enjoyed trying to recreate the dish.  Mrs. Hiller herself is still somewhat of a mystery to us, but at least her legacy lives on through the archives.
Additional Sources Consulted:
Chronicling America
Google Books
Leave a Reply