Posted by Jane Metters LaBarbara.
May 24th, 2017
Blog post by Lori Hostuttler, Assistant Director, WVRHC.
Recently, I was using the Harvey Harmer Collection to answer a research question and I came across a file labeled "America First Day – 1922."  The research question was unrelated, but I was intrigued by the contents of the folder.  In 1940, the "America First Committee" was the leading group arguing against entrance into the second World War, but this was a much earlier use of the slogan.  So I wanted to investigate it further.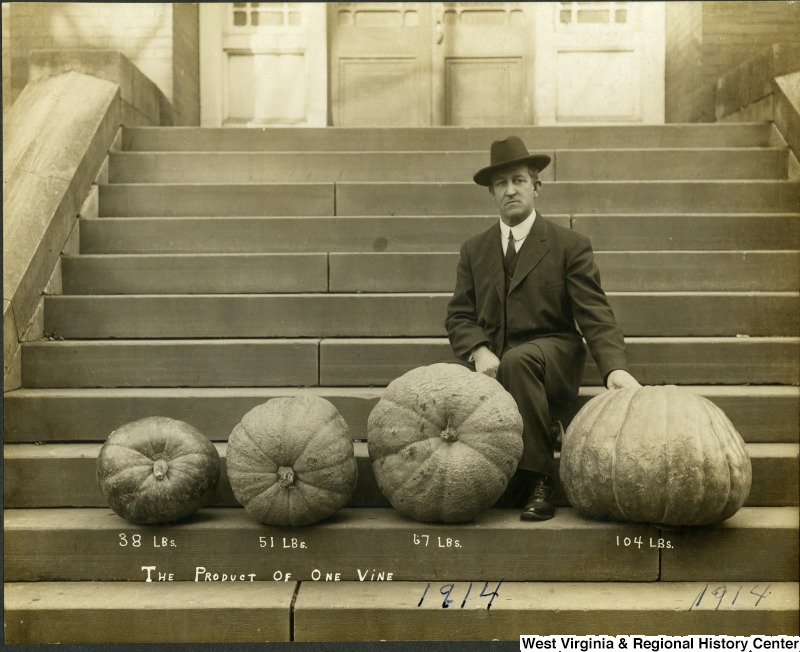 Harvey Harmer and his pumpkins in 1914.  Harmer (1865-1961) was a layer, local historian, and state senator from Clarksburg in Harrison County.
In May 1922, Harmer was asked by Edwin Keatley of the American Constitutional Association (ACA) based in Charleston, West Virginia, to be chairman of America First Day in Harrison County. A group of 150 West Virginia businessmen formed the ACA in 1920 as a response to coalfield unionization efforts and the West Virginia Mine Wars.  The group was concerned about radicalization and wanted to emphasize patriotism.
Keatley wrote to Harmer, "We are passing through one of the most critical periods of our history.  There is unrest and discontent on every hand. Bolshevists, I.W.W.'s [Industrial Workers of the World labor union] and other radicals are preaching overthrow of this government."  America First Day, Sunday, July 2, 1922, was intended to "arouse interest in patriotism and love of country."  The day had also been observed in 1921 and "more than a thousand patriotic meetings were held in different sections of the state," according to Keatley.
After Harmer accepted the chairmanship for Harrison County, Keatley sent him a list of suggestions for planning America First Day activities and other materials.  The goal was to have "a patriotic meeting held in each community and as far as possible in every church in the county." The ideas included requesting that local ministers prepare a special sermon and have their churches decorated with flags on America First Day; asking local mayors to issue America First Day proclamations; working with local organizations including the American Legion, the Daughters of the American Revolution, Rotary Clubs, Kiwanis and others to cooperate in observing the day by holding special programs or attending church as a group; asking everyone to wear a small American flag in his buttonhole; and promoting the day through newspapers, window display cards, and running slides during movies.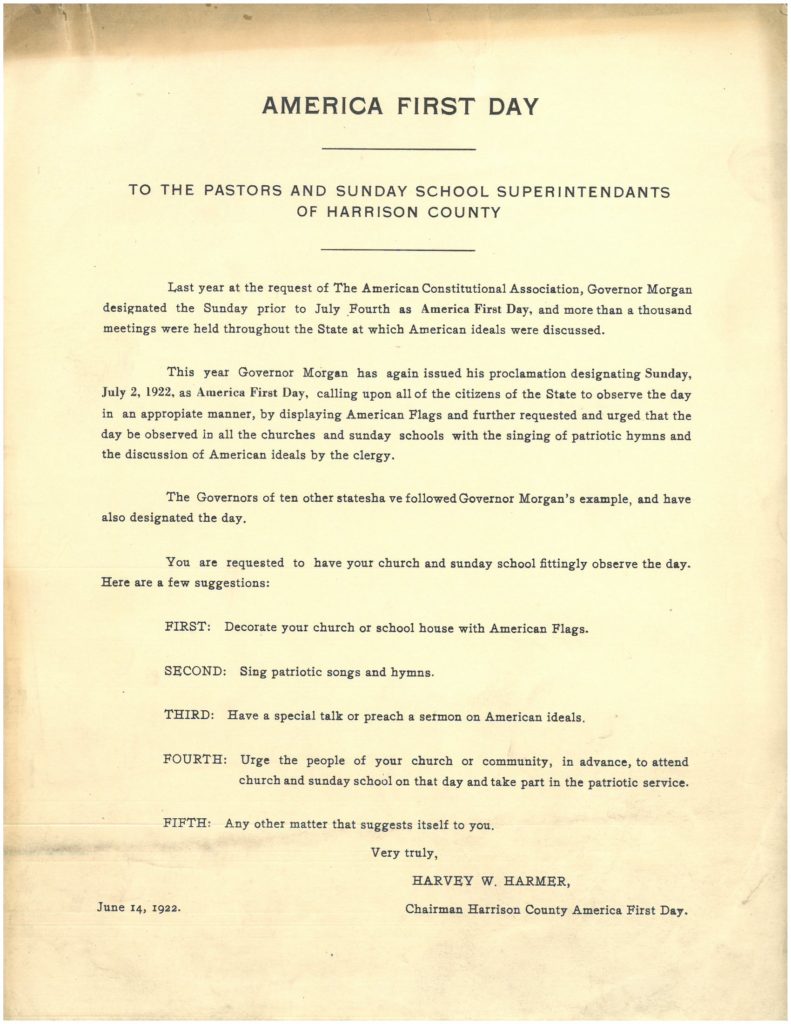 Harvey Harmer followed these directives.  His collection includes this flyer which was given to pastors and Sunday school teachers in Harrison County. It reiterates some of the ideas from the ACA.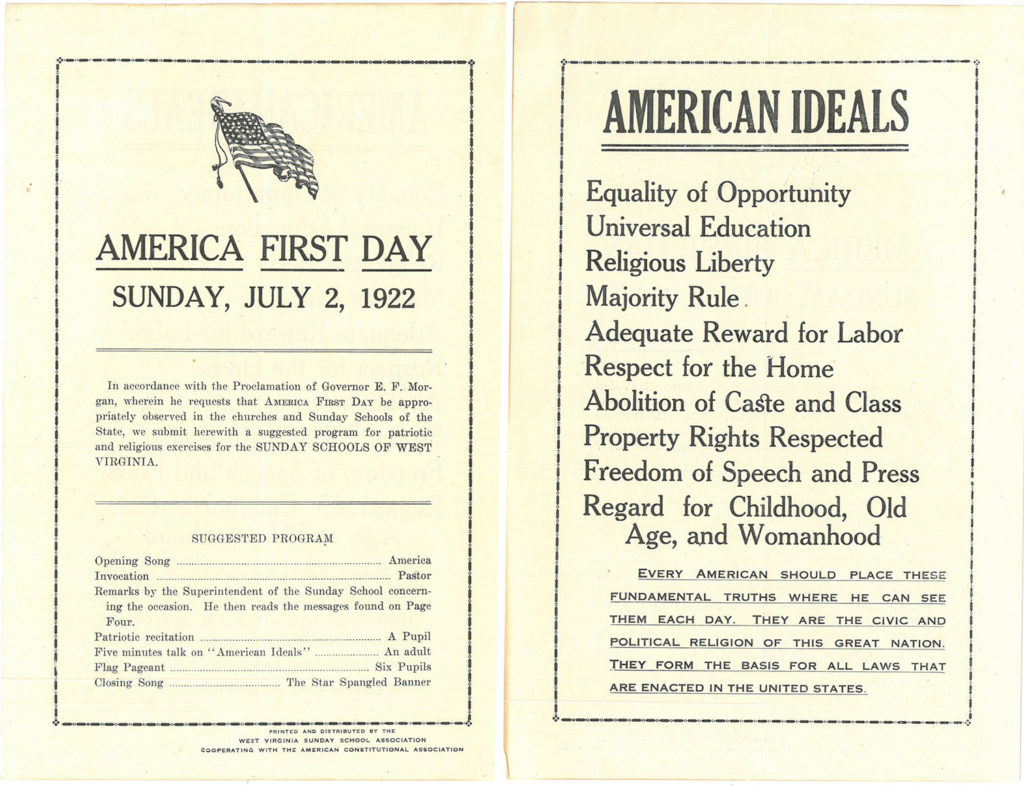 Harmer's papers also include a suggested America First Day program printed by the state Sunday School Association and the ACA and distributed to Sunday school leaders across the state.  Above are the first two pages of the four page program.

This press release is likely clipped from a Clarksburg newspaper – the specific date and the name of the paper are unknown, but it probably dates from June 1922.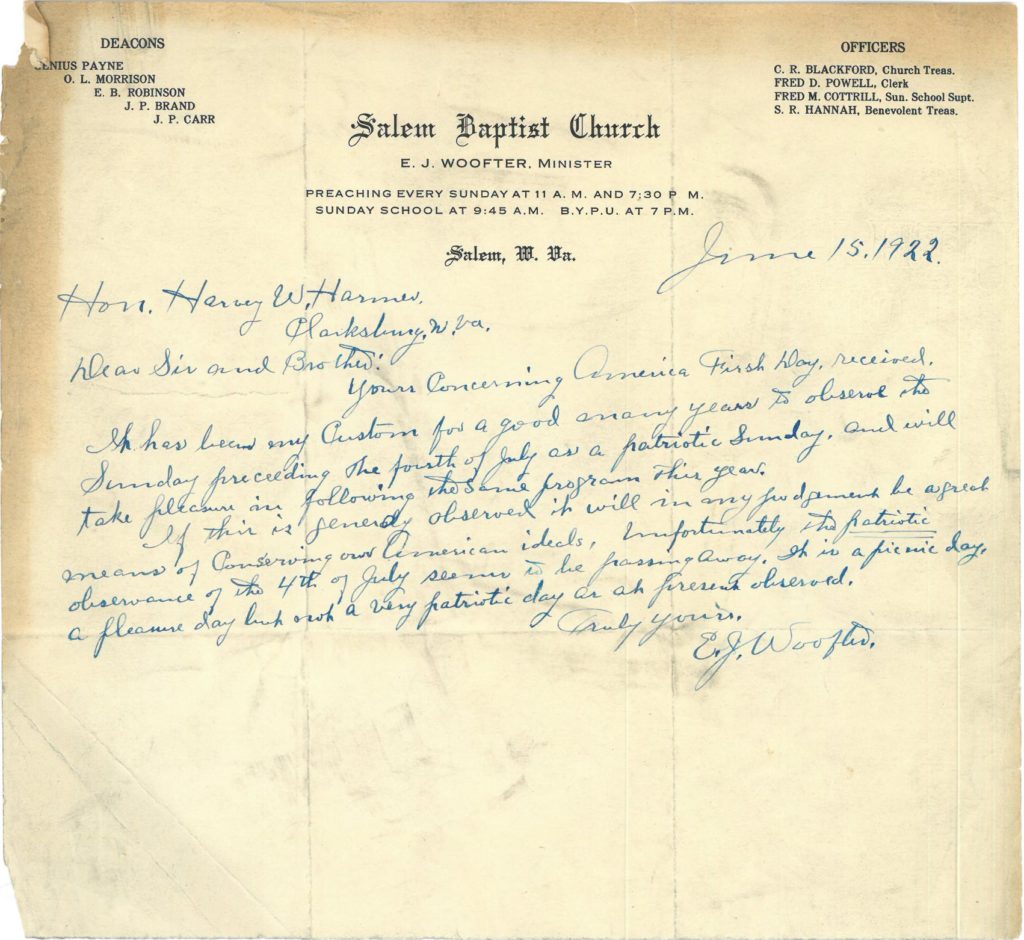 A local pastor wrote to Harmer confirming the Salem Baptist Church's participation in America First Day and lamenting the lack of patriotism on July 4th saying, "it is a picnic day, a pleasure day…"
For more information about the American Constitutional Association and America First Day, read historian John Hennen's The Americanization of West Virginia: Creating a Modern Industrial State, 1916-1925.
Leave a Reply