Posted by Jane Metters LaBarbara.
May 30th, 2017
By Jarrad Fuoss, Masters Student at West Virginia University and Seasonal Ranger at Gettysburg National Military Park.

Major Eugene Blackford[i]
The shrill sound of rusty hinges creaked as we passed into the graveyard of St. Thomas's Episcopal Church on the outskirts of Baltimore, Maryland. Unable to contain my excitement I immediately scoured the first row of graves looking for his name. For nearly eight years I had been on the tail of Eugene Blackford's centuries old story. Through countless hours of research and thousands of words written, the incredible story of an individual who came of age during America's most divisive crisis emerged. Filled with adventure, heartache, and turmoil Eugene's life read something like a modern movie script, and I was the closest of anyone yet to finding his final resting place. 
My adventure into the story of Eugene Blackford began at Gettysburg, Pennsylvania during the summer of 2010. To this day, a short walk up the main street of Gettysburg reveals buildings riddled with bullet holes and remnants of a deadly contest juxtaposed with 150 years of commercial development. Curious about the urban story of the battle one afternoon I wandered into the Shriver House Museum on Baltimore Street. Here I heard the harrowing tale of a family devastated by war and forced to flee when the battle of Gettysburg literally lapped at their doorstep. Enthralled, I listened as our guide described how Confederate sharpshooters occupied the attic garret during the battle and how their blood still soaked the attic floorboards 145 years later. That afternoon, I launched into a flurry of questions. I wanted to know everything, however, large gaps existed in the historiography. Nobody knew who the sharpshooters were, nor whose blood stained the floorboards. As an aspiring academic, the task of uncovering the mysterious sharpshooters was a welcome challenge. Aided by my family I jumped into the pursuit of the story by scouring available resources. Within months, my research led to the account of a young officer who commanded a battalion of sharpshooters near the house I had visited. His name was Eugene Blackford. Day by day I pieced together small bits of information that began to resemble a larger narrative, however, undergraduate work at the University of Pittsburgh in 2012 caused my Gettysburg trips to wane. For a short time Blackford was put on hold and I was haunted by the reoccurring wish to study the Civil War.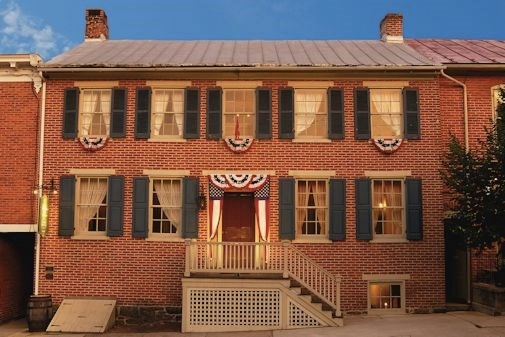 The Shriver House Museum. One of many buildings occupied by Confederate Sharpshooters during the battle of Gettysburg.[ii]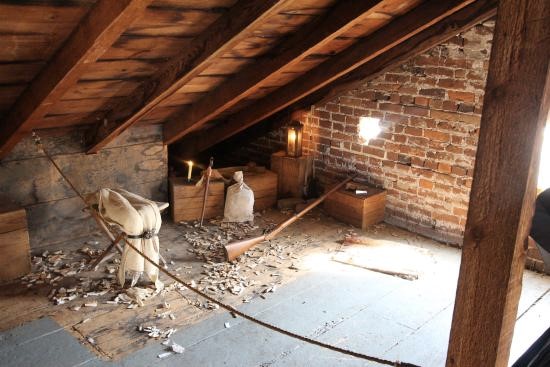 The attic garret of the Shriver House. During restoration of the building, crews discovered port holes knocked into the home's brick walls by the sharpshooters, cartridges stuffed under the floor boards, and blood residue pooled under the port holes.[iii]
In 2014 I spent three months studying away at Gettysburg College in a life-changing program that set the foundation of my future academic endeavors and allowed me to research the sharpshooters who occupied the town. What follows is the drastically condensed story I uncovered of a young man who grew up during the American Civil War.
Born in 1839, Eugene was the second youngest of five siblings, and supposedly the favorite of his family and mother. Raised in a deeply religious household, Eugene was taught to "hate slavery and love the union," as his father was a Federal diplomat to Bogota, and his mother a self-proclaimed abolitionist. Only twenty-two years old at the outbreak of the civil war, Blackford found himself in a peculiar situation when he moved from his family home in Lynchburg, Virginia to teach in Clayton, Alabama. [iv]
With clouds of secession on the horizon during the fall of 1860 Eugene found life in the deep south very difficult to acclimate with. He wrote to his mother on November 9, 1860, "…they are a different people from us, and show it by their living and conversation. They are all violent Fire Eaters, and are for dissolution to a man, and speak of anyone who professes the smallest love for the Union as a traitor to his country, namely the South."[v]
For weeks Eugene attempted to avoid confrontation with the locals over his personal beliefs; however, the attack on Fort Sumter changed his situation drastically. Within days Virginia seceded; and when a call for volunteers spread to put the rebellion down by force the Blackford family found themselves in a difficult position. Their loyalties stretched to the extreme, the family's support ultimately fell to their home state of Virginia, resulting in all five sons enlisting to serve the Confederacy. Determined to fight, Eugene transported a local company of militia north by rail to Virginia, where they were designated Company K, (New Co. A) 5th Alabama Volunteer Infantry.[vi] Quickly, Blackford became fast friends with the regiment's commander Robert Rodes and as the conflict progressed Eugene frequently wrote letters home to his family telling about the hardships of the war. Amazingly Blackford persisted through numerous campaigns and a dangerous bout of sickness, which plagued him for the rest of his life. During the winter of 1862-1863 Eugene's story thickened when newly promoted General Robert Rodes instructed Blackford to craft a specialized battalion of Sharpshooters for the first time in the Army of Northern Virginia. While sharpshooter units existed before, Blackford's training revolutionized how skirmishers and light infantry would be used in combat.[vii]  Thus, at the age of twenty-three Eugene Blackford came to command the most elite unit of Confederate Infantry during the American Civil War.
Blackford's command excelled at the forefront of daring military operations for the remainder of the war. At Chancellorsville in May 1863 the sharpshooters led Stonewall Jackson's surprise attack and in July they occupied many homes in Gettysburg. After the battle of Cedar Creek in October of 1864, Blackford faced a general court-martial, launched by officers jealous at his accomplishments and determined to drive him from the service. Enraged by the injustice committed upon their commander, Eugene's men personally petitioned Confederate president Jefferson Davis for his reinstatement. The petition worked and Eugene was reinstated, however, health problems plagued his military career. Suffering from poor blood circulation in his legs while on campaign, Blackford finally returned home just before the Confederate surrender at Appomattox Court House in 1865.
Studying at Gettysburg College in 2014 allowed me to devote the research time needed to uncover the story of Eugene and his sharpshooters at Gettysburg. I scoured primary source documents, official records, letters, and published works about Blackford and his detachment of sharpshooters. Compounding the difficulties of the monumental task, I quickly discovered that Blackford's (Rodes Division) Sharpshooters did not exist as an official military unit. Composed of highly trained men from numerous regiments, Blackford's sharpshooters emerged on an as needed basis to act as sharpshooters. As a result, tracing their history during the battle of Gettysburg became comparable to chasing a ghost. Bits and pieces of information lay scattered through 151 years of history. Driven to uncover the truth and establish a rock solid narrative my research produced an extensive paper detailing the movement of sharpshooters through Gettysburg and determined the positions of troops during the battle using primary sources to tell their story.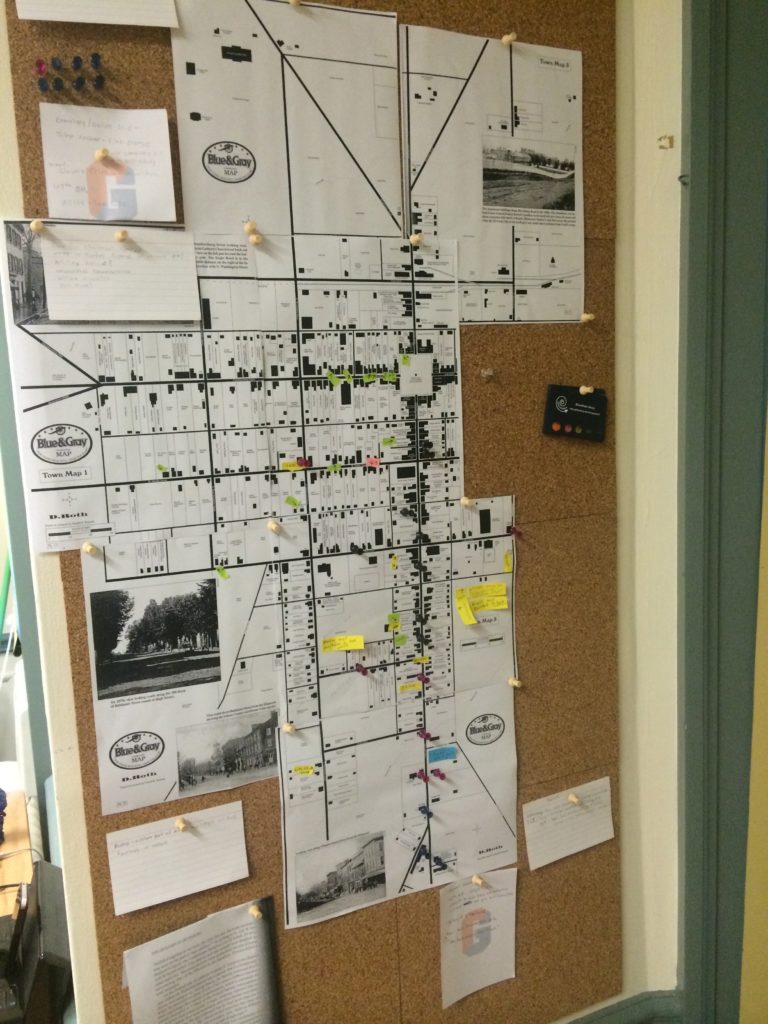 Maps that I created while at Gettysburg College. This particular map kept track of which buildings had accounts of sharpshooters in. [Click for larger image]
Although my research discovered that Eugene's military career is compelling, his personal life was also fascinating. Raised as a wealthy Virginia aristocrat young Blackford exemplified antebellum privilege. Aside from Eugene, the most interesting member of the Blackford family was his mother Mary Minor Blackford. Mrs. Blackford was a devout Episcopalian and self proclaimed abolitionist. While Mary's favorite pastimes included teaching her children to "hate slavery and love the union," the family's paradox was immense. Mary was a highly vocal member of the Virginia Colonization Society, and thus far distant from what modern historians would call a fervent abolitionist. Throughout their lifetime the Blackford family faced bankruptcy numerous times when Mary used the family's capital to purchase slaves and their family's freedom, however, the Blackford's always retained one slave named Ma'am Peggy. In 1866, Mary concluded her Notes Illustrative of the Wrongs of Slavery stating, "March 1866, A new era has dawned since I last wrote in this book. Slavery has been abolished!! Too suddenly for the real good of the Slaves, as they were not prepared to enjoy and appreciate the great boon of rational freedom after being kept so many years in abject slavery and profound ignorance…"[viii] Almost a stereotypical example of Southern slaveholding hypocrisy, Mary's final thoughts about a topic that consumed her life during the antebellum period highlight the complexity of clashing ideologies over race and freedom which plagued African Americans during the reconstruction period.
When examined in historical context, Eugene's story is compelling. His letters home before, during, and after the war paint the image of a young man caught in a rapidly changing nation and struggling to determine his personal moral stance about issues of politics, race, and religion. Coming of age in country torn apart, Eugene was still a young man who enjoyed playing cricket with his friends, talking politics, and writing love letters (behind his mothers back) to his future wife Rebecca Gordon. The opening lines of Eugene's diary in October 1860 highlight this humanity and his masterful writing skills; "I may as well state, for my information hereafter, that I am also at these present entirely heart free, not having seen any young lady for the three years past who has in any wise disturbed my dreams- Save one- a Miss Rebecca Gordon of Balt."[ix]
After the war, Eugene and Rebecca married before moving to Pikesville Maryland where they had several children. For the remainder of his life Blackford held numerous occupations including teacher, post-master, land surveyor, and dairy farmer. Still plagued by complications of disease he acquired during his service, Eugene passed away on February 4, 1908 at the age of sixty-eight.
In recent years, at least one book has been published about Blackford's elite unit of sharpshooters, and another book containing a collection of his early war letters came out last fall. Regardless of the interest in Eugene's story, his family's graves have been elusive locations to track. Two years ago I contacted the gentleman who published Eugene's letters and we both concluded the location of his grave was somewhere near Pikesville, Maryland. This author had in his collection a single obituary published by the Baltimore sun that placed Eugene's grave in a local veterans cemetery, however, database searches of the cemetery and those surrounding revealed nothing.
As a student at West Virginia University in 2017 I used the tools provided by the University Library to renew my search for Eugene's grave. This quest produced many fruitful leads, including another obituary published in an obscure German newspaper from Baltimore.[x] [Editor's note: this obituary and many other pieces of history can be hunted down in the many newspapers digitized and available to search online as part of the Chronicling America project.] After translating the newspaper I came to realize it gave an entirely different location all together. Armed with new research, I made a trip to Baltimore in February to discover a small but beautiful Episcopal Church tucked off the beaten path. After scouring the cemetery with two close friends for nearly an hour we stumbled upon their lots. In a small section of St. Thomas's Episcopal Church Graveyard near Owings Mill's, Maryland we found them all; Eugene, Rebecca, and their children.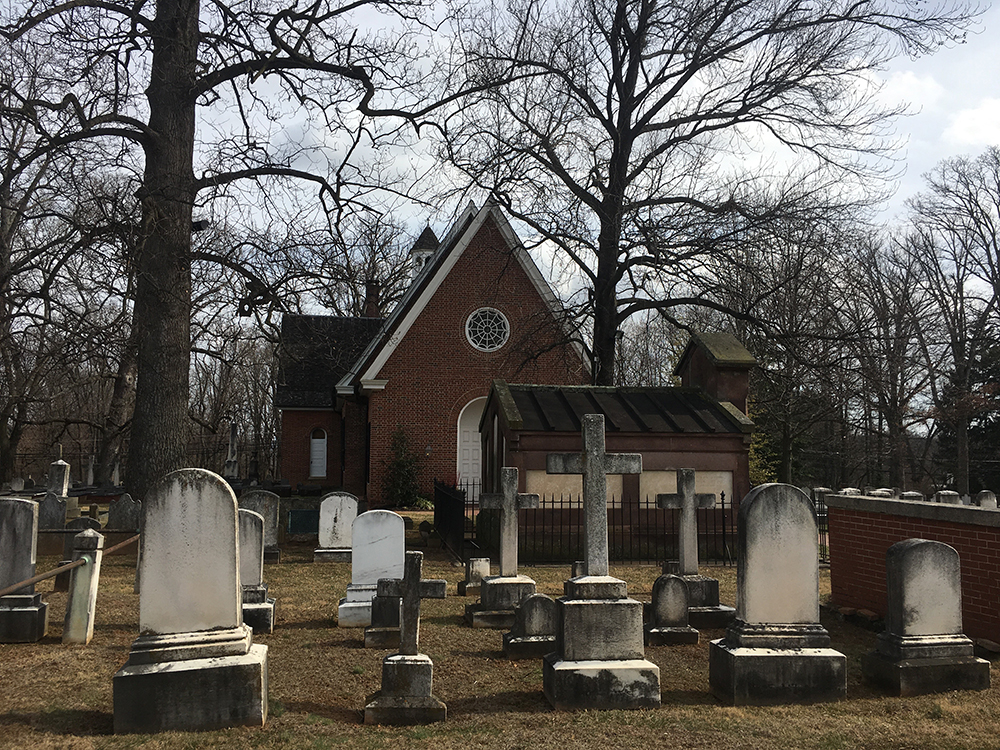 St. Thomas Episcopal Church in Baltimore Maryland.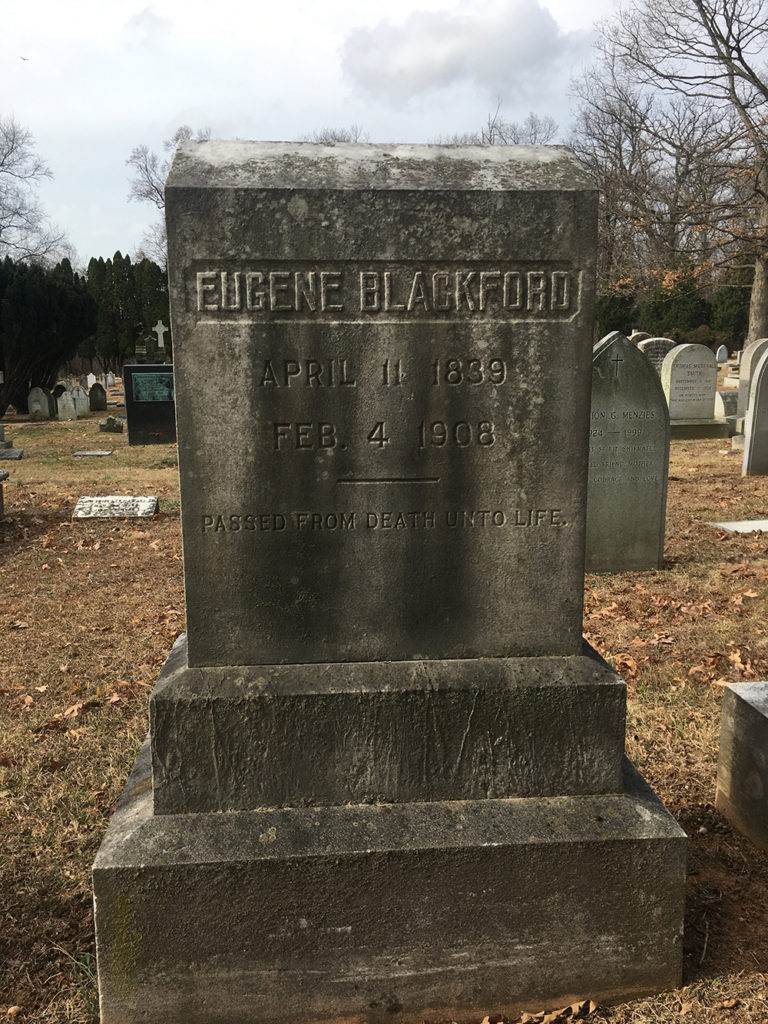 Eugene Blackford's grave. The stone reads "Passed From Death Unto Life."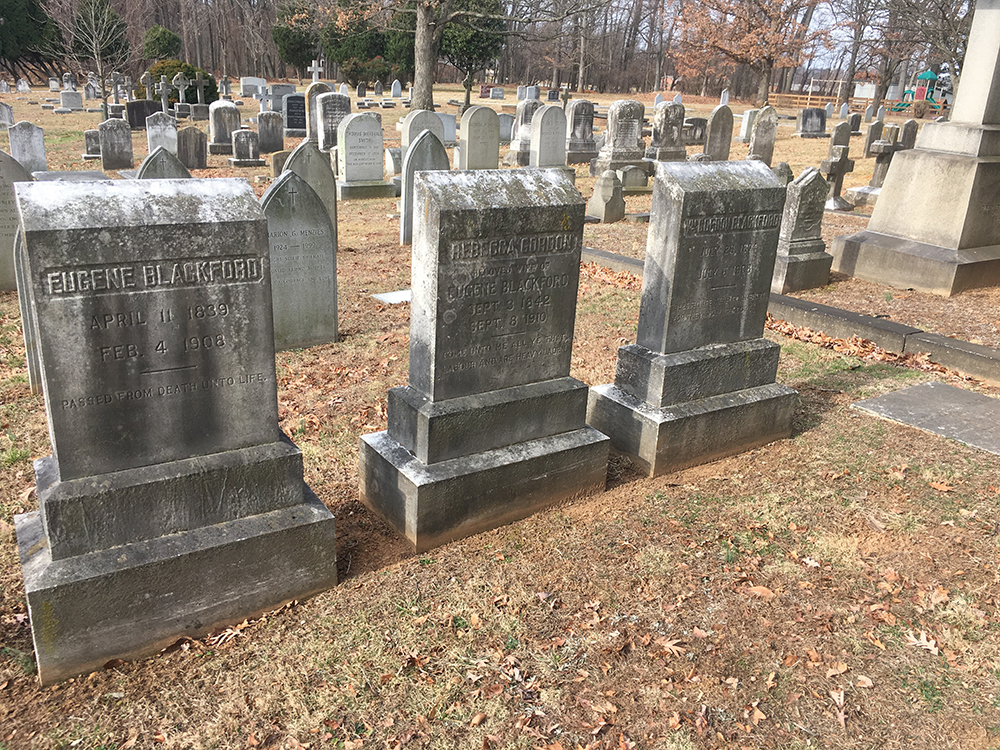 The graves of Eugene Blackford, Rebecca Gordon Blackford, and William Gordon Blackford. Outside of this picture the family is surrounded by many of Eugene and Rebecca's children.
Since my time at Gettysburg College, I often return to Eugene's story and conduct more research. In total the paper I wrote about his sharpshooters at the battle of Gettysburg has grown to 57 pages in length and become the basis for a future book project. Although one question has been answered, many more have been asked. Clearly, there is much to learn about the life of Eugene Blackford and his contributions to the historical narrative.
[i] "1309060_orig.jpg (123×332)," accessed May 25, 2017, http://fredspoteducation.weebly.com/uploads/2/2/0/5/22052324/1309060_orig.jpg.
[ii] "Copy-of-Shriver-House-Museum.jpg (505×337)," accessed May 25, 2017, http://www.shriverhouse.org/_media/img/medium/copy-of-shriver-house-museum.jpg.
[iii] "Snipers-Nest.jpg (550×367)," accessed May 25, 2017, https://media-cdn.tripadvisor.com/media/photo-s/0a/86/1a/71/snipers-nest.jpg.
[iv] Bell Irvin Wiley, Introduction in L. Minor Blackford, Mine Eyes Have Seen The Glory: The Story of a Virginia Lady Mary Berkeley Minor Blackford 1802-1896 Who taught her sons to hate slavery and to love the Union (Cambridge, MA: Harvard University Press, 1954), ii.
[v] L. Minor Blackford, Mine Eyes Have Seen The Glory: The Story of a Virginia Lady Mary Berkeley Minor Blackford 1802-1896 Who taught her sons to hate slavery and to love the Union (Cambridge, MA: Harvard University Press, 1954), 145-46.
[vi] Fred L, Ray, Shock Troops of the Confederacy: The Sharpshooter Battalions of the Army of Northern Virginia (Asheville, NC: CFS Press, 2006) 42.
[vii] Fred L, Ray, Shock Troops of the Confederacy: The Sharpshooter Battalions of the Army of Northern Virginia (Asheville, NC: CFS Press, 2006) 48.
[viii] Mary Minor Blackford as quoted in L. Minor Blackford, Mine Eyes Have Seen The Glory: The Story of a Virginia Lady Mary Berkeley Minor Blackford 1802-1896 Who taught her sons to hate slavery and to love the Union (Cambridge, MA: Harvard University Press, 1954) 249-250.
[ix] Eugene Blackford, Memoir in Civil War Miscellaneous Collection, United States Army Military History Institute. Carlisle, PA
[x] "Der Deutsche correspondent. (Baltimore, Md.) 1841-1918, February 06, 1908, Image 5," February 6, 1908. http://chroniclingamerica.loc.gov/lccn/sn83045081/1908-02-06/ed-1/seq-5/
4 Responses to '"Passed From Death Unto Life" Finding Major Eugene Blackford and His Final Resting Place'
Leave a Reply