Posted by Jane Metters LaBarbara.
July 24th, 2017
Blog post by Jane Metters LaBarbara, Assistant Curator, WVRHC
National Dance Day is celebrated on July 29th (the last Saturday in July), and is in its 8th year.  While you check out this year's dance routine, crafted by Dizzy Feet, you can think back on all the dancers who paved the way and all the dance options we have now, from the Argentine Tango to the YMCA.  There are a lot of options for WVU students who want to dance, including through classes like PE 188 "Folk, Square, and Ballroom Dance", the WVU Swing Dance Club, or a Zumba group class at the Student Rec Center.  WVU even offers the first Dance Major degree (a BA in Dance) in the state of West Virginia!  But we didn't always have so many options—all great things have to start somewhere, and a part of the origin story of dance at WVU lies in a group called Orchesis.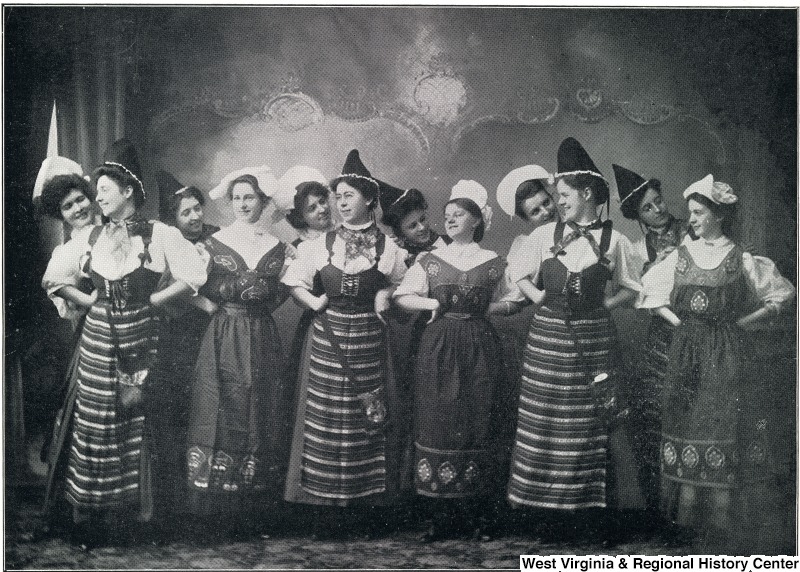 Folk Dancers in 1908—this is the earliest dated photo of dancers at WVU in our database.
What is Orchesis, you ask?  Well, the Oxford English Dictionary does not recognize the word, but Merriam-Webster's online dictionary tells us it means "the art of dancing in the Greek chorus." A quick Google search will show you that a lot of colleges and universities around the country have or had dance groups called Orchesis.  At WVU, Orchesis began in 1928. For reference, 1928 is also the year the first machine-sliced and machine-wrapped loaf of bread was sold.
In the 1928/1929 WVU Catalogue and Announcements, Orchesis makes its first appearance as a student organization under the newly created Division of Physical Education.  "Orchesis is a dancing class for women and meets on Wednesday evenings. The purpose of the club is to assist those who are particularly interested in dancing in perfecting their technique, and to provide further instruction for those who wish to do more advanced work. Membership is open to all those who have technical and artistic skill. The objective of the club is to promote original creative work."
Orchesis became focused on modern dance, and I've seen the group referred to as an "honorary modern dance ensemble," a "modern dance workshop," and more.  It looks like it went through some changes in purpose and composition, but it retained its focus and passion for dance.  The first time it appeared in the yearbook was 1940: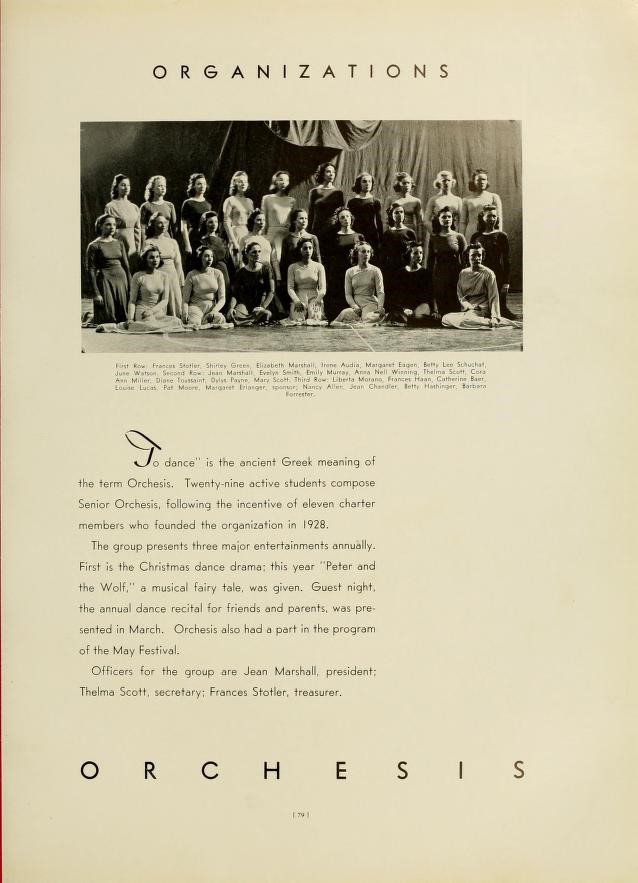 Orchesis Group Page from the Monticola Yearbook, 1940
By 1956, men had joined the group and requirements had changed from "all those who have technical and artistic skill" to "students having two semesters of modern dance."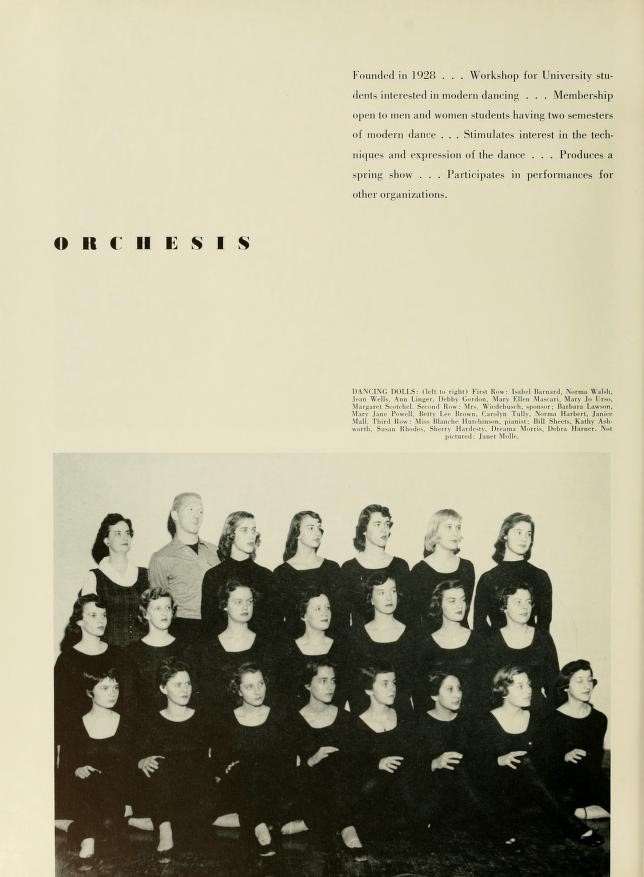 Orchesis Group Page from the Monticola Yearbook, 1956
While much of the history of this campus organization remains a mystery to me, the WVRHC has some of the group's programs and announcements from 1956 to 1983 in our Printed Ephemera Collection.  Below is the program from their 50th anniversary concert in 1979: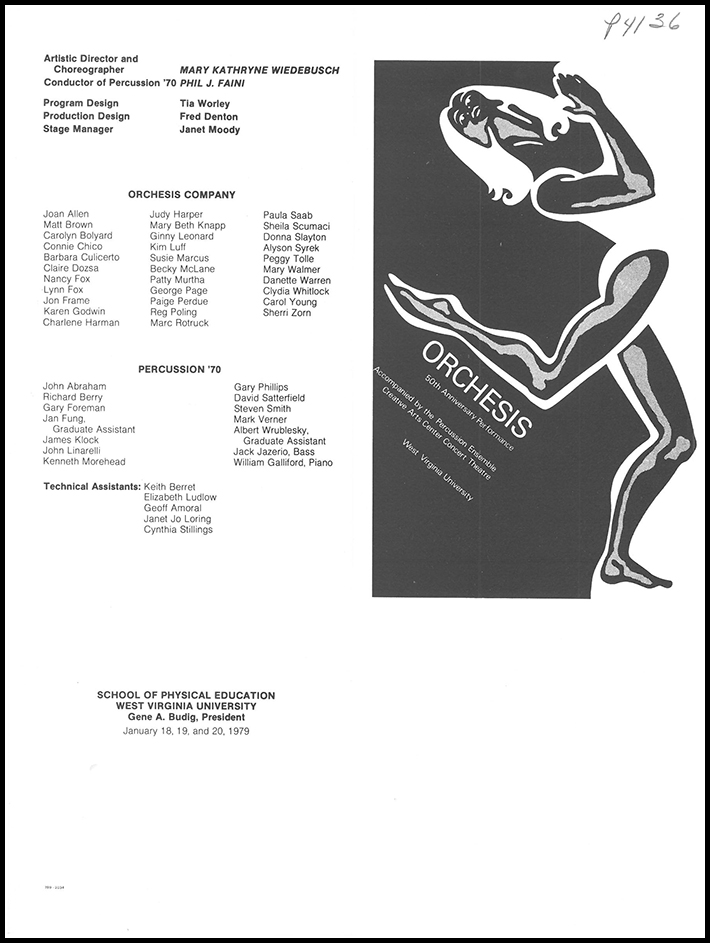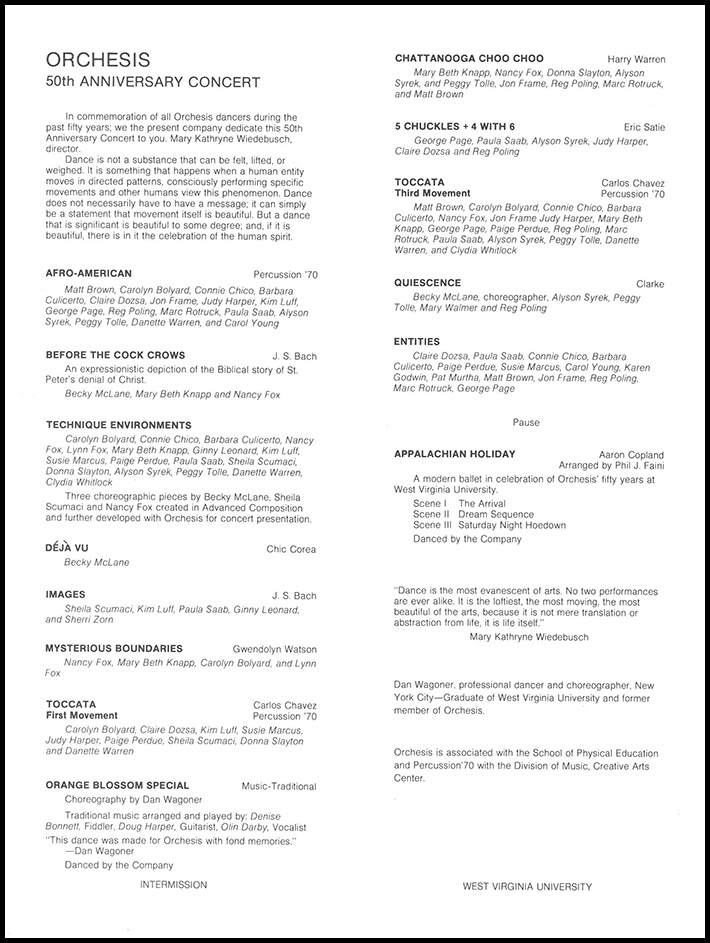 We also have 35 great images capturing Orchesis dancers in motion in WV History OnView—they don't quite match live dance, but here are a few of my favorites: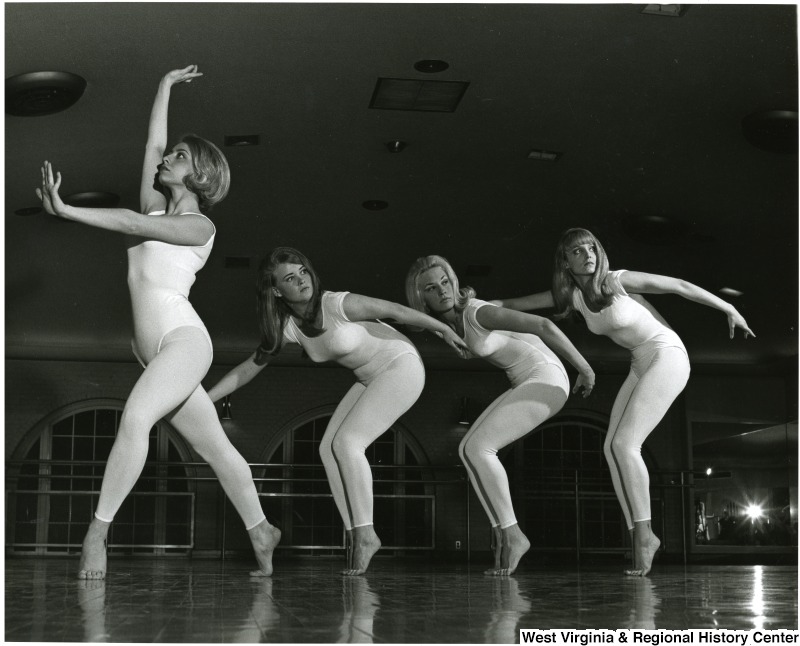 Almost looks like ballet, but I'll bet it isn't!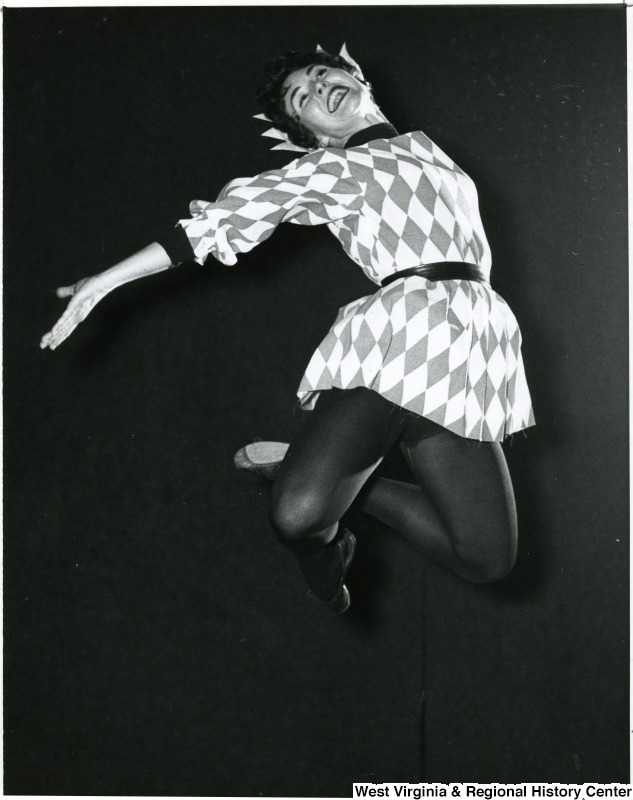 A lot of dancers are photographed with serious expressions, so I love that this dancer is grinning!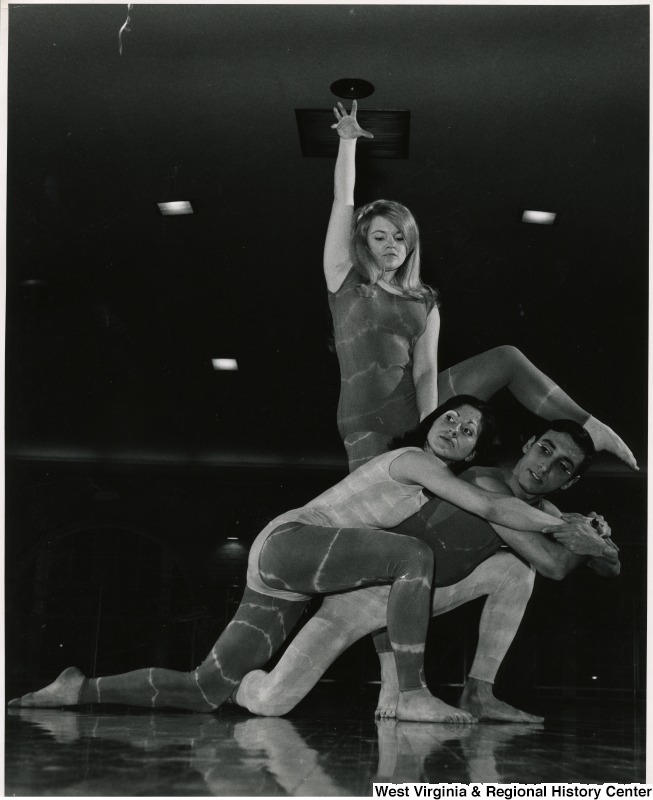 I like to imagine what story these dancers were telling.
Also, if anyone out there can help us match names to faces in these photos, or has any more information about the history of Orchesis, please let us know!
Edit, Aug. 2, 2017: Yoav Kaddar, Associate Professor and Director of the WVU Dance Program (among other things), let me know that Orchesis as a performance group/company was brought to a close in 2010 in favor of opening the Dance Program's doors to all students on campus, creating a less exclusionary dancing environment and lowering barriers to participation for those who want to be involved in dance but might not have been able to commit to being a member of the company.  Orchesis may be gone, but dance is alive and well!
Leave a Reply