Posted by Monte Maxwell.
July 25th, 2017
West Virginia University Libraries will host a presentation Aug. 4, 3-5 p.m., by Associate Professor of Music History Travis Stimeling about his recent research on musician Charlie McCoy which culminated into his new book from WVU Press, Fifty Cents and a Box Top: The Creative Life of Nashville Session Musician Charlie McCoy (2017).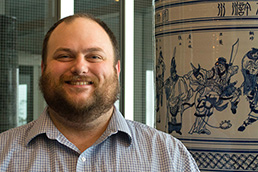 Stimeling will be joined by former student Dizzandra Linger (BA, 2017), who will present her research on Melvin Wine (1909-2003), a Mountain State fiddler and folk music educator. Linger's research looks at the impact of the environment of Wine's performances. The reading will be held in the Downtown Campus Library's Milano Room, which houses the Appalachian Collection and displays Wine's portrait.
The event complements the WVU Libraries' current exhibit, Looking at Appalachia. Fifty Cents and a Box Top will be available for purchase and signing by the author. The event is free and open to the public. Light refreshments and desserts will be provided by The Tea Shoppe.
Stimeling (PhD, musicology, University of North Carolina at Chapel Hill) is associate professor of music history in the College of Creative Arts and director of the WVU Bluegrass Band. A scholar of commercial country and Appalachian traditional music, he recently edited The Country Music Reader (Oxford University Press, 2015), an anthology of primary source readings in country music history spanning the late nineteenth century to the present, and is the author of Cosmic Cowboys and New Hicks: The Countercultural Sounds of Austin's Progressive Country Music Scene (Oxford University Press, 2011), which earned an American Musicological Society Publication Subvention.
He has published articles in such journals as American Music, Popular Music, Popular Music and Society, and Journal of Popular Music Studies, among others. He also served as a Senior Editor for The Grove Dictionary of American Music, 2nd ed. Prior to joining the faculty of WVU, he served on the faculty of Millikin University.
Dizzandra Linger is a graduate from WVU (May 2017). She double majored in History and Art History and double minored in Anthropology and Women's and Gender Studies. Linger has used her grandmother, Susie Wyant's, family photographs with her permission and has referenced some of the family lore of her great-grandfather that has been passed down to her within in her work.
Though Wine has been recognized within the National Endowment of the Arts, he has yet to be recognized in West Virginia and is not listed in the West Virginia Hall of Fame. With the work Linger has done so far, she hopes to give Wine the recognition he deserves and get him into the West Virginia Hall of Fame.
Leave a Reply