Posted by Monte Maxwell.
September 7th, 2017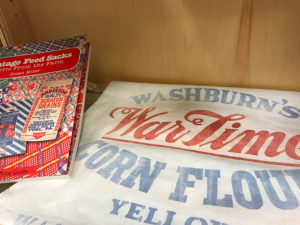 An exhibit currently on display at the Evansdale Library highlights the history of the packaging of U.S. agricultural commodity products in textile bags, especially dress print cotton bags known as feedsacks.
"All over America, including West Virginia and Appalachia, feedsacks were used during the Great Depression through the 1950s to make clothes and other household items," said Anna M. Schein, associate curator, West Virginia and Regional History Center. "According to published research, by 1942 an estimated three million women and children of all income levels were wearing printed feedsack garments."
In curating the exhibit, Schein has included colorful uncut feedsacks including one of the first dress print sacks ever made, a feedsack structured bonnet, a bed sheet, pillowcases, dolls, a crib quilt, pillow, and clothespin bag. Complementing these pieces is a selection of library and archival resources from the WVRHC which can be used to study the history, marketing, and identification of feedsacks.
"I have a research interest in West Virginia and Appalachian culture, particularly Depression-Era popular material culture," Schein said. "This current exhibit grew out of my research during the past two years on the role of archival collections in preserving the history of West Virginia mills and mill sacks."
The exhibition, which will remain on display on the library's second floor through October 30, will be promoted as a 2017 Mountaineer Week Activity.
Schein is also coordinating a Mountaineer Week presentation related to the exhibit. Dr. Beth Newcome, senior professor of Applied Design, and curator, West Virginia Cotton Commodity Bag Collection, Pierpont Community and Technical College, will deliver a talk titled "The Feedsack Story: Resourceful Homemakers Making Something Out of Nothing with Recycled Bags" at 1 p.m. October 21 in the Mountainlair's Greenbrier Room.
In addition to the programs on the WVU campus, Schein has worked this year with Arthurdale Heritage, Inc. to curate a feedsack installation in an original Arthurdale homesteader museum house.
"Every year, Arthurdale, W. Va., known as Eleanor Roosevelt's "Little Village," attracts hundreds of tourists and academic researchers from all over the United States," Schein said.
Since the opening of the Arthurdale feedsack installation in April, more than 900 people from 18 states have visited the house. As part of a tour of Arthurdale, Schein gave a feedsack archival resource presentation in June to students in the Winterthur Museum's Program in American Material Culture Class of 2018, who showed great interest in Schein's research.
Using WVRHC archival resources, Schein will also present a feedsack identification outreach exhibit and demonstration session to more than 200 West Virginia women leaders at the annual West Virginia Community Educational Outreach Service (WVCEOS) Fall Leadership and Enrichment Conference in October at Jackson's Mill.
Leave a Reply