Posted by Jane Metters LaBarbara.
September 12th, 2017
By Elizabeth Satterfield, undergraduate student at WVU
In junior high and high school, I remember research days.  As students, we loved research days!  We left the classroom, went to the computer lab, and often became distracted once we began researching. Today, I still feel the same way about research.  I love learning something new, discovering a forgotten detail, and connecting the dots.
This summer, I had the opportunity to conduct research on the Sunnyside neighborhood under the direction of Jenny Boulware in the history department as a part of the Summer Undergraduate Research Experience (SURE).  Although known in recent memory as a student rental neighborhood and popular party location, prior to the mid-twentieth century, Sunnyside was home to immigrants and multi-generational families, skilled and unskilled workers, professors and students.  In the last thirty years, however, student housing demands have significantly altered Sunnyside's historic building stock.  Although every property has not been affected, it is important to record the history of the neighborhood and its residents before little is left to record. 
While much of my experience involved extensive editing, fact checking, and citation review, conducting research was my favorite component of SURE.  A large portion of my research involved searching for photographs of the thirty-one documented properties.   West Virginia and Regional History Center's OnView photograph collection was especially helpful.  With over 50,000 photographs online, I found many needed photographs.  I also found myself caught up in photographs that had nothing to do with my research, which is easy to do when each picture tells a compelling story.  Other photographs came from editions of The Monticola and Google street-view, which was more effective than I had anticipated although one must be careful to cross-check street numbers with other maps.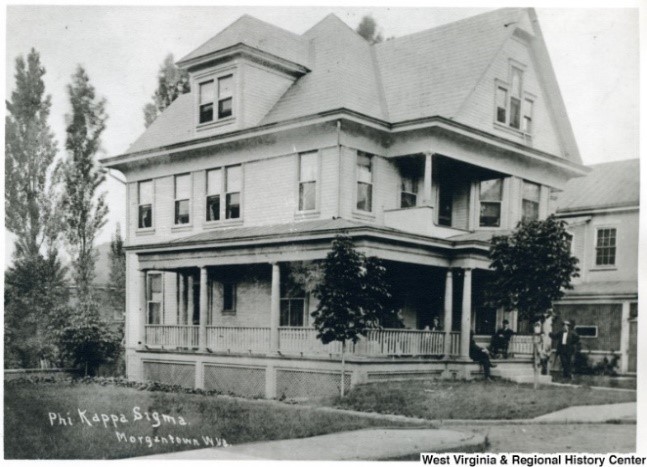 Elizabeth utilized WVRHC's extensive OnView photo collection for her research. Pictured here is the Phi Kappa Sigma Fraternity House, which was located where the Honors College sits today.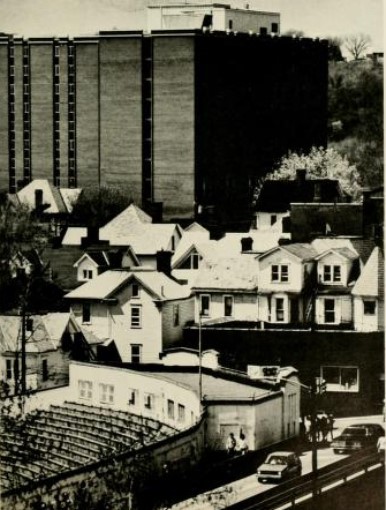 The Monticola provided many excellent photos of Sunnyside.  Here is a photograph showing the old stadium with Summit Hall in the background, from the 1978 volume.
Through the library's database subscription to Ancestry.com, I utilized census records and city directories, which saved me a physical trip to the library.  These records helped to prove when and where residents lived in Sunnyside as well as other interesting bits of information such as number of boarders, occupations, age, marital status, and birthplace, which further develops the property narrative.  WVRHC Sanborn Fire Insurance maps collection was one of the most valuable references for my research.  Not only do these maps capture the changes in a neighborhood over time, they show composition of structures, help to understand block and street numbers, and business turnover.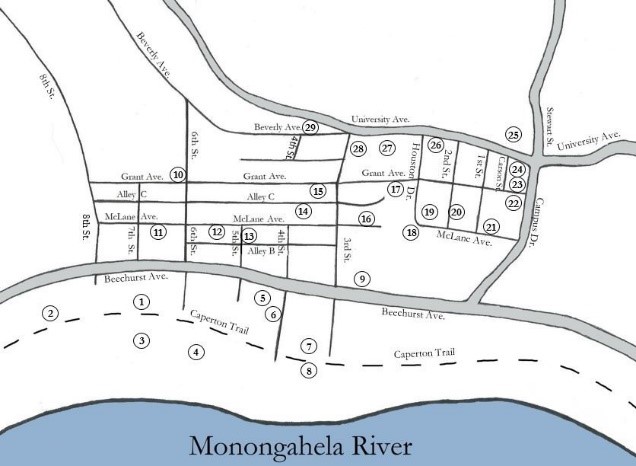 Sanborn maps from the WVRHC played a key role in developing this map of researched Sunnyside properties
Although I did not spend a tremendous amount of time researching in the physical library, the time I did spend there was well worthwhile.  I came prepared with the Archives & Manuscript numbers that I needed so that research was more time-efficient. Particularly, the papers of Lenna Lowe Yost, a suffragist and political figure who lived in Sunnyside for a time, and a 1982 Morgantown buildings survey were both invaluable to my research.  I also physically visited the Monongalia County Courthouse to conduct deed and will research on a particularly difficult property.
Perhaps the most frustrating thing about research is a dead end.  I encountered this most when searching for photographs of specific structures.  Because there is such a wealth of photographs of Morgantown and the Sunnyside neighborhood, I often spent hours wading through the results, only to come up short.  Although I searched diligently, I never located photographs of several structures. Because these structures no longer exist, I chose instead to include photographs of their residents, which is nearly as interesting as a photograph of the building itself.  Creative solutions such as this became one of my favorite components of the research experience.
Though my research with SURE this summer was quite different than research days in junior high, I still feel the same excitement when I find something interesting.  In junior high, I shared these discoveries with friends and family.  Today, I still share my findings with those closest to me, but now I have the privilege to share my research with a greater academic community, helping to preserve the rich cultural landscape of the Sunnyside neighborhood.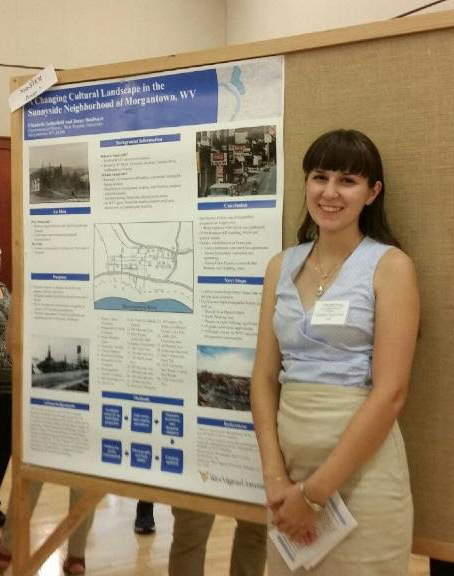 Elizabeth Satterfield stands next to her poster at the research symposium in July
2 Responses to 'The Fun of Researching Sunnyside'
Rose Anne Henry Childs Says:
September 14th, 2017 at 12:16 pm

My grandparents, Hyacinth and Anna Henry owned the house at the corner of Campus Drive and Grant Avenue. I can do some research as to when they bought it. They were told it was used as a hospital during the Civil War. They died in 1962 and 1963. My father inherited it and sold it in 1971 or 1972. I can remember most of the neighbors. We spent all weekends and summers there. They rented to University students. The house had 10 apartments and housed about 15 students. I would love to see a picture of the house. All I have been able to find in our
pictures is close ups, say of the porch or side of the house.

Jane Metters LaBarbara Says:
September 18th, 2017 at 3:23 pm

It sounds like that house had quite a life! I'll pass your question on to our reference staff to see if they can find any images of that house.
Leave a Reply