Posted by Jane Metters LaBarbara.
September 18th, 2017
Blog post by Jane Metters LaBarbara, Assistant Curator, WVRHC
We recently received a collection of letters and other papers of George W. and Fred W. Marshall, two brothers who served and died in World War I.  Their collection is a good example of how archivists process smaller collections, and the mysteries that we work with every day.

Clipping from a special issue of the Waynesburg Republican commemorating deceased soldiers from Greene County, PA
Their story is a sad one.  Both teachers before joining the military, they were the only sons in their family.  They both died in combat in France in the summer of 1918, within three weeks of each other. 
The collection includes over 200 letters from the brothers, as well as two panoramic photos and other papers related to the brothers' service in the war. One of the more basic tasks of archiving is rehousing materials, both so they can be better preserved and so they can be more accessible.  The big brown envelope in the photo below is labeled "pension papers" — it contained a lot of letters to Mr. and Mrs. Marshall regarding reclaiming the bodies of their sons and applying for benefits after their deaths. I unfolded everything in the brown envelope so I could tell what it was, then I put it in those acid free folders you see in the photo, so future researchers don't have to unfold everything again and again.  One letter I unfolded includes a brief account of how Fred died—he didn't see it coming. I can't imagine how Fred's parents felt when they read this letter 99 years ago.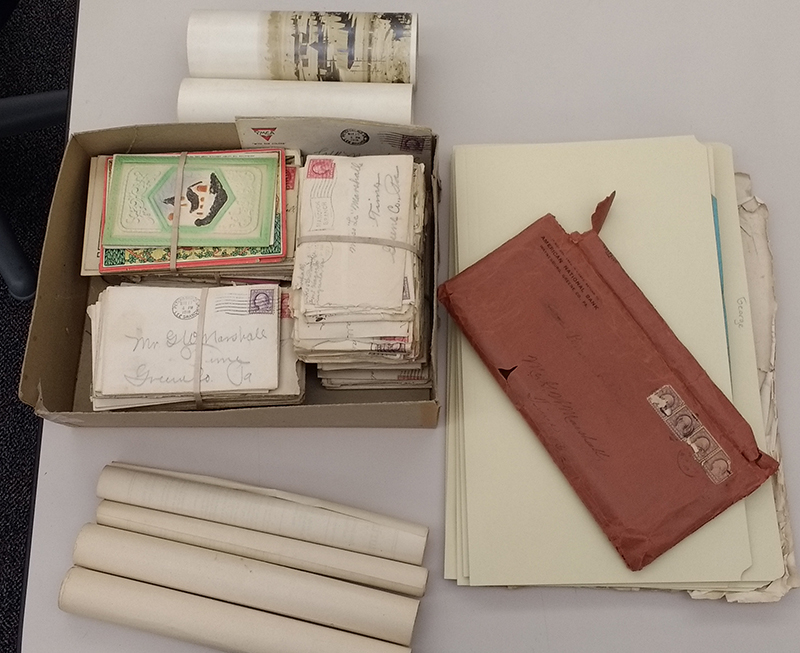 All these materials were donated as part of the Marshall brothers' collection
My next step will be taking the letters out of their rubber-banded bundles, figuring out if the bundles mean anything (are they in chronological order, or bundled based on who wrote them?), and deciding if and how we should unfold the letters.  It's important to keep envelopes with their letters, which involves one of three options: plastic paperclips, stainless steel paperclips, or wrapping each letter-envelope combo in a sheet of acid-free paper.  Imagine gently removing a letter from its envelope, skimming it to get the author and date from it, and gently paperclipping everything together.  Imagine doing that over 200 times, organizing the letters and then putting them in folders as you go.  Now you know why processing a collection really well takes time!
The other time consuming part is what one of my colleagues has called "going down the rabbit hole"—you find out something interesting while you're trying to determine how to describe a collection, and then you feel compelled to research it to satisfy your curiosity.  This happened to me with George.
If you read the obituary above closely, you'll see that it says George was discharged from his first military position "on account of disability."  The collection includes a nice blue official document for George which states that he was discharged from the National Guard, Company K, 10th Pennsylvania Infantry, by reason of "physical disability, by order of Major General Bell, compliance with 'Special Regulation 55 [illegible text]' ", and his service finished July 20, 1917. The backside says his physical condition upon discharge was "Good except as noted on Certificate of Dis." [probably Discharge]. At the bottom of the page, it says "Is not recommended for reenlistment." in bold text.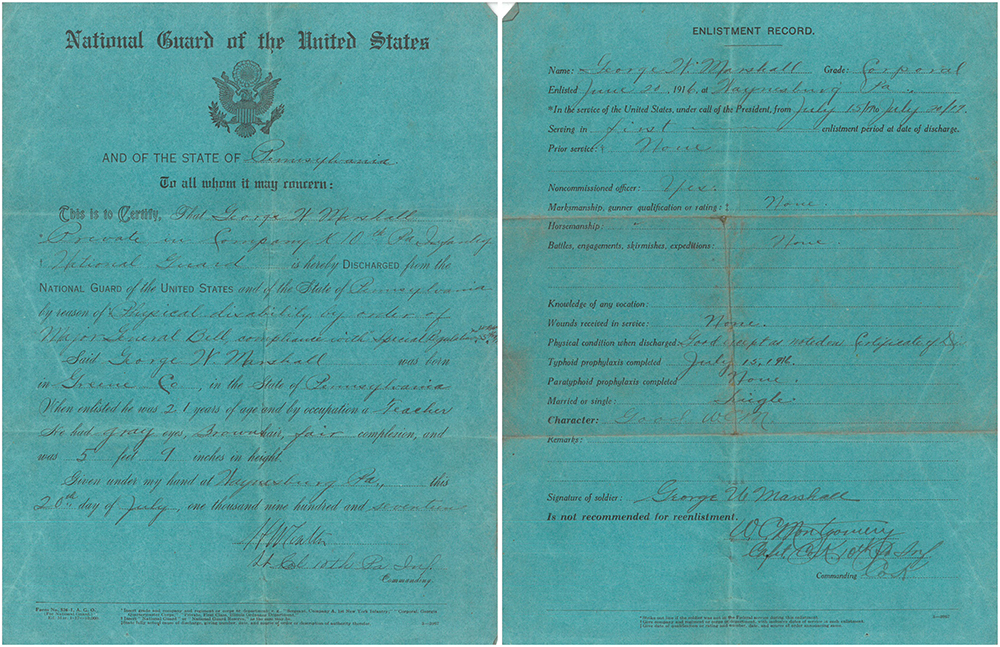 I was perplexed by this—how and why was he discharged, not recommended for reenlistment, and then allowed to reenlist again in an even more combat-fraught conflict?  I wanted an answer.  On the military records database Fold3, I found George Marshall's draft registration card.  He lived in Time, PA, worked as a Foreman at Pressed Steel Car Company in Pittsburgh, was single, had been a Corporal in the infantry, and claimed draft exemption on the grounds of physical disability as of July 1917.
But he enlisted anyway, was shipped out to Europe, and died a member of Company C, 313th Machine Gun Battalion.
I can't find many more records online about George, which isn't too surprising.  A lot of military records from that time period were tragically lost in a fire in the National Personnel Records Center in 1973, so the reason for his discharge and the reason he reenlisted may remain a mystery. I can't help but hope that we'll find the answer in an offhand comment that George makes in one of the letters I have yet to unfold.
Though we haven't finished processing this collection, if you'd like to see any of these papers, come visit us at the WVRHC and ask! [As of October 11, 2017, this collection is minimally processed and ready for use, just ask for A&M 4262!]
One Response to 'The Marshall Boys and the Mysteries in Archives'
Becky Says:
October 18th, 2017 at 9:33 am

Thanks for a fun article! Visiting with students from Greene County, so nice to see some familiar names and information!
Leave a Reply