Posted by Jane Metters LaBarbara.
October 4th, 2017
Blog post by Jane Metters LaBarbara, Assistant Curator, WVRHC; online exhibit by Savannah Rose, Graduate Assistant.
In celebration of WVU's 150th anniversary, the WVRHC unveiled a new exhibit, Flowing Outward and Beyond: West Virginia University, on West Virginia Day.  The exhibit showcases WVU history through records and artifacts found in the Center's collections, featuring WVU's early days, student life, arts, sports, and more.
For those who cannot visit us in person, one of the WVRHC's fantastic graduate assistants has created a digital exhibit that brings the story of the objects, text, and videos we have on display to a wider audience. We encourage you to check it out at https://wvuhistoryexhibit.wordpress.com/.
When I worked on my first exhibit at the Center, I saw how much effort and creativity my coworkers put into our yearly exhibits, and I wanted to be able to share the finished product with people far and wide (including my family members living over 1000 miles away).   Now, we have PDF versions of our previous 5 exhibits available, which you can find on our WV Day Exhibits webpage: https://wvday.lib.wvu.edu/exhibits.  Savannah tried something new this year, going beyond PDF slides to a web-based design.  I hope you all enjoy the upgrade as much as I do!
If this year's digital exhibit whets your appetite, the exhibit can still be viewed in person at the WVRHC (in the back of the 6th floor, Downtown Campus Library); it will remain on display through May 2018.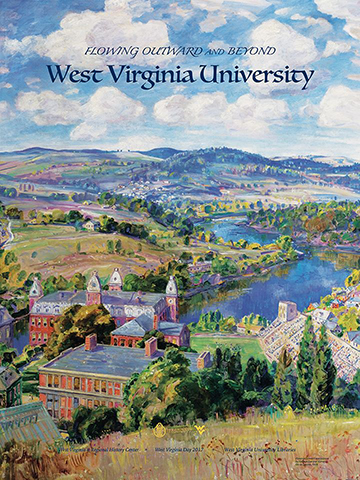 This year's commemorative poster was a beautiful painting, and is one of my favorites!
Leave a Reply