Posted by Jane Metters LaBarbara.
October 23rd, 2017

Blog post by Stewart Plein, Rare Book Librarian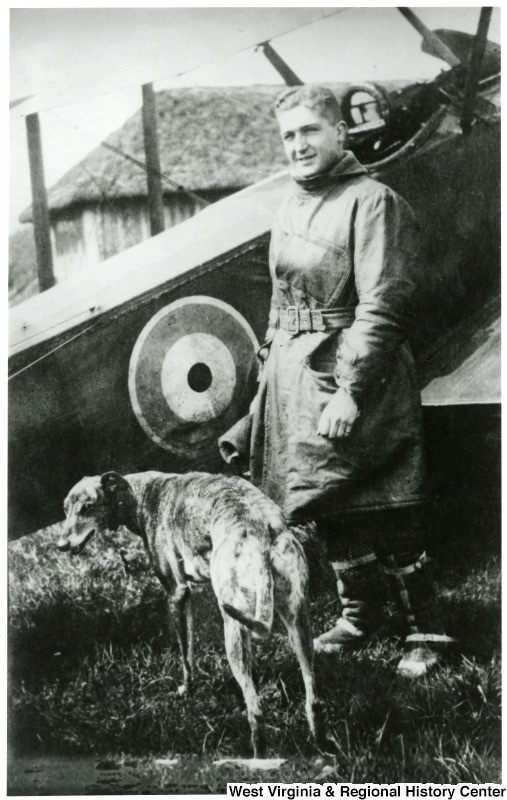 Lt. Louis Bennett, Jr. and his dog standing in front of a SE5a biplane
This year, 2017, marks the 100th anniversary of America's entry into World War I.  While war had raged in Europe since 1914, President Woodrow Wilson was making every effort to keep America from committing soldiers and joining the war effort.  However, the tide turned in support of the war and America joined forces with Europe in April 1917.   Following that declaration, the U.S. then declared war on Austria-Hungary in December with troops arriving on the Western Front the following year, 1918.
A young man from Weston, Louis Bennet, Jr., couldn't wait.  Bennett was the son of Louis Bennett Sr., a prominent Lewis County politician, and Sallie Maxwell Bennett.  Born September 22, 1894, Bennett attended preparatory schools in Pennsylvania, then enrolled at Yale in 1913, graduating in 1917.
While at Yale, Bennett began to envisage a West Virginia Flying Corps.  He left Yale briefly to return to West Virginia in order to put his idea for a flying corps into practice.  Once back in his home state, Bennett pursued his dream, fully developing a flying corps and situating it in Beech Bottom, a small town in Brooke County near Weirton.  Bennett established the corps with a full complement of pilots, crew and its own airfield.  With the attention of the governor, Bennett received a commission as the unit's captain.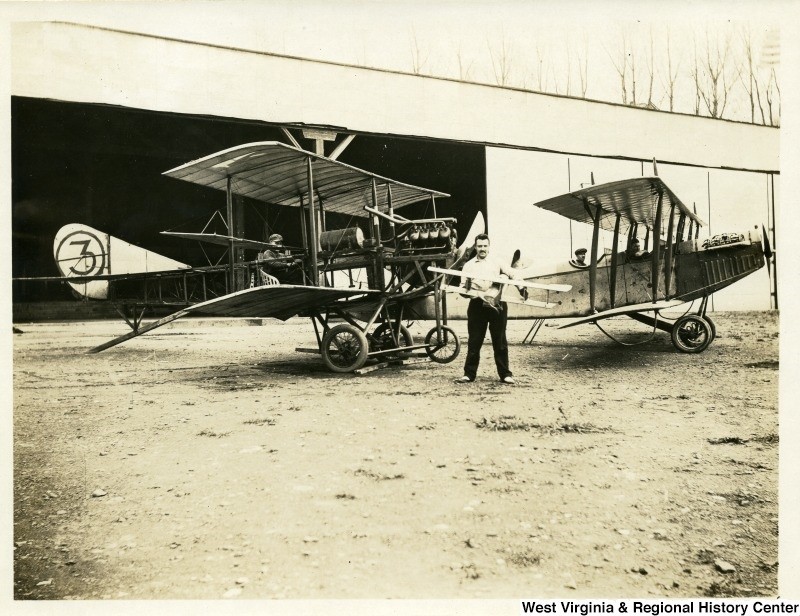 West Virginia Flying Corps Hangar and Planes at Beech Bottom, WV.  Aircraft in foreground is a "grass cutter" or "penguin," a non-flying training machine designed to teach student pilots of the day start up and taxi procedures. Rear aircraft is Curtiss JN-4, aircraft #1 of WV Flying Corps. Aircraft #1 was destroyed in a crash on 3 August 1917. See Wheeling Register, 4 August 1917, front page.
This endeavor met with both success, when the governor provided funding for the corps on July 26, 1917, and failure, following the Army's refusal to accept the WVFC as a military unit.  Despite this disappointment, Bennett was still eager to fly.  He returned to Yale, graduating in 1917, then in October of that year he headed to Canada to enroll in Flight School.  There he joined the British Royal Air Force as a pilot.
Bennett was a born flying ace.  He was assigned to the No. 40 Squadron, RAF, and sent to France.  He developed great skill in shooting down observation balloons, whose use was critical in WWI.  Balloons, in the form of dirigibles, were able to be sent up to great heights in order to observe and locate military operations in advance, relaying locations to military intelligence for targeting.  Balloons of this nature were deployed all over the Western Front.  Bennett had developed the talent and the skills necessary for their destruction.
Bennett flew a SE5a biplane, the successor to the well-known Sopwith Camel, designed for the RAF and used during WWI.  Bennett's time in service was short, a mere nine days, in which he flew twenty five missions against the Germans.  During this brief tenure he took out nine enemy balloons.  The crucial importance of balloon observation during the war led to a strong land defense from anti-aircraft guns.  On his final mission, August 24, 1918, Bennett's biplane was shot down, but not until after he had destroyed two more balloons.    Bennett crashed when his wooden biplane was hit and burst into flames.  Although he was pulled from the wreckage, Bennett suffered severe burns and died shortly afterwards.  He was twenty-three years old when he died on the Western Front.
Bennett received a posthumous recommendation for the Distinguished Flying Cross, though it was never awarded.  His courageous acts live on today in the large number of memorials dedicated to him, both in the United States and abroad.  Devastated by the death of her only son, Sallie Bennett dedicated her life to memorializing her son.  Saint Martin's Church, a chapel in Wavrin, France near the site of the crash, suffered during the war and was rebuilt by her in his honor.  Bennett had been buried in France, but the grieving mother had his body brought home to be buried in Machpelah Cemetery in Weston where a monument marks his grave, shown below.  Mrs. Bennett also commissioned a monument called "The Aviator," sculpted by Augustus Lukeman, a sculptor known for his historical monuments.  The monument stands today at The Linsly School located in Wheeling, which was a military academy for young boys at the time of Bennett's death.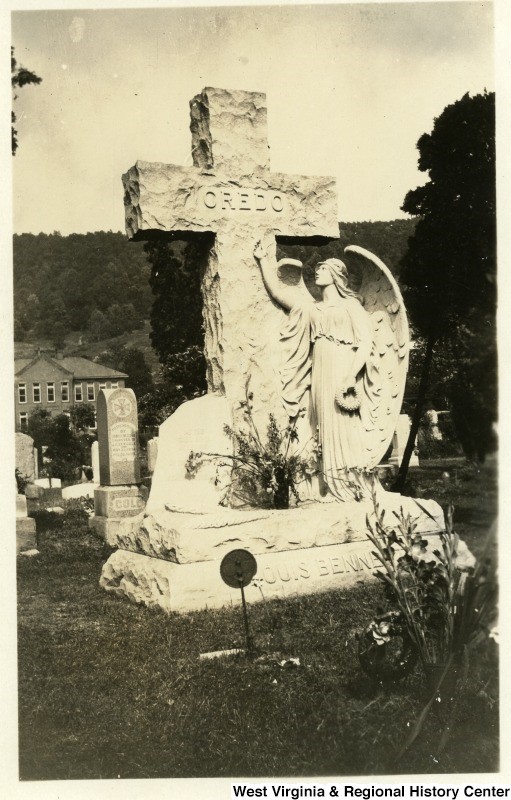 Memorial for Louis Bennett, Jr. placed by his mother, Mrs. Bennett.
Photograph found in a letter dated June 5, 1926.
Among the memorials Mrs. Bennett dedicated to her son is a stained glass window, shown below, which can be seen to this day in Westminster Abbey, London.  The window was created by the artist Harry Grylls, which includes St. Michael, the patron saint of airmen.  Grylls included a portrait of Bennett in the face of the angel holding the shield.  The badge of the West Virginia Flying Corps, including the WV State seal, can be seen in the lower right corner of the window.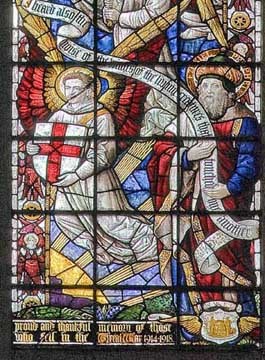 In a final act of remembrance, Mrs. Bennett gave her home to the town of Weston to serve as the Lewis County War Memorial and the Louis Bennett, Jr. Public Library.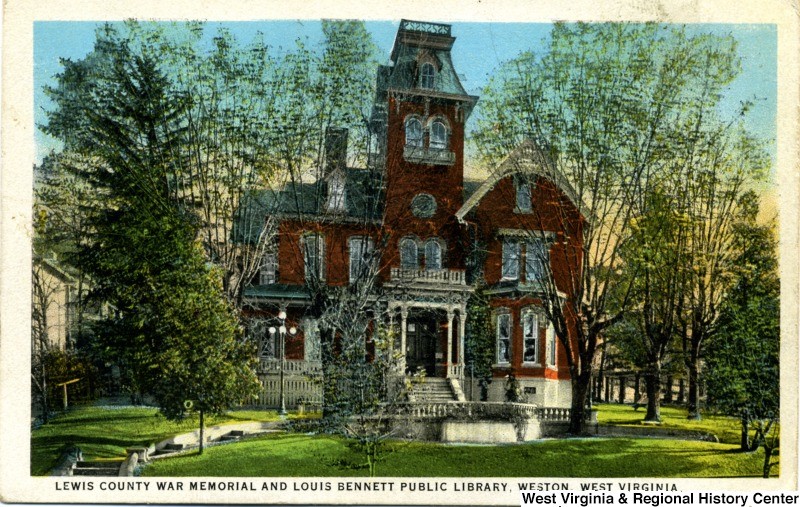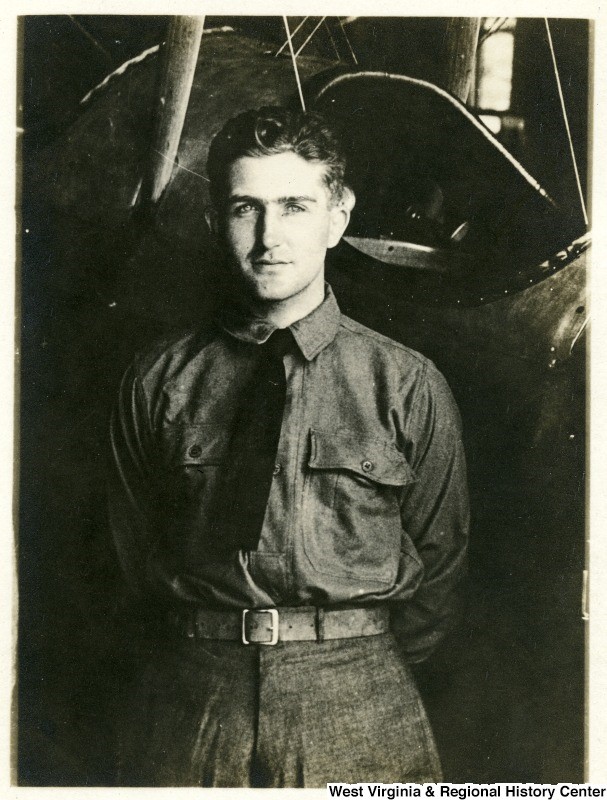 Louis Bennett, Jr.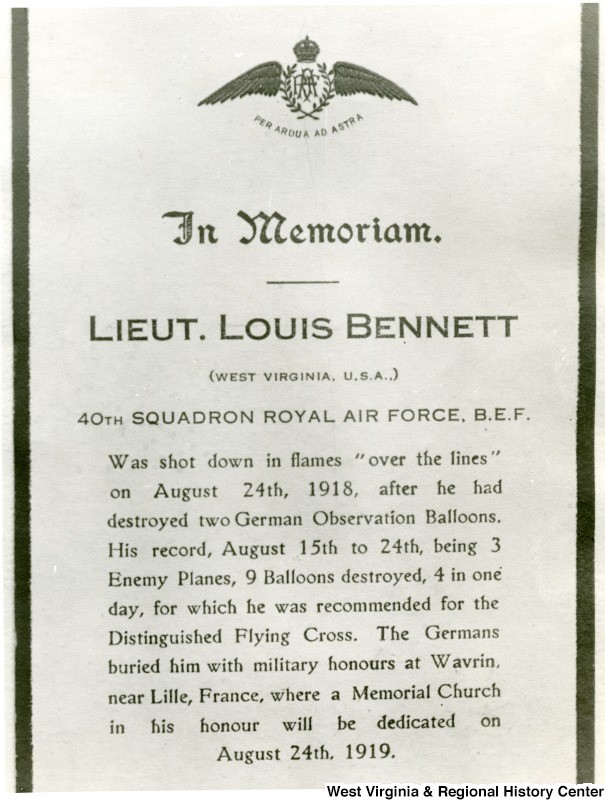 Watch a video of a vintage SE5a biplane, like the one Louis Bennett flew in WWI, on YouTube:  https://www.youtube.com/watch?v=Nl8R6q9zhTc
If you'd like to learn more about Louis Bennett, West Virginia's WWI Flying Ace, stop by the West Virginia and Regional History Center to view the Louis Bennett papers and photographs.
Resources:
Mashable post: 1914-1918. The Balloons of WWI. Taking the Ultimate High Ground in Trench Warfare by Alex Q. Arbuckle: http://mashable.com/2016/03/02/wwi-balloons/#1ilqMEfdH8qo
America's Entry into WWI: https://en.wikipedia.org/wiki/American_entry_into_World_War_I
Louis Bennett Papers: A&M 1590, Mrs. Louis Bennett Papers Regarding World War I Flying Ace Louis Bennett, Jr., West Virginia and Regional History Center, West Virginia University Libraries.
Louis Bennett, Jr. Wikipedia:  https://en.wikipedia.org/wiki/Louis_Bennett_Jr.
Louis Bennett West Virginia Veterans Memorial: http://www.wvculture.org/history/wvmemory/vets/bennettlouis/bennettlouis.html
Louis Bennett E-WV: https://www.wvencyclopedia.org/articles/445
Weston Democrat newspaper article Thursday, October 19, 2017: https://westondemocrat.com/article/louis-bennett-jr-dead-99-years
A Mother's Solace: A Letter from a WWI Enemy: http://americanhistory.si.edu/blog/WWI-letter
The Linsly School: https://www.linsly.org/page/about-linsly/linsly-history/the-aviator
Electronic Thesis: Great War Aviation and Commemoration: Louis Bennett, Jr., Commander of the West Virginia Flying Corps by Dusch, Charles D., Jr.,  https://pqdtopen.proquest.com/doc/305027925.html?FMT=ABS&pubnum=3377522
Bennett Stained Glass Window at Westminster Abbey: http://www.westminster-abbey.org/our-history/people/louis-bennett
Sacrifice blog post: https://ww1sacrifice.com/2016/02/09/lieutenant-louis-bennett/
All images, the West Virginia and Regional History Center, with the exception of the Linsly School photograph of "The Aviator."
Henry Augustus Lukeman, Wikipedia: https://en.wikipedia.org/wiki/Henry_Augustus_Lukeman
3 Responses to 'West Virginia's Own World War I Flying Ace: Louis Bennett, 1894-1918'
Nick Metcalfe Says:
October 23rd, 2017 at 3:13 pm

Lieutenant Bennett was indeed recommended for the Distinguished Flying Cross. Other than the Victoria Cross and a mention in despatches (the highest and fourth level of awards respectively), no British gallantry awards could be awarded posthumously, i.e. if the potential recipient died before the award was authorised. This remained the case until 1979. Although one can find examples that slipped through the net, this rule was strictly adhered to.

For his gallantry, Bennett was mentioned in despatches. It appears in the London Gazette dated 12 January 1920 (Issue 31728, page 499).

David Hammond Says:
October 26th, 2017 at 8:26 pm

Nice story, however, the school at which "The Aviator" stands is misspelled. There is no "e" in Linsly.

Jane Metters LaBarbara Says:
October 27th, 2017 at 9:03 am

Thanks for spotting that–it should be fixed now.
Leave a Reply